Chiefs beat the Eagles in Super Bowl LVII
Kansas City Chiefs quarterback Patrick Mahomes holds the Lombardi Trophy after winning Super Bowl LVII. (Matt Slocum/AP)
The Kansas City Chiefs beat the Philadelphia Eagles in a thrilling 38-35 shootout at Super Bowl LVII. Two high-powered offenses put on a show.
Quarterback star-power: The game featured a historic faceoff between league MVP Patrick Mahomes and dynamic newcomer Jalen Hurts. Mahomes won this round, turning in a gutsy performance despite injury.
Rihanna rules halftime: The superstar singer dazzled in a 13-minute performance of her greatest hits, owning the stage and skipping the typical guest appearances. Then she broke the internet with reports she's pregnant with her second child.
Watching for the ads? We're on it. Check out our coverage of the buzziest spots.
For the second time in four years, the Kansas City Chiefs are Super Bowl champions.
The Chiefs, led by star quarterback Patrick Mahomes, defeated the Philadelphia Eagles 38-35 in Glendale, Arizona, on Sunday. Harrison Butker kicked a 27-yard field goal with eight seconds left to all but cinch the victory.
Mahomes, who threw for three touchdowns and 182 yards, was named the game's Most Valuable Player. He was also named the league's MVP on Thursday.
Check out some of the best images from the game with our Super Bowl photo gallery.
Kansas City Chiefs head coach Andy Reid is dunked with Gatorade after winning the Super Bowl LVII. (Matt Slocum/AP)
Deon Bush, left, and Joshua Williams celebrate. (Carmen Mandato/Getty Images)
Philadelphia Eagles quarterback Jalen Hurts walks off the field as confetti rains down. (Ross D. Franklin/AP)
Mahomes fakes a pass during the third quarter. (Cooper Neill/Getty Images)
Chiefs wide receiver Skyy Moore celebrates his touchdown. (Ashley Landis/AP)
Hurts scores a 2-point conversion during the second half. (Abbie Parr/AP)
Dallas Goedert of the Philadelphia Eagles reaches for a catch. (Ezra Shaw/Getty Images)
By Matt Meyer, Maureen Chowdhury and Mike Hayes,
---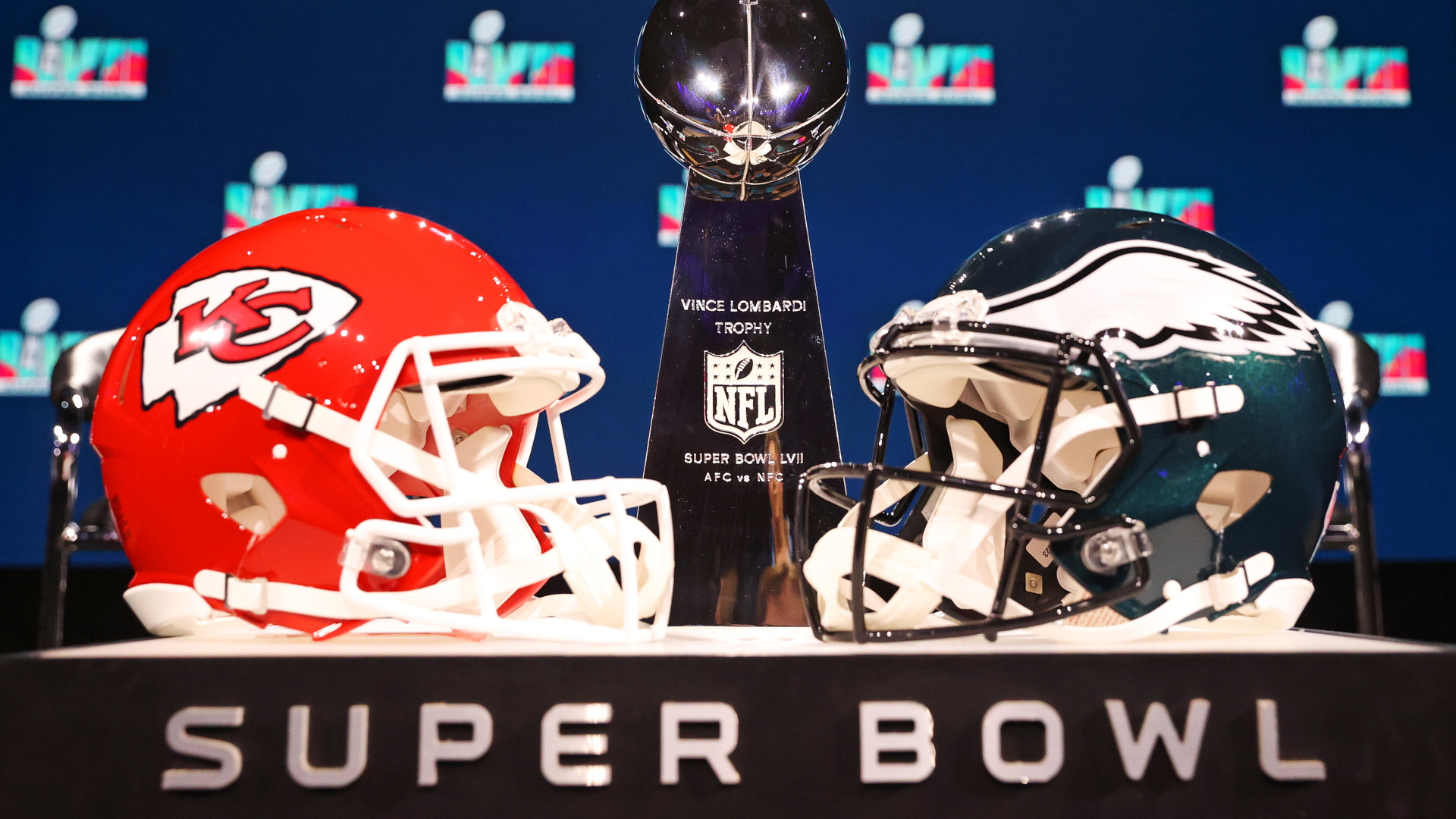 SUPER BOWL 2023: VIRAL MOMENTS FROM CHIEFS VS. EAGLES
Here were all the moments going viral on social media, from celebrations to celebrities to … Super Bowl babies?!?
FOURTH QUARTER
Andy Reid dials up touchdown to give Chiefs 28-27 lead
The legendary head coach once again schemes up a red zone play give the Chiefs their first lead of the game.
The Chiefs know how big that score was
Trending: WHAT. A. GAME.
After a record-setting punt return by Kadarius Toney to set up another brilliant Andy Reid play call for a Skyy Moore touchdown to put the Chiefs up by eight, Jalen Hurts marched the Eagles right down the field, bringing the Eagles within two on his third rushing touchdown then running the ball back into the end zone for a two-point conversion.
The moment the Chiefs won Super Bowl LVII
THIRD QUARTER
Mecole Hardman rooting for his Chiefs from afar
The Kansas City wide receiver, who is on injured reserve and who tweeted Sunday morning that his girlfriend went into labor with their child, is still extremely invested in his Chiefs as they look to stage a Super Bowl comeback without him.
Paul Rudd, Gordon Ramsay, Jay-Z among Super Bowl celebs
Patrick Mahomes opens second half with touchdown drive despite injured ankle 
Isiah Pacheco trolls Eagles with Lil Uzi Vert celebration after TD
The Eagles have been rocking and dancing to Philadelphia rapper Lil Uzi Vert's "Just Wanna Rock" all season, so the Chiefs running back decided to do the same thing when he found the end zone to make it a one-score game.
Officials uphold Dallas Goedert catch after Chiefs challenge
Nick Bolton balling out as Chiefs force field goal
27-21 Eagles thanks in large part to the Chiefs linebacker who nearly had his second defensive touchdown of the game before his forced fumble was changed to an incomplete pass on the replay review.
SECOND QUARTER
Jalen Hurts DEEP to A.J. Brown to put the Eagles back on top!
Brown's adjustment on a deep ball from Hurts for a 45-yard touchdown pass to open the second quarter had the NFL world in awe.
Damar Hamlin meets LeBron James… and another king makes an appearance!
HUGE game-tying scoop and score has NFL Twitter stunned!
Hurts strikes right back to put the Eagles up again
Chris Jones not thrilled with Chiefs defense
Serena Williams, Katy Perry, Shakira excited for Rihanna's halftime show
Did DeVonta Smith catch it?
The referees eventually ruled Smith's play on a deep pass from Hurts incomplete following replay. The Eagles settled for a field goal and took a 24-14 lead into halftime.
FIRST QUARTER
Hurts, Nick Sirianni celebrate the opening score
Eagles clinical on opening drive, Twitter reacts
The Eagles marched down the field on the game's opening drive, which ended in a touchdown run for Jalen Hurts off a quarterback sneak. Here's a sampling of how social media reacted.
Chiefs strike right back!
Travis Kelce stanky leg touchdown dance… while Jason has a snack
Super Bowl doink off the uprights!
Harrison Butker's missed kick clanged off the goalpost to keep the game tied.
Brittney Griner rooting for the Eagles!
Phoenix Mercury star Brittney Griner, who spent several months jailed in Russia before getting freed in a prisoner exchange, was in attendance to root on the Eagles. Two other Super Bowl special guests, Damar Hamlin and Donna Kelce, took seats next to each other.
PREGAME
Incredible anthems from Sheryl Lee Ralph, Chris Stapleton
First, actress Sheryl Lee Ralph led a moving rendition of "Lift Every Voice and Sing".
Then, R&B singer Babyface performed "America The Beautiful".
And lastly, country music star Chris Stapleton lent his voice to "Star Spangled Banner" that had Eagles head coach Nick Sirianni emotional.
The end of the anthem also featured a history-making flyover.
Hurts gets the Philly crowd HYPED
Super Bowl babies for the Chiefs!
While Jason Kelce's wife Kylie is taking precautions in case she goes into labor during the game, we already have Super Bowl babies on our hands. Chiefs offensive lineman Nick Allegretti's wife reportedly gave birth to twins early Sunday morning.
There might be more super babies coming for the Chiefs. Wide receiver Mecole Hardman, who is on injured reserve and will not play Sunday, tweeted that his pregnant girlfriend Chariah Gordon has gone into labor.
LeBron James, Bradley Cooper among celebrities in attendance
Damar Hamlin at the Super Bowl
The Bills safety continued his amazing recovery by showing up for a pregame dance with childhood friend Miles Sanders at the Super Bowl. He also sat down with Michael Strahan for an exclusive interview.
Super Bowl LVII: Damar Hamlin discusses his cardiac arrest and recovery in an exclusive interview with Michael Strahan
Hamlin and the first responders from the Bills, University of Cincinnati Health and elsewhere that helped treat Hamlin after he suffered cardiac arrest on Jan. 2.
Donna Kelce talks newfound fame with Erin Andrews
"[My sons] have been doing it for 10 years, so I figured I can do it for two weeks!" Jason and Travis's mother said. She said she gave both of her sons a handwritten note along with cookies on Monday.
Super Bowl LVII: Travis and Jason's mother, Donna Kelce, told her boys to 'leave it all out on the field, try your hardest'
Eagles' bus got stuck in traffic on way to the stadium…
…but the Eagles are in the building and showing off their fits!
The Chiefs have arrived for the Super Bowl!
Newly crowned 2022 NFL MVP Patrick Mahomes is in the building, as well as JuJu Smith-Schuster — in a kilt?!?
What goes into a Super Bowl outfit?
Erin Andrews and Charissa Thompson take a deep dive into who goes into the players' pregame fashion statements.
Dawn Staley rocking Eagles gear!
The legendary South Carolina women's basketball coach and diehard Eagles fan paced the sidelines in a Randall Cunningham jersey Sunday.
Kevin Burkhardt and Greg Olsen have come a long way
The FOX Sports Super Bowl LVII broadcast duo has known each other a long time — a very long time.
Eagles radio broadcaster's lucky tie
Merrill Reese isn't taking any chances, wearing the exact same tie he did when he called the Eagles' Super Bowl LII win five years ago.
Rasheed Wallace talking trash for his Chiefs
The NBA legend has a message for Philadelphia:
Patrick Mahomes, basketball player?
The 2022 NFL MVP looks loose in Super Bowl warmups, even pulling out some NBA-style moves.
Kansas City's power and light district is ready!
A crowd decked in Chiefs Red is ready for a massive watch party in one of Kansas City's most well-known venues.