Elonis v. United States (2015) – Threats – 1st Amendment
In Elonis v. United States 575 US __ (2015), Chief Justice John G. Roberts, Jr. was joined by six justices who reversed a trial court conviction, which had been upheld by the 3rd U.S. Circuit Court of Appeals. They decided that Anthony Douglas Elonis had been improperly convicted of transmitting threats through postings on Facebook.
Elonis posted lyrics that appeared to be threatening but had disclaimers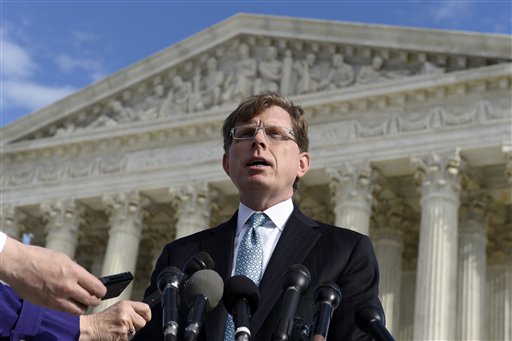 Elonis had posted rap lyrics under the name of "Tone Dougie" that appeared to threaten his ex-wife, an FBI agent, and even a kindergarten class.  However, he had included disclaimers indicating that his lyrics were "fictitious," that they were "therapeutic," that they emulated the lyrics of rap star Eminem, and that they were a proper exercise of Elonis' First Amendment rights.
Trial court used 'reasonable person' standard to convict Elonis
At trial, Elonis requested the judge to instruct the jury that to convict him, the government must prove that he intended to convey a true threat. Instead, the court instructed jurors that they need only find that "a reasonable person" would interpret the words to constitute such a threat.
'Reasonable person' lowers standard for criminal conviction to negligence
Although the federal statute (18 USC Sec. 875 (c)) under which Elonis was convicted does not specify an individual's requisite mental state, the Court has long insisted that "wrongdoing must be conscious to be criminal." This is because criminal law has always insisted on actual blameworthiness as expressed in such terms as "mens rea, scienter, malice aforethought, guilty knowledge and the like." A criminal defendant must "know the facts that make his conduct fit the definition of the offense."
The reasonable person standard that the lower court employed effectively reduces the standard for a criminal conviction to that of negligence, which is more consistent with the standard for civil liability. Hamling v. United States (1974) established that individuals would not necessarily have to know whether materials they distributed were legally obscene to be convicted, but they would have to know "the character of what was sent."
Although Elonis asserted that recklessness was not sufficient to show that he had uttered a true threat, neither he nor the government briefed this issue, and there were no conflicting circuit court opinions on the subject that the Court might review. The Supreme Court accordingly refused to decide whether a showing of recklessness would prove to be legally sufficient for such a criminal conviction.
Court overturned conviction
In a partial concurrence and a partial dissent, Justice Samuel Alito agreed that the Court appropriately sought to show that Elonis had mens rea but thought that an instruction requiring proof of recklessness would be sufficient to show this. Alito stressed that the First Amendment does not protect true threats, which "inflict great harm and have little if any social value."
Despite Elonis' reliance on professional performers who used similar lyrics, Alito observed that "'[t]aken in context,' lyrics in songs that are performed for an audience or sold in recorded form are unlikely to be interpreted as a real threat to a real person." Alito would accordingly remand the case to the court of appeals to decide "whether Elonis' conviction could be upheld under a recklessness standard" and whether, alternatively, the instructions might be regardless as "harmless error."
Dissenters pointed out that true threats are not protected by the First Amendment
In a dissenting opinion, Justice Clarence Thomas observed that nine of 11 circuits that had interpreted the statute had found that it required a showing of general intent. Thomas further thought that Elonis's words met the objective standard for a true threat.
Elonis' own belief about the legal status of his words is immaterial, Thomas said. Thomas denied that a showing of general intent is equivalent to a showing of mere negligence – "there is nothing absurd about punishing an individual who, with knowledge of the words he uses and their ordinary meaning in context, makes a threat." 
Both English precedents and early state laws establish that freedom of speech has never included true threats, and "[w]e generally have not required a heightened mental state under the First Amendment for historically unprotected categories of speech."  Thomas cited cases involving "fighting words" and cross burning. Elonis is just as guilty of issuing a true threat, Thomas said, as he would be had he mailed obscene materials to his wife or to the kindergarten class that he threatened.
John Vile is a professor of political science and dean of the Honors College at Middle Tennessee State University. He is co-editor of the Encyclopedia of the First Amendment. This article was originally published in 2009.
cited https://mtsu.edu/first-amendment/article/1455/elonis-v-united-states
---
Maryland Law Review
With volume one dating back to 1936, the Maryland Law Review is the oldest journal at the University of Maryland Francis King Carey School of Law and the pre-eminent student authority on developments in Maryland case law in the State of Maryland
Which can be download in PDF Here
---
To Learn More…. Read

MORE

Below and click the links
---
Learn More About

True Threats

Here below….
CURRENT TEST =

We also have the

The

'Brandenburg test'

for incitement to violence

–

1st Amendment
We also have the

 True Threats – Virginia v. Black is

most comprehensive

Supreme Court definition –

1st Amendment
We also have the

Watts v. United States

–

True Threat Test

 –

1st Amendment
---
Learn More About What is

Obscene….
We also have the

Miller v. California

–

3 Prong Obscenity Test (Miller Test)

 –

1st Amendment
---
Learn More

About

Police

, The

Government Officials

and

You

….
We also have the

Publius v. Boyer-Vine

 –

1st Amendment

–

Posting

Police

Address
We also have the

Nieves v. Bartlett (2019) –

1st Amendment

 – Retaliatory

Police

Arrests
We also have the

Freedom of the Press

– Flyers, Newspaper

, Leaflets, Peaceful Assembly –

1st Amendment
We also have the

Insulting letters to politician's home

are constitutionally protected

, unless they are 'true threats' –

1st Amendment
We also have the 

Introducing TEXT & EMAIL

Digital Evidence

in

California Courts 

–

 1st Amendment
We also have the

 

First

A

m

e

n

d

m

e

n

t

Encyclopedia

very comprehensive

–

1st Amendment
---
ARE PEOPLE

LYING ON YOU

? CAN YOU PROVE IT? IF YES….

THEN YOU ARE IN LUCK!
We also have the

 Penal Code 118 PC – California Penalty of "

Perjury

" Law
We also have the

Federal

Perjury

 – Definition

by

Law
We also have the

 Penal Code 132 PC –

Offering False Evidence
We also have the

Penal Code 134 PC –

Preparing False Evidence
We also have the

Penal Code 118.1 PC

–

Police

Officers Filing False Reports
We also have the

 

Spencer v. Peters

–

Police

Fabrication of Evidence – 14th Amendment
We also have the 

Penal Code 148.5 PC –  Making a False

Police

Report in California
We also have the 

Penal Code 115 PC

– Filing a False Document in California
---
Know Your Rights
Click Here
(

must read!

)
42 U.S. Code § 1983–

Civil Action

for Deprivation of

Right$
18 U.S. Code § 242

–

Deprivation of Right$

Under Color of Law
---
RELATIONSHIP

WITH YOUR

CHILDREN

& YOUR

CONSTITUIONAL

RIGHT$

+ RULING$
YOU CANNOT GET BACK TIME BUT YOU CAN HIT THOSE PUNKS WHERE THEY WILL FEEL YOU = THEIR BANK
We also have the 

California Civil Code Section 52.1

Interference

with exercise or enjoyment of

individual rights
We also have a SEARCH of our site for all articles relatingfor

PARENTS RIGHTS

Help

!
---
Contesting

/ Appeal an Order / Judgment / Charge
Options to Appealing– 

Fighting A Judgment

Without Filing An Appeal Settlement Or Mediation 



Penal Code 1385

– Dismissal of the Action for

Want of Prosecution or Otherwise
Penal Code 1538.5

–

Motion To Suppress Evidence

in a California Criminal Case
CACI No. 1501

 –

Wrongful Use of Civil Proceedings
WIC § 700.1 –

If Court Grants

Motion to Suppress as Evidence
---
 Epic

Criminal / Civil Rights

SCOTUS

Help

– Click Here
 Epic

Parents SCOTUS Ruling

–

Parental Rights

Help 

– Click Here
---