The Best Lasagna Recipe
Perfect Homemade Lasagna Recipe
Sicilian Tested! Only the best Italian can be posted
Homemade lasagna may have a few steps, but each step is easy – and I assure you it's worth the time; the perfect Italian meal!
The best lasagna recipe is made with ingredients that you know, and it's not difficult at all! All you'll need for this easy lasagna recipe is one pan, one bowl, and a 9×13 baking dish!
Lasagna Ingredients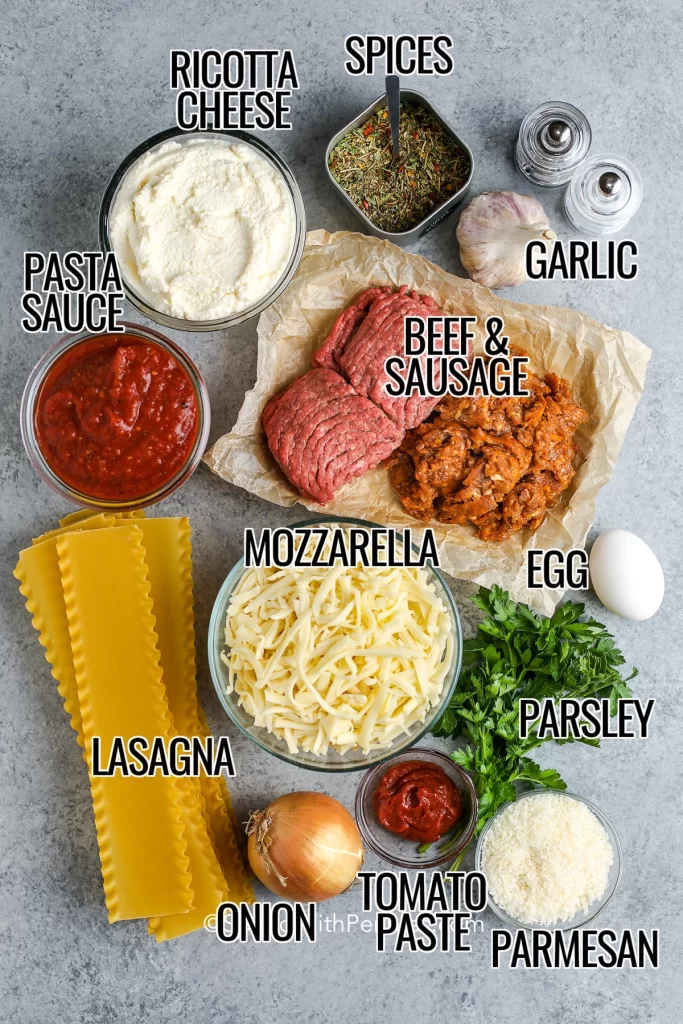 Cheese Filling: For this classic lasagna recipe, the filling contains ricotta and parmesan with seasonings and a couple of tablespoons of parsley. No ricotta? No problem, cottage cheese works just fine in this recipe!
Meat: I use both Italian sausage and ground beef for great flavor. If using all beef, add a ¼ teaspoon of fennel seeds and some Italian seasoning to the meat mixture for flavor, don't forget to add 1-2 cloves of garlic.
Sauce: To keep this sauce quick, I use pasta sauce or marinara sauce (it's easy to make from scratch with crushed tomatoes and canned tomatoes if you'd prefer).
How to Make Lasagna
Homemade lasagna may have a few steps, but each step is easy – and I assure you it's worth the time; the perfect Italian meal! This is a really easy lasagna recipe.
Boil pasta: Cook in a large pot of salted water per the recipe below.
Prepare meat sauce: Cook sausage and beef with onion and garlic. Drain well, add the pasta sauce & simmer it for a few minutes to thicken.
Combine cheese mixture: Stir the cheese mixture together in a bowl.
Layer & bake: Layer the meat sauce and cheese mixture with lasagna noodles and bake until browned and bubbly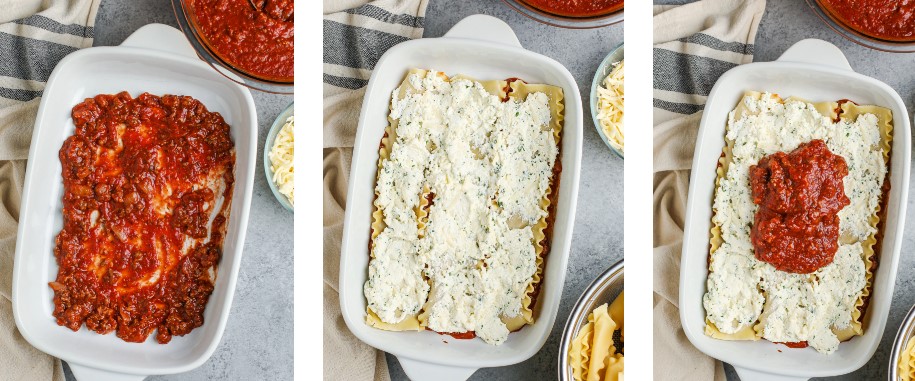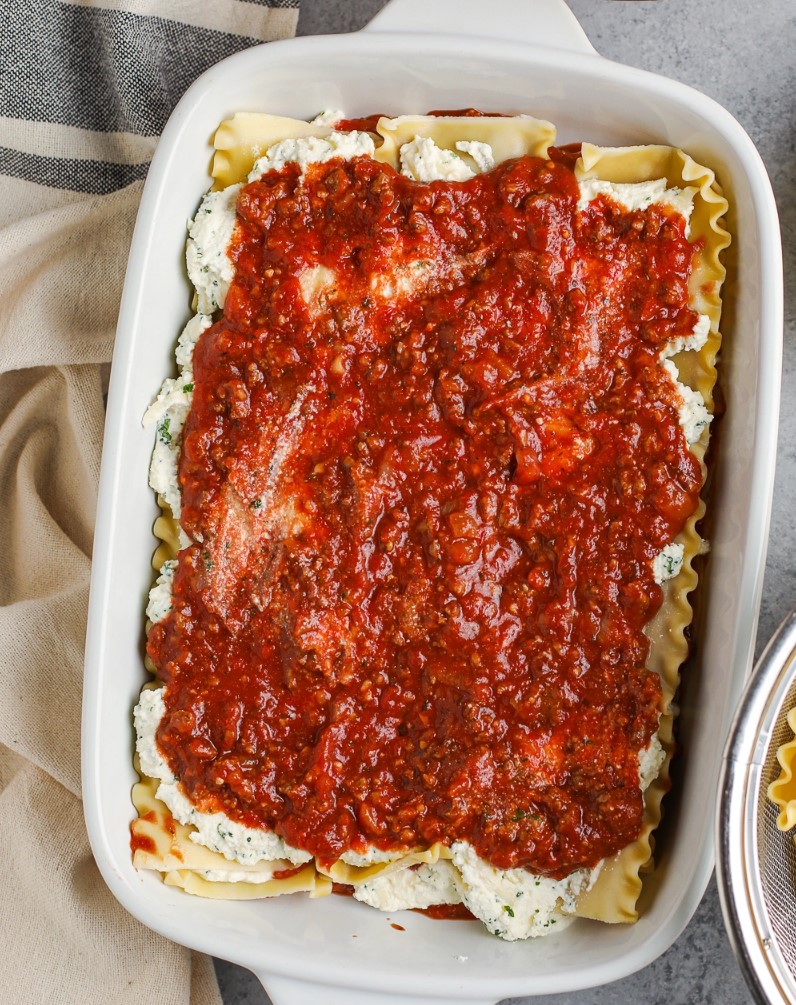 How to Layer Lasagna
Spread about a cup of meat sauce into a 9×13 pan. Add a layer of noodles.
Top the noodles with some of the ricotta cheese mixture. Repeat the layers, ending with a layer of noodles and sauce
Once you have prepared the meat sauce and the cheese mixture, you're ready to layer. This is the order of layers:
sauce – noodles – cheese
sauce – noodles – cheese
sauce – noodles – cheese
noodles – sauce (bake) – cheese
How Long to Bake
Bake this lasagna recipe for a total of one hour. To get a perfect browned cheese topping, you'll need to bake it in two stages.
Layer and cover it tightly with aluminum foil to retain the moisture.
Cover with foil and bake for 45 minutes. Remove foil
Once cooked, and heated through, remove the foil, top with cheese, and return to the oven for an additional 15 minutes, or until the top is browned and the lasagna is bubbling.
Important: Let the Lasagna Rest

Let the lasagna sit/rest for at least 15 minutes once removed from the oven (even 30-45 minutes is fine). This will keep it from becoming runny and help it to keep its shape when cut. Resting is not required when reheating.
Serve with a big slice of Homemade Garlic Bread and garnish with fresh basil or a couple of tablespoons of parsley.
Finish the meal with a Caesar salad or Italian salad.
Make Ahead
Lasagna can be prepared ahead of time and refrigerated for up to 2 days before baking. It can also be frozen before or after baking.
To Freeze Lasagna
Lasagna is one of the best meals to make ahead and freeze. Double or triple the recipe and store it tightly wrapped in the freezer for up to 3 months.
Thaw in the refrigerator overnight and bake as directed. If the lasagna is cold from the fridge, it may need an extra 20 minutes or so of cooking time.
How To Reheat Lasagna
If you've frozen leftovers, pop them in the oven at 350°F covered until reheated. This should take about 30 minutes! Of course, leftovers are perfectly heated in the microwave too! source