The Pyramid of Success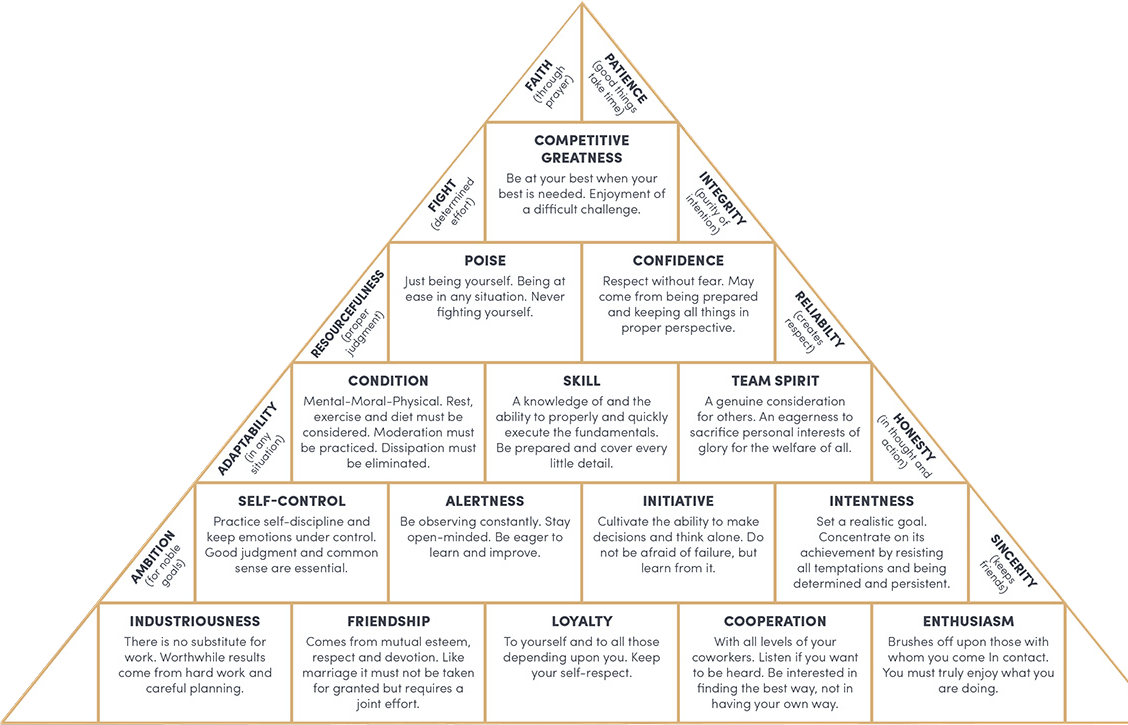 The Pyramid of Success is a framework of successful behaviors. It was developed by Coach Wooden, who used the Pyramid to train and develop the UCLA men's basketball teams that won 10 NCAA Championships in 12 years (1964-1975).
In 1934, Wooden started by creating the "Definition of Success." He continued with the development of the Pyramid to define how to achieve that success.
Coach Wooden worked on the Pyramid for 15 years, defining the 14 blocks of the Pyramid below the 15th, which was defined as Competitive Greatness.
Later Coach Wooden added "The Mortar," which are 10 blocks along the sides that hold the Pyramid together.
Today the Pyramid of Success is used by schools, teams, families, and corporations.
The John Wooden Way
John Wooden was the men's basketball coach at the University of California at Los Angeles. His teams won 10 NCAA National Championships in the space of 12 years, including 88 straight games. He was named the coach of the century by ESPN. John Wooden ended his UCLA coaching career with a 620–147 overall record and a winning percentage of .808. I talked about Coach Wooden's leadership lessons in a recent article and what made him a great coach here.
One thing I didn't mention in the other articles was Wooden's work on the characteristics and traits that help define a successful person. After decades of work, in 1948, he created the iconic triangular picture and named it the "Pyramid of Success." The Pyramid of Success wasn't about basketball, though. The life tools and principles identified in the Pyramid of Success represented a path to becoming a better person. There are some cross-overs between Wooden's Pyramid and my ideas from my book Grow Your Grit (available for order here). I'll highlight a few of them as I examine the 15 building blocks in Wooden't Pyramid.
The John Wooden Way simply stated is this:
A path to realizing your full potential-making the maximum effort to become your best, while helping, serving and coaching others to become their best.
On the path, we are guided by:
A Set of Core Values: Foundations and fundamentals for life and work
The Pyramid of Success: A complete model for the day to day behavior that creates character, competence, consideration, and extraordinary performance
A Coaching Model: First for yourself and then others
Action: Five complete sets of actions that direct and improve:

How you think
The example you set
How you teach
How you lead
How you mentor
The Wooden Way is a path where excellence is the standard and perfection is the destination.
The Wooden Way Organizational Excellence diagram illustrates how it all comes together for individuals, leaders, teams and organizations. source
Coach Wooden's greatest accomplishments were not limited to basketball.
He brought an entire community together, inspired them with championships, and taught them how to master the fundamental skills that turn any dream into reality. The gyms he coached in became chapels, the court a pulpit where he preached a different kind of success approach.
Wooden spent decades identifying the characteristics and traits that help define a successful person and narrowed the list to 25 common behaviors. By 1948, he created the iconic triangular diagram and named it the "Pyramid of Success."
When Coach Wooden introduced the world to the Pyramid of Success, he offered us all a roadmap for individual and team excellence—the same roadmap he used to build a legacy unmatched in the game of basketball.
The life principles summarized in the Pyramid of Success had no explicit reference to basketball or athletics. The coach's diagram was simply a roadmap to being a better person.
Make each day your masterpiece with Coach Wooden's timeless wisdom
Follow the on- and off-the-court lessons that Wooden shared with his students:
Rethink the meaning of success and find a more simple approach to living a meaningful and fruitful life
Gain firsthand insights into what it really takes to build a championship team by rediscovering the timeless principles of lasting achievement
Walk through Coach Wooden's tested Pyramid of Success framework that has been responsible for creating more champions, building more companies, and changing the lives of its followers than perhaps any other success plan ever
Experience a philosophy for living that pushes against the "shiny object syndrome" of today's success world and focuses instead on simply doing simple things
Find out what made Coach John Wooden such a powerful influencer from the very people he mentored one-on-one in his now famous den
Discover a new way of building self-control — that champion's discipline — by following Coach Wooden's humble teachings
Unlock the ability to confidently walk through life and pursue your dreams and goals knowing your efforts are supported by a solid, proven framework for achievement.
The building blocks of Wooden's Pyramid of Success
Industriousness
There is no substitute for work. Worthwhile results come from hard work and careful planning.
Loyalty
To yourself and to all those depending upon you. Keep your self-respect.
Alertness
Be observing constantly. Stay open-minded. Be eager to learn and improve.
Initiative
Cultivate the ability to make decisions and think alone. Do not be afraid of failure, but learn from it.
Enthusiasm
Brushes off upon those with whom you come in contact. You must truly enjoy what you are doing.
Self-Control
Practice self-discipline and keep emotions under control. Good judgment and common sense are essential.
Friendship
Comes from mutual esteem, respect and devotion. Like marriage, it must not be taken for granted but requires joint effort.
Cooperation
With all levels of your co-workers. Listen if you want to be heard. Be interested in finding the best way, not in having your own way.
Intentness
Set a realistic goal. Concentrate on its achievement by resisting all temptations and being determined and persistent.
Confidence
Respect without fear. May come from being prepared and keeping all things in proper perspective.
Skill
A knowledge of and the ability to properly and quickly execute the fundamentals. Be prepared and cover every little detail.
Team-Spirit
A genuine consideration for others. An eagerness to sacrifice personal interests of glory for the welfare of all.
Poise
Just being yourself. Being at ease in any situation. Never fighting yourself.
Condition
Mental-Moral-Physical. Rest, exercise and diet must be considered. Moderation must be practiced. Dissipation must be eliminated.
Competitive Greatness
Be at your best when your best is needed. Enjoyment of a difficult challenge.
Pyramid of Success Digital Learning Course
This 10-module course, celebrating Coach Wooden's 10 record-setting championships, shows you how to use the Pyramid of Success to craft a championship mindset that "win" any goal.
Using archival footage graciously shared by the Wooden family and UCLA this course finally uncovers the long-forgotten or never shared insights that made Coach Wooden an unmatched champion and an influential teacher.
During this course, we share Coach's on an doff court lessons Wooden and his students used to build championship careers, businesses, families, and lives. Take Coach Wooden's advice, apply it, and see how you can be at your absolute best whenever your best is needed.
Included in Coach John Wooden's Pyramid of Success
Instant Online Access to 10 In-Depth Learning Modules
Direct Teaching and Insights From Over 40 of Today's Most Successful Leaders, Influencers, and Champions
Supplemental Worksheets and Exercises for Deeper Learning and Retention
Surprises! Each Module Contains Surprise Footage From Coach Wooden's Archives
Plus, a Unique Bonus Package for Early Students of the Program
The Training
Coach John Wooden's humble approach to success is unique amongst high achievers. His reliance on the fundamentals, his focus on character building, and his steadfast discipline are a refreshing reminder that success is achievable but only when based on a core, proven framework.
This 10-module course will take a deep dive into The Pyramid of Success and reveal the step-by-step process that teams, organizations and individuals have used for more than 6 decades to reach the top of their fields, become standout influencers, and build legacies of meaning and substance.