Sam Bankman-Fried Released on $250 Million Bond With Restrictions
The disgraced cryptocurrency executive appeared in court in Manhattan after his extradition from the Bahamas. He will live with his parents in California.
This scum  bag used his parents $4,000,000  4mill home to get his $250,000,000 250mill bail ? Lets do some math and fact checking. He bought his parents $4 million dollar home with stolen funds, FACT! Now he uses his parents home, he bought for them with stolen funds, to secure his bond!  Now lets do the math for normal citizens that DO NOT DONATE $1BILLION in stolen funds to the DEMOCRATS, so bail for us citizens is full price or with a bondsman is 10% of the bail PLUS COLLATERAL to makeup the rest. So lets do more math.
Parents & Sam do not have 250 million
Parents & Sam only put up the parents home 4 million
10% if 250 Million is 25 Million is down payment, remaining 225 Million secured in assets signed over to bondsman (which they did not do)
The scam artist same then gets out on 4 million dollar bail, not 250 million
The home was bought entirely with stolen money money laundered out to buy the home  used in said bail
This home should have been unacessible pending a full trial and not usable in his release, because if he is found guilty and leaves the country the house that was used will be taken from the family and not returned to the people same harmed, it will be ceased by bondsman or US Govt!
Sam Bankman-Fried, the disgraced former cryptocurrency executive, was granted release from federal custody in a Manhattan court on Thursday under highly restrictive bail conditions, including a $250 million bond secured by his parents' interest in their California home and a requirement that he remain in home detention with them.
It was the latest twist in a swiftly unfolding saga that has turned one of the crypto world's most recognizable paper billionaires into its most prominent villain within weeks, drawing comparisons to Bernie Madoff, the notorious fraudster whose money management operation turned out to be the largest Ponzi scheme in history.
Mr. Bankman-Fried, 30, appeared in federal court just hours after his extradition from the Bahamas, where he was arrested at a luxury apartment complex on Dec. 12. FTX, the exchange that Mr. Bankman-Fried founded, was based in the Caribbean nation.
His release also followed an announcement by Damian Williams, the U.S. attorney for the Southern District of New York, on Wednesday night that two former executives of Mr. Bankman-Fried's businesses, Caroline Ellison and Gary Wang, had pleaded guilty to federal fraud charges and were cooperating with prosecutors. The charges against the executives are likely to further complicate Mr. Bankman-Fried's defense.
The criminal investigation into FTX and its related entities has moved with startling speed. In under two months, FTX went from a flourishing exchange to a bankrupt entity whose executives are facing criminal charges for some of the financial world's most serious violations. Prosecutors have said Mr. Bankman-Fried's crimes led to the implosion of his exchange and billions in customer losses.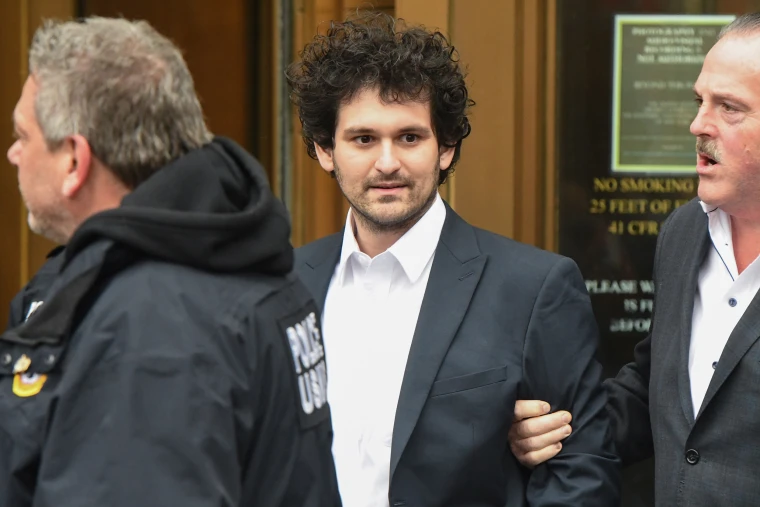 Just a few months ago, cryptocurrency enthusiasts hailed Mr. Bankman-Fried as the savior and spokesman of the shambolic industry, willing to bail out other companies and vouch for crypto's legitimacy to lawmakers and regulators. Now, with his fortune gone and charges mounting, Mr. Bankman-Fried faces what is likely to be a colossal legal fight with few good outcomes.
On Thursday, the judge, Gabriel W. Gorenstein, warned Mr. Bankman-Fried that if he failed to appear in court or violated any of the other bail conditions, a warrant would be issued for his arrest and he and his parents would be responsible for paying the hefty bond.
The $250 million personal recognizance bond — a written promise to appear in court as needed — will be secured by the parents' Bay Area home, the judge said. Mr. Bankman-Fried was also required to surrender his passport and to receive mental health evaluation and treatment. Any expenses above $1,000 will require prior approval by the government or the court.
As part of the bail arrangement, Mr. Bankman-Fried will live with his parents, the Stanford Law School professors Joe Bankman and Barbara Fried. He will be under strict electronic monitoring, including a bracelet that was to be placed on him before he left the courthouse.
Asked whether he understood, Mr. Bankman-Fried responded, "Yes, I do," the only words he uttered in the hearing, which lasted less than an hour.
Mr. Bankman-Fried has been charged with two counts of wire fraud and six counts of conspiracy.Brittainy Newman for The New York Times
Discussions about a bail deal had begun even before Mr. Bankman-Fried was extradited. In court on Thursday, Nicolas Roos, an assistant U.S. attorney, described the proposed package that had been worked out with the defense lawyers.
Mr. Roos said that Mr. Bankman-Fried had committed crimes of "epic proportions" and that the case against him involved cooperating witnesses, encrypted text messages and tens of thousands of pages of financial records. But he noted that Mr. Bankman-Fried had family and community ties and that his wealth had "diminished significantly."
cited