The Best Processors for 2023: Top Desktop CPUs from AMD and Intel
---
The AMD Ryzen 9 7950X is finally here, and it's hard to argue that this isn't the best consumer processor ever made.
This is a big claim, and with Intel Raptor Lake quickly approaching, we'll know soon enough if Team Blue is going to be able to counter a very resurgent AMD, but we are not going to sugar coat it: AMD has set the bar very high with the Ryzen 9 7950X, and Intel is going to be hard pressed to even keep pace with what this processor brings to the game.
To start, AMD used TSMC's 5nm node to produce the new Zen 4 Ryzen 7000 series chips, and the Ryzen 9 7950X is a 16-core, 32-thread beast with 80MB cache memory and a boost clock within sight of 6.0GHz. What's more, unlike Intel's turn to big.LITTLE architecture, all 16 of the Ryzen 9 7950X's cores are full performance cores, so while Intel might be using the Arm-pioneered performance core-efficiency core pairing, the Ryzen 9 7950X simply runs roughshod through tasks, beating out just about every other competing chip out there, across every category.
In particular, the Ryzen 9 7950X is easily the most significant gen-on-gen performance leap in as long as we can remember. Intel Alder Lake impressed us as much as it did because it was coming after the rather 'Meh' 11th-gen Rocket Lake chips, which were barely enough of an improvement to warrant the refresh in the first place.
The AMD Ryzen 5000-series processors were some of the best processors ever produced, top to bottom, and the Ryzen 9 7950X feels like as big a jump as Intel Alder Lake was, but it is instead making the leap from a mountain top rather than the boggy plateau of Rocket Lake and so it lands significantly farther out. It's honestly like AMD skipped the release of an entire processor generation and we're getting this chip after the one we didn't even realize that we didn't get was skipped.
It may be too soon to tell if AMD has finally caught up to Intel post-Alder Lake, but the Ryzen 9 7950X, along with the AMD Ryzen 7 7700X, is one hell of an opening salvo to kick off the next generation of processors.
How much does it cost? MSRP $699 (about £600 / AU$1,000)
When is it available? September 27, 2022
Where can you get it? Available in the US (UK and Australia dates forthcoming)
The AMD Ryzen 9 7950X is available from September 27, 2022, with a US MSRP of $699 (about £600 / AU$1,000). AMD has not listed UK or Australian retail pricing, and we've reached out to AMD for clarification on when the new Ryzen 7000 processors will go on sale in those regions.
The Ryzen 9 7950X's price is $100 less than the Ryzen 9 5950X's, which is fantastic, especially with recent concerns about inflation. This also mildly offset's the cost of the upgrade to the new Ryzen 7000's. This is also $110 more expensive than the Intel Core i9-12900K, which has a US MSRP of $589 (about £500, AU$850). Is the Ryzen 9 7950X worth the premium price over the Core i9-12900K? We definitely think it is, but there's no getting around the fact that this is still an enthusiast chip, and it is priced accordingly.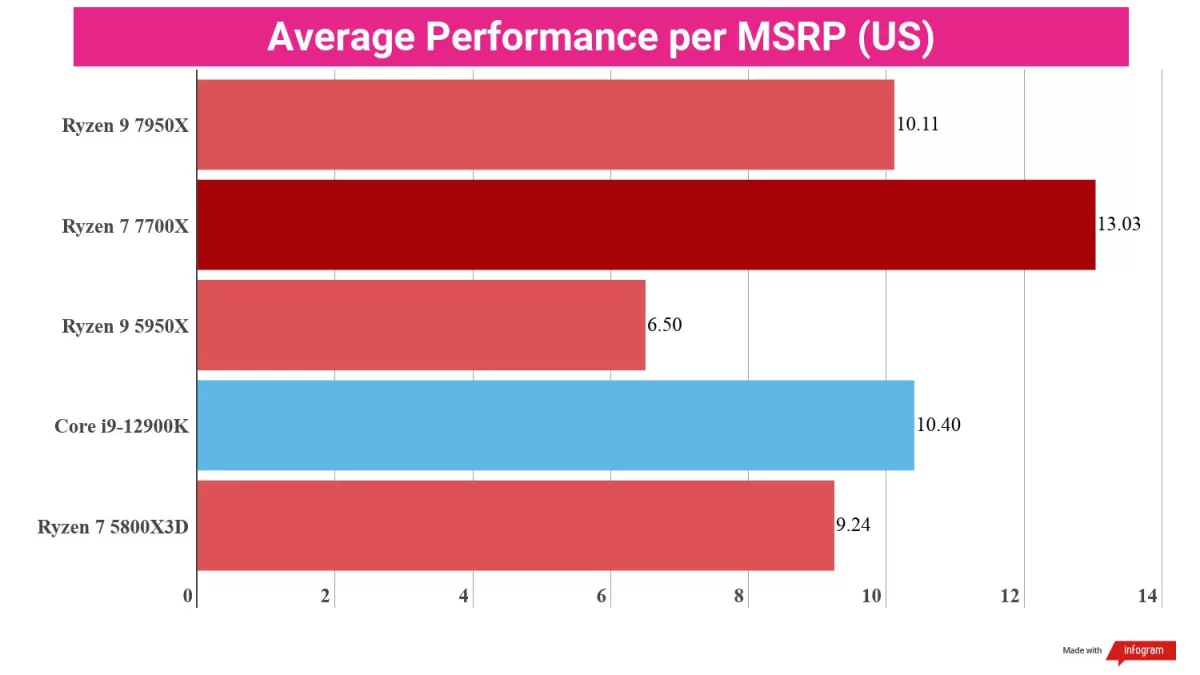 In a lot of ways, other than your graphics card, you really are talking about a substantial investment to upgrade to the AMD Ryzen 9 7950X. You might be better off buying one of the best gaming PCs preloaded with a Ryzen 9 7950X, depending on how much you end up needing to replace in your rig.
Still, this isn't unexpected or unreasonable, considering the age of the AM4 socket and how Intel has similarly shifted to the LGA 1700 socket for its Intel Alder Lake chips. On the plus side, if you had an AM4 cooling solution, you can still use it with the Ryzen 9 7950X.
All that said, expect to spend a good deal more than $699 for this upgrade. Given the performance improvements with the Ryzen 9 7950X, we definitely think you are getting way more value for your money than you would with the Ryzen 9 5950X it replaces.
The AMD Ryzen 9 7950X might not be as good a "value" proposition as the Ryzen 7 7700X, but it is without a doubt a much more compelling processor than its predecessor. It comes in slightly behind the Core i9-12900K on price, but with rumors swirling about the increased prices of the Intel Raptor Lake processors due out soon, it's more likely than not that the Ryzen 9 7950X will only look like a better value as time goes on.