Pope Emeritus Benedict XV

I funeral mass
held in
Saint Peter's Square

, presided over by

Pope Francis
"The Vatican announced Benedict, born in 1927 as Joseph Ratzinger

, had passed away Saturday morning"
By Lawrence Richard | Fox News Vatican
The funeral mass for Pope Emeritus Benedict XVI, who passed away on Saturday at the age of 95, is being held in Saint Peter's Square, directly in front of St. Peter's Basilica in Vatican City on Thursday, Jan. 5, 2023. It starts at 9:30 a.m. local time, or 3:30 a.m. EST.
Pope Francis will preside over the late pontiff's funeral processions.
The Vatican announced Benedict, born in 1927 as Joseph Ratzinger, had passed away Saturday morning at 9:34 a.m.
The late pontiff's body is currently being held in Mater Ecclesiae Monastery in Vatican City, where he spent the majority of his life post-papacy.
POPE EMERITUS BENEDICT XVI DEAD AT 95, VATICAN SAYS
Thursday's ceremony will bring an end to a days-long memorial for the late pope as tens of thousands of people paid tribute to his life and legacy from Monday through Wednesday.
The Vatican said nearly 160,000 people had passed through the basilica during that time.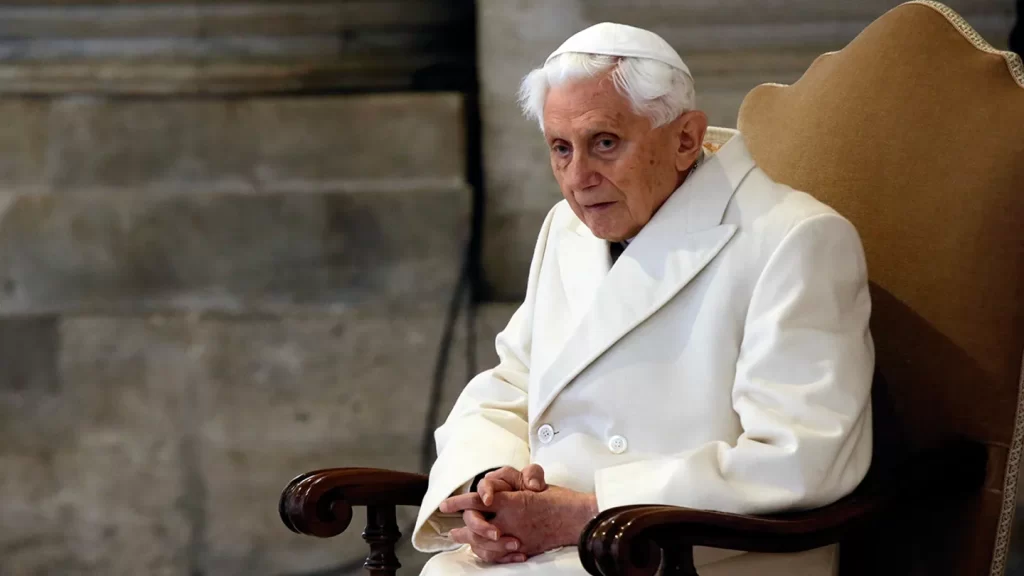 On Wednesday, the late pope's body was placed in a cypress coffin – the first of three coffins – along with a brief, written summary of his historic papacy, the coins minted during his pontificate and his pallium stoles.
Thousands also attended the final day of the public viewing of Benedict's body, lying in state in St. Peter's Basilica before Thursday's funeral.
At the Vatican Wednesday, Pope Francis praised Pope Benedict for his "acute and gentle thought." He called Benedict a "great master of catechesis."
"His acute and gentle thought was not self-referential, but ecclesial, because he always wanted to accompany us in the encounter with Jesus," Francis said during his remarks.
The coffin will then be placed in the crypt once occupied by the tomb of St. John Paul II in the grottos underneath the Basilica, per Benedict's request.
Benedict's personal secretary Archbishop Georg Gänswein, who attended to him up until his death, told Vatican News a nurse told him the pope made one last profession of love to the Lord in his final words.
"With just a whisper of a voice, but in a clearly distinguishable manner, [Benedict] said in Italian, 'Lord, I love you!' I was not there at the moment, but the nurse told me about it shortly afterwards," Gänswein said.
He added, "These were his last comprehensible words, because afterwards he was no longer able to express himself."
Gänswein is expected to share more about Pope Benedict XVI, whom he served in multiple capacities for almost two decades, in a soon-to-be-published book on his experiences with the late pontiff.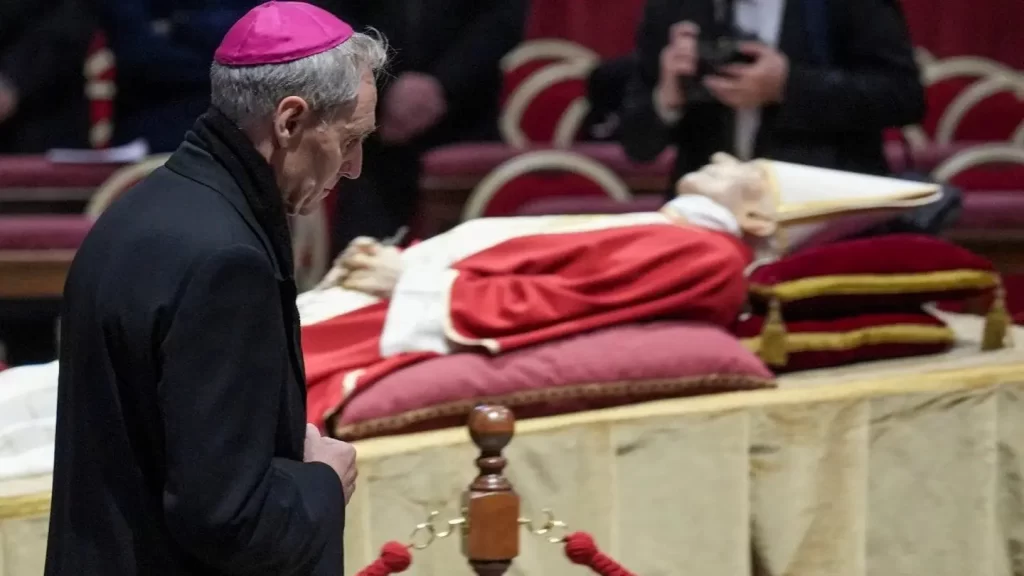 The insider book on the late pope is titled, "Nothing but the Truth: My Life Beside Pope Benedict XVI" and his writings reportedly document Pope Benedict's perspective on major Catholic issues, including the pedophilia scandal, the Vatileaks documents and his own unexpected retirement.
CLICK HERE TO GET THE FOX NEWS APP 
"These pages contain a personal testimony of the greatness of a meek man, a fine scholar, a cardinal, and a pope who made the history of our time," Gänswein told the Italian press of the book. "But they are also a firsthand account that seeks to shed light on some misunderstood aspects of his pontificate and to describe the real 'Vatican world' from within."