Boston Dynamics:

The Robots They Have Built; What They Do; Over 40 year History
Boston Dynamics' mission is to imagine and create exceptional robots that enrich people's lives. Building machines that can approximate the mobility, dexterity and agility of people and animals is a grand challenge. Curiosity and respect for the natural world are at the heart of our work on robots. We see products derived from this work as the next step in the human history of building machines to reduce the danger, repetition and physically difficult aspects of work.
WHY DOES BOSTON DYNAMICS MAKE LEGGED ROBOTS?
Boston Dynamics focuses on creating robots with advanced mobility, dexterity and intelligence. We have long held that mobility sufficient to access both the natural and the built world required legs. We began the pursuit of this dream over 30 years ago, first in academia and then as part of Boston Dynamics because it was an exciting technical challenge and because our goal of  building a highly mobile robot required it. We wanted to build a robot that could go where people go. The commonly referred to "dull, dirty and dangerous" tasks don't occur solely on a neatly organized factory floor, they pop up in the natural world and human-built environments.  These are places where being effective requires deftly maneuvering through rocky trails, staircases, catwalks, doors or narrow cluttered passages.
While we take the natural world as inspiration for our robots, the design is ultimately motivated by functionality. Our robots end up moving like humans and animals not because we designed them to look like humans and animals but because we made them balance. Balance and dynamic motion are characteristics we have previously only seen in animals. It is this organic quality of dynamically stable motion that people tend to associate with lifelike movement. Partly because of the benefits of dynamic motion, our robots can navigate tough unstructured, unknown or antagonistic terrain with ease. Wheeled and tracked robots are limited by stairs, gaps, ground-level obstructions such as cabling and staged materials and minor height differences in flooring. These environments don't present the same challenges for legged robots.
WHAT MAKES BOSTON DYNAMICS UNIQUE?
One of the things that makes Boston Dynamics unique is the ambition to build dynamically stable, legged machines. Marc Raibert began tackling this problem before anyone else in the world. And we've been at it since, almost 35 years. We've been inspired by and worked towards this goal for so long that we have invented techniques to make robots work that you can't find in any textbook or technical article. The result is that we now know how to build walking machines of any size, shape, actuator style or powerplant. These unique designs enable our robots to conquer terrains inaccessible to others, and perform automated tasks in unstructured environments.
WHAT ARE YOUR TERMS OF SALE FOR SPOT?
We take great care to make sure our customers intend to use our robots legally. We cross-check every purchase request against the U.S. Government's denied persons and entities lists, prior to authorizing a sale. In addition, all buyers must agree to our Terms and Conditions of Sale, which state that our products must be used in compliance with the law, and cannot be used to harm or intimidate people or animals, or be used as a weapon or configured to hold a weapon. Any violation of our Terms will automatically void the product's warranty and prevent the robot from being updated, serviced, repaired or replaced.
WHAT PRINCIPLES GUIDE YOUR DECISIONS ABOUT THE DEVELOPMENT AND SALE OF YOUR PRODUCTS?
Our mission is to imagine and create exceptional robots that enrich people's lives. By building robots that have the mobility, dexterity and perception required to contribute to our modern society we strive to create a future in which humans and machines work together to improve everyone's safety, productivity and quality of life. Read more about the ethical principles that guide our business.
DO BOSTON DYNAMICS' ROBOTS USE ARTIFICIAL INTELLIGENCE?
Out-of-the-box, Spot has an inherent sense of balance and perception that enables it to walk steadily on a wide variety of terrains.  This form of AI that we call "athletic intelligence" allows Spot to walk, climb stairs, avoid obstacles, traverse difficult terrain, and autonomously follow preset routes with little or no input from users.
HOW IS SPOT BEING USED BY POLICE DEPARTMENTS?
Police and fire departments are using Spot to get remote visibility into potentially dangerous situations. By remotely assessing a scene before taking action, police can make more informed decisions that reduce risk, improve safety, and de-escalate conflict.
Police departments use Spot to inspect suspicious packages and environments for hazardous materials or explosives, assess hostile threats remotely, and to search structurally dangerous environments in emergency response scenarios. We believe that our robots can be used to keep first responders and the public safe. Learn more about the ethical principles that guide our policies for public safety use cases.
CAN SPOT BE USED TO CONDUCT MASS SURVEILLANCE?
No. Spot is not designed to conduct mass surveillance, or to replace police officers. We will not authorize nor partner with those who wish to use our robots in a way that violates privacy and civil rights laws. We understand that emerging artificial intelligence technologies including computer vision and personal identification algorithms raise questions about the ethics, legality, and potential for bias around their use in the public sphere.
ARE YOUR ROBOTS CURRENTLY BEING USED BY THE MILITARY?
Spot is a general purpose robot with broad applications, including potential military uses which could include remote inspection of hazardous environments, rescue operations, or logistics operations. But our robots are not made specifically for any particular government or military purpose. As stated in our ethical principles, we will not authorize nor partner with those who wish to use our robots as weapons or autonomous targeting systems.
All buyers are prohibited from such use as stated clearly in our Terms and Conditions of Sale, which prohibit weaponizing our robots. If our products are being used for harm, we will take appropriate measures to mitigate that misuse.
WHEN WILL YOUR ROBOTS BE AVAILABLE FOR SALE FOR CONSUMER USE?
Our products are currently designed for industrial and commercial use. As our products and technology mature, we believe robot capabilities will continue to increase and costs decrease to the point that we will be able to offer useful and delightful consumer level products. We are as excited as you are about helpful robots in our daily lives, and with the support of our customers we will get there in the not too distant future.
WILL YOUR ROBOTS BE MODIFIED FOR IN-HOME USE?
Spot is a powerful, 65 lb. industrial robot. It is intended for industrial and commercial use, by individuals with proper training who operate it in accordance with its user guide. This version is not intended for use in the home, or by children or others who cannot operate it responsibly. However, we may explore consumer-facing applications of a future variant of this robot or others.
WHO FUNDS BOSTON DYNAMICS? CAN I BUY STOCK?
In June 2021, Hyundai Motor Group acquired a majority interest in Boston Dynamics and now holds an 80 percent stake in the company. SoftBank, through one of its affiliates, holds the remaining 20 percent. Boston Dynamics operates as an independent business within the larger Hyundai portfolio.
---
Boston Dynamics is an American engineering and robotics design company founded in 1992 as a spin-off from the Massachusetts Institute of Technology. Headquartered in Waltham, Massachusetts, Boston Dynamics has been owned by the Hyundai Motor Group since December 2020, but having only completed the acquisition in June 2021.[1]
Boston Dynamics is best known for the development of a series of dynamic highly-mobile robots, including BigDog, Spot, Atlas, and Handle. Since 2019, Spot has been made commercially available, making it the first commercially available robot from Boston Dynamics, while the company has stated its intent to commercialize other robots as well, including Handle.
History
The company was founded by Marc Raibert, who spun the company off from the Massachusetts Institute of Technology in 1992.[2] The company was an outgrowth of the Leg Laboratory, Raibert's research lab at MIT and Carnegie Mellon University. The Leg Laboratory helped establish the scientific basis for highly dynamic robots. These robots were inspired by the remarkable ability of animals to move with agility, dexterity, perception and intelligence, and the work there set the stage for the robots developed at Boston Dynamics.[3] Nancy Cornelius was a co-founder of Boston Dynamics, having joined the company as its first employee. During her time there she served as an officer of the company, did engineering on many contracts, was CFO for 10 years, and later was VP in charge of engineering on several contracts. She retired after 21 years of service in 2013, when the company was acquired by Google.[4] Robert Playter was also a co-founder of the company, joining a few months later, as soon as he completed his PhD thesis at MIT working with Raibert in the Leg Laboratory. Playter was COO at the company for many years and has been CEO since 2019.[5]
Early in the company's history, it worked with the American Systems Corporation under a contract from the Naval Air Warfare Center Training Systems Division (NAWCTSD) to replace naval training videos for aircraft launch operations with interactive 3D computer simulations featuring characters made with DI-Guy, software for realistic human simulation.[6] Eventually the company started making physical robots—for example, BigDog was a quadruped robot designed for the U.S. military with funding from Defense Advanced Research Projects Agency (DARPA).[7][8]
On December 13, 2013, the company was acquired by Google X (later X, a subsidiary of Alphabet Inc.) for an unknown price,[9] where it was managed by Andy Rubin until his departure from Google in 2014.[10] Immediately before the acquisition, Boston Dynamics transferred their DI-Guy software product line to VT MÄK, a simulation software vendor based in Cambridge, Massachusetts.[11]
On June 8, 2017, Alphabet Inc. announced the sale of the company to Japan's SoftBank Group for an undisclosed sum.[12] On April 2, 2019, Boston Dynamics acquired the Silicon Valley startup Kinema Systems.[13]
In December 2020, Hyundai Motor Group acquired an 80% stake in the company from SoftBank for approximately $880 million dollars.[14] SoftBank Group retains about 20% through an affiliate.[15] In June 2021, it was announced that Hyundai officially took a controlling stake in the company from SoftBank.[16]
In October 2022, the company signed a pledge saying it would not support any weaponization of its robotic creations. Boston Dynamics offered other robotics companies to join the pledge with 5 other firms signing as well.[17]
Products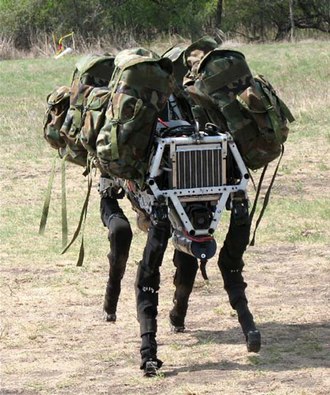 BigDog
Main article: BigDog
BigDog
BigDog was a quadrupedal robot created in 2005 by Boston Dynamics, in conjunction with Foster-Miller, the Jet Propulsion Laboratory, and the Harvard University Concord Field Station.[citation needed] It was funded by DARPA in the hopes that it would be able to serve as a robotic pack mule to accompany soldiers in terrain too rough for vehicles, but the project was shelved after BigDog was deemed too loud to be used in combat.[18][19] Instead of wheels, BigDog used four legs for movement, allowing it to move across surfaces that would defeat wheels. Called "the world's most ambitious legged robot", it was designed to carry 340 pounds (150 kg) alongside a soldier at 4 miles per hour (6.4 km/h; 1.8 m/s), traversing rough terrain at inclines up to 35 degrees.[citation needed]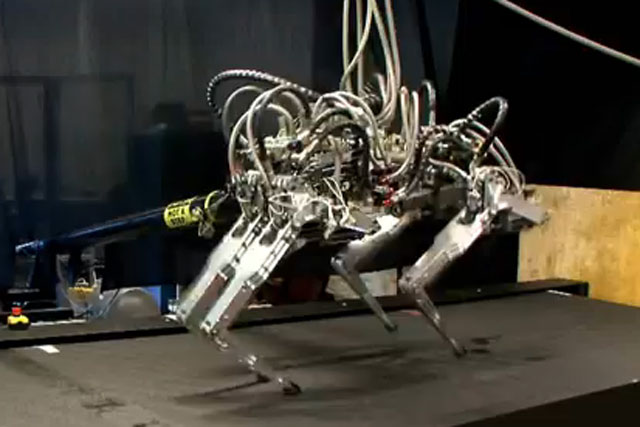 Cheetah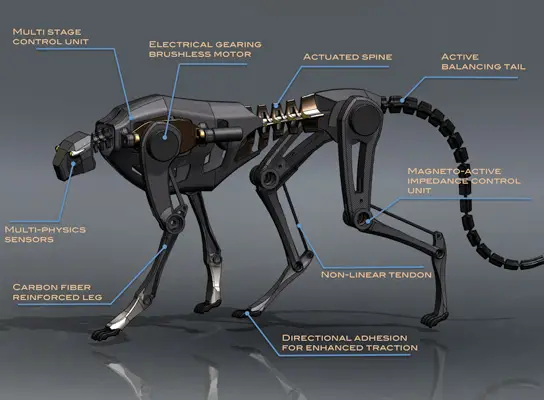 The Cheetah is a four-footed robot that gallops at 28 miles per hour (45 km/h; 13 m/s), which as of August 2012 is a land speed record for legged robots.[20]
A similar but independently developed robot also known as Cheetah is made by MIT's Biomimetic Robotics Lab,[21] which, by 2014, could jump over obstacles while running.[22][23] By 2018 the robot was able to climb stairs.[24]
LittleDog
Released around 2010,[25] LittleDog is a small quadruped robot developed for DARPA by Boston Dynamics for research. Unlike BigDog, which is run by Boston Dynamics, LittleDog is intended as a testbed for other institutions. Boston Dynamics maintains the robots for DARPA as a standard platform.[26]
LittleDog has four legs, each powered by three electric motors. The legs have a large range of motion. The robot is strong enough for climbing and dynamic locomotion gaits. The onboard PC-level computer does sensing, actuator control and communications. LittleDog's sensors measure joint angles, motor currents, body orientation and foot/ground contact. Control programs access the robot through the Boston Dynamics Robot API. Onboard lithium polymer batteries allow for 30 minutes of continuous operation without recharging. Wireless communications and data logging support remote operation and data analysis. LittleDog development is funded by the DARPA Information Processing Technology Office.[27]
PETMAN
PETMAN (Protection Ensemble Test Mannequin) is a bipedal device constructed for testing chemical protection suits. It is the first anthropomorphic robot that moves dynamically like a person.[28]
LS3
Main article: Legged Squad Support System
LS3 2012 prototype
Legged Squad Support System (LS3), also known as AlphaDog, is a militarized version of BigDog. It is ruggedized for military use, with the ability to operate in hot, cold, wet, and dirty environments.[29]
According to Lt. Col. Joe Hitt and the US Marine Corps's program manager "The vision for LS3 is to combine the capabilities of a pack mule with the intelligence of a trained animal". LS3 is capable of reacting to visual or oral commands and uses an on board GPS system, along with computer vision (LIDAR and IR), to guide itself through terrain. Due to its ability to track oral commands, soldiers within the field found it difficult to hold a conversation with this bot in a vicinity because it would unknowingly follow commands not given to itself. Unlike its living counterparts, LS3 can march for 20 miles (32 km) before running out of fuel. The robot also doesn't suffer from the shortcomings of bleeding and falling over, a problem with many pack mules.[30]
Atlas
Main article: Atlas (robot)
The Agile Anthropomorphic Robot "Atlas" is a 5-foot (152.4 cm) bipedal humanoid robot, based on Boston Dynamics' earlier PETMAN humanoid robot, and designed for a variety of search and rescue tasks.[citation needed]
In February 2016 Boston Dynamics published a YouTube video entitled "Atlas, The Next Generation" showing a new humanoid robot about 5′ tall (152.4 cm). In the video, the robot is shown performing a number of tasks that would have been difficult or impossible for the previous generation of humanoid robots.[31]
A video posted to the Boston Dynamics channel of YouTube dated October 11, 2018, titled "Parkour Atlas", shows the robot easily running up 2′ high steps onto a platform. Atlas is shown in a September 2019 YouTube video doing "More Parkour".[32]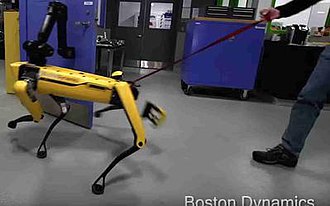 Spot
In a 2018 viral promotional video, a rear part of Spot's casing falls off as it compensates to overcome interference.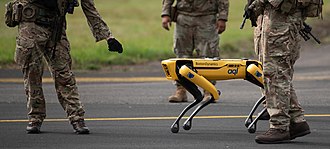 Spot being tested alongside British Royal Air Force service members
On June 23, 2016, Boston Dynamics revealed the four-legged canine-inspired Spot which only weighs 25 kg (55 pounds) and is lighter than their other products.[33]
In November 2017, a promotional video of the Spot using its forward claw to open a door for another robot reached #1 on YouTube, with over 2 million views. A later video the same month showed Spot persisting in attempting to open the door in the face of human interference. Viewers perceived the robot as "creepy" and "reminiscent of all kinds of sci-fi robots that wouldn't give up in their missions to seek and destroy".[34][35][36]
On May 11, 2018, CEO of Boston Dynamics Marc Raibert on TechCrunch Robotics Session 2018 announced that the Spot robot was in pre-production and preparing for commercial availability in 2019.[37] On its website, Boston Dynamics highlights that Spot is the "quietest robot [they] have built." The company says it has plans with contract manufacturers to build the first 100 Spots later that year[38] for commercial purposes, with them starting to scale production with the goal of selling Spot in 2019. However, in September 2019, journalists were informed that the robots will not be sold, but they will be given on lease to selected business partners.[39] In November 2019 Massachusetts State Police became the first law enforcement agency to use Spot as a robot cop, as well as in the unit's bomb squad.[40]
Since January 23, 2020, Spot's SDK is available for anyone via GitHub. It will allow programmers to develop custom applications for Spot to do various actions that could be used across different industries.[41] On June 16, 2020 Boston Dynamics made Spot available for the general public to purchase at a price of US$74,500 (equivalent to $78,006 in 2021).[42]
On June 23, 2020, a lone Spot named 'Zeus' was used by SpaceX at their Boca Chica Starship Test Site to help contain sub-cooled liquid nitrogen and to inspect 'potentially dangerous' sites at and around the launchpad.[43]
On July 9, 2020, a team of Spot robots performed as cheerleaders in the stands at a baseball match between the Fukuoka SoftBank Hawks and the Rakuten Eagles, backed by a team of SoftBank Pepper Robots.[44]
Spot performed inspection tasks on the Skarv floating production storage and offloading vessel in November 2020.[45]
On April 9, 2021 Michael Reeves made a Youtube video where he attached a pressurized beer canister and phallic nozzle in order to detect red plastic cups and dispense beer into them.[46]
On March 18, 2022, artist Agnieszka Pilat sold a painting created by Spot for $40,000 at the home of Brian Boitano to benefit Ukrainian refugees.[47] The painting, titled "Sunrise March," was created by applying paint on Spot's feet and having the robot rotate in circles.
Handle
Handle is a research robot with two flexible legs on wheels and two "hands" for manipulating or carrying objects. It can stand 6.5 feet (2 m) tall, travel at 9 miles per hour (14 km/h) and jump 4 feet (1.2 m) vertically. It uses electric power to operate various electric and hydraulic actuators, with a range of about 15 miles (25 km) on one battery charge. Handle uses many of the same dynamics, balance and mobile manipulation principles found in the other robots by Boston Dynamics but, with only about 10 actuated joints, it is significantly less complex.[48][49]
Stretch
On March 29, 2021, Boston Dynamics announced via a video on their YouTube channel the Stretch robot that was designed for warehouse automation. The machine was able to lift up to 50 pound objects using a suction cup array.[50]
Pick
Pick is a robot just like Stretch but fixed in a particular place. It is designed to carry boxes. It can identify a box in less than a second. It automatically disposes of the sheet of cardboard.
Factory Safety Service Robot
The Factory Safety Service Robot was unveiled on September 17, 2021.[51][52] It was the first joint venture with Hyundai Motor Group. The robot is based on the existing Boston Dynamics robot Spot. Its integrated thermal camera and 3D LiDAR system help detect nearby people, monitor fire hazards, and recognize open and closed doors.[53][54]
In popular culture
"Metalhead", a 2017 episode of Black Mirror, features killer-robot dogs resembling, and inspired by, Boston Dynamics robot dogs.[55][56]
In June 2019, a parody video went viral across social media in which a robot resembling Atlas was abused, before turning on its human attackers. The video turned out to be the work of Corridor Digital, who used the watermark "Bosstown Dynamics" instead of "Boston Dynamics". This video tricked many people, causing them to believe it was real.[57][58]
In Heroes of the Storm(2015), a multiplayer video game by Blizzard Entertainment, playable heroes are able to move quickly through the battleground by using a mount called "Project: D.E.R.P.A.", which references one of Boston Dynamics' quadrupedal robots.[59]
The HBO Show Silicon Valleyhas made two prominent references to the company ‒ an episode featured a robotics company called Somerville Dynamics, named after Somerville, a city that neighbors Boston;[60] and the season premiere of Season 3 featured a real Boston Dynamics Spot robot, seen crossing a street.[61]
In 2022 the Spot robot was featured as a background extra in an episode of The Book of Boba FettTV series.[62]
References
^"Hyundai Motor Group Completes Acquisition of Boston Dynamics from SoftBank | Hyundai News | Hyundai Australia".
^Fonda, Daren (December 10, 2019). "Amazon Warehouses Could Get a Hand From an Innovative Robot". Barron's. Retrieved December 22, 2019.
^"MIT Leg Laboratory".
^"Google buys Boston Dynamics, maker of spectacular and terrifying robots". December 14, 2013.
^https://www.linkedin.com/in/robert-playter-986b507/[self-published source]
^Foster, Sharon (November 1, 2001). "Updating Technology Without Upping the Price.(Boston Dynamics completes first phase of catapult trainer upgrade)". National Defense. Archived from the original on May 16, 2011. Retrieved December 22, 2019.
^Hambling, David (March 3, 2006). "Robotic 'pack mule' displays stunning reflexes". New Scientist. Retrieved December 22, 2019.
^Madrick, Jeff (April 24, 2014). "Innovation: The Government Was Crucial After All". The New York Review of Books. Retrieved December 22, 2019.
^"Google is trying to sell Boston Dynamics, the crazy robotics company it bought in 2013". Business Insider.
^"Google Adds to Its Menagerie of Robots", The New York Times, December 14, 2013.
^"DI-Guy Now Part of VT MÄK", Military Simulation and Training Magazine, December 11, 2013.
^Lunden, Ingrid (June 9, 2017). "SoftBank is buying robotics firms Boston Dynamics and Schaft from Alphabet". TechCrunch.
^"Boston Dynamics acquires a 3D vision startup in bid to put its robots to work". TechCrunch. April 2, 2019. Retrieved April 22, 2019.
^"Hyundai Motor to buy controlling stake in U.S. robot firm from SoftBank". Roadshow. Reuters. Retrieved December 10, 2020.
^Campbell, Ian Carlos (December 11, 2020). "Hyundai takes control of Boston Dynamics in $1.1B deal". The Verge. Retrieved December 30, 2020.
^Szymkowski, Sean (June 21, 2021). "Spot the robot dog's owner, Boston Dynamics, officially sold to Hyundai". CNET.
^Fried, Ina (October 6, 2022). "Exclusive: Boston Dynamics pledges not to weaponize its robots". Axios. Axios. Retrieved October 6, 2022.
^Degeler, Andrii (December 29, 2015). "Marines' LS3 robotic mule is too loud for real-world combat". Ars Technica. Retrieved January 2, 2016.
^Markoff, John (April 9, 2012). "Pentagon Contest to Develop Robots to Work in Disaster Areas". The New York Times.
^Goddard, Louis (September 6, 2012). "Cheetah robot sets 28.3 mph speed record, outrunning Usain Bolt". The Verge.
^"MIT Cheetah Robot Runs Fast, and Efficiently". IEEE Spectrum: Technology, Engineering, and Science News. May 14, 2013.
^Biomimetics MIT (September 14, 2014). "MIT Cheetah robot 2 running fast and jump over an obstacle". Archivedfrom the original on December 21, 2021 – via YouTube.
^"MIT reveals how its military-funded Cheetah robot can now jump over obstacles on its own". Business Insider.
^Becker, Rachel (July 5, 2018). "MIT's Cheetah 3 robot can run up stairs without watching its steps". The Verge.
^"Little Dog by Boston Dynamics". RobotShop. April 20, 2020.
^Greenemeier, Larry "DARPA Pushes Machine Learning with Legged LittleDog Robot", Scientific American, April 15, 2008
^Greenemeier, Larry. "DARPA Pushes Machine Learning with Legged LittleDog Robot". Scientific American. Retrieved April 17, 2020.
^"PETMAN (Protection Ensemble Test Mannequin) Humanoid Military Robot". Army Technology. June 15, 2011. Retrieved December 17, 2013.[unreliable source?]
^Schactman, Noah (October 29, 2008). "Darpa Preps Son of Robotic Mule". Wired.
^Michael, Katina. "Meet Boston Dynamics' LS3 – the latest robotic war machine". The Conversation. Retrieved August 5, 2022.
^"Google human-like robot brushes off beating by puny human – this is how Skynet starts". The Register. February 24, 2016. Retrieved June 3, 2016.
^"More Parkour Atlas". Archivedfrom the original on December 21, 2021 – via www.youtube.com.
^"We're one step closer to robot butlers doing our dishes". finance.yahoo.com.
^Ferris, Robert (February 13, 2018). "Boston Dynamics' robot dog that opens doors is freaking out the internet". CNBC. Retrieved February 26, 2018.
^"Boston Dynamics robot fights back against an armed man to open a door and enter a room". The Independent. February 21, 2018. Retrieved February 26, 2018.
^"Why are robot-makers trying to outdo each other with terrifying robots?". Salon. February 22, 2018. Retrieved February 26, 2018.
^"Boston Dynamics will start selling its dog-like SpotMini robot in 2019". Techcrunch. May 11, 2018. Retrieved July 18, 2020.
^"Boston Dynamics to start selling Spot robot as soon as 2019", Dezeen, May 17, 2018
^Brandom, Russell (September 24, 2019). "Boston Dynamics' Spot is leaving the laboratory". The Verge. Retrieved October 17, 2019.
^"Boston Dynamics Robot | Robot Dog Helps Police". Popular Mechanics. November 26, 2019. Retrieved July 18, 2020.
^"Boston Dynamics gives its robot dog a developer SDK". Engadget. Retrieved January 24, 2020.
^Stieg, Cory (June 22, 2020). "This $75,000 Boston Dynamics robot 'dog' is for sale—take a look". CNBC. Retrieved June 26, 2020.
^"Robot Dog Spot Inspects SpaceX Test Site After Catastrophic Collapse". Interesting Engineering. June 25, 2020. Retrieved January 2, 2021.
^"Robot cheerleaders support Japanese baseball team". BBC Sport. July 9, 2020. Retrieved July 9, 2020.
^"'Spot' deployed on Aker BP's Skarv FPSO". www.offshore-mag.com. November 24, 2020.
^Archived at Ghostarchiveand the Wayback Machine: "Teaching a Robot Dog to Pee Beer". YouTube.
^Spot can paint! Watch the robotic dog collaborate with artist – CNN Video, retrieved June 22, 2022
^Totolos, Bruce (February 28, 2017). "Boston Dynamics Reveals Handle – An Amazing Robot". French Tribune. Archived from the originalon June 16, 2018. Retrieved April 13, 2018.
^McFarland, Matt (February 28, 2017), Google officially reveals its latest robot, CNN, archivedfrom the original on August 1, 2019, retrieved August 1, 2019
^Vincent, James (March 29, 2021). "Boston Dynamics unveils Stretch: a new robot designed to move boxes in warehouses". The Verge.
^"Boston Dynamics' robot dog on safety patrol duty at Kia factory". 《Koreatimes》. Retrieved September 17, 2021.
^"Hyundai Motor deploys Boston Dynamics' Spot robot at factory". 《Yonhap News Agency》. Retrieved September 17, 2021.
^"Boston Dynamics' Spot becomes robotic watchdog for Hyundai". 《CNET》. Retrieved September 17, 2021.
^"Hyundai Recruits Boston Dynamics' Robot as Watchdog". 《PCMag》. Retrieved September 20, 2021.
^"'Black Mirror' creator explains that 'Metalhead' robot nightmare". Entertainment Weekly. December 29, 2017. Retrieved May 10, 2020.
^Bishop, Bryan (January 5, 2018). "Black Mirror's Metalhead suggests technological disruption is unavoidable (and terminal)". The Verge. Retrieved May 10, 2020.
^Daniels, Andrew (June 17, 2019). "This Video of a Robot Beating Up Humans Is Extremely Satisfying". Popular Mechanics.
^Sherry, Sophie. "A video that shows a robot turning on its creators is scary — but also fake". CNN.
^"Heroes of the Storm: Join the Resistance!". February 12, 2019. Archivedfrom the original on December 21, 2021. Retrieved July 18, 2020 – via YouTube.
^McFarland, Kevin (May 4, 2015). "Here's the Profile of Big Head Silicon Valley Claims We Did". Wired. ISSN1059-1028. Retrieved May 10, 2020.
^Letzter, Rafi. "'Silicon Valley' used Google's robot dog Spot in its season 3 premiere". Business Insider. Retrieved May 10, 2020.
^Twitter https://twitter.com/bostondynamics/status/1476329434680541185. Retrieved September 10, 2022.{{cite web}}: Missing or empty |title= (help)
 Super Robo-Dog Philadelphia based Ghost Robotics (Not Boston Dynamics just interesting and on topic)