A look at Jimmy Carter's legacy in Georgia and around the world
AUGUSTA, Ga. (WRDW/WAGT) – Jimmy Carter, the only Georgian to serve as president, was born in Plains on Oct. 1, 1924, to Earl Carter, a farmer and businessman, and Lillian Carter, a registered nurse.
He grew up in the nearby community of Archery.
In 1941, after graduating from Plains High, Carter enrolled at Georgia Southwestern College in Americus. One year later, he transferred to Georgia Tech in Atlanta, and in 1943, he received an appointment to the U.S. Naval Academy in Annapolis.
After receiving his naval commission, Carter married Rosalynn Smith of Plains on July 7, 1946, after which they moved to Norfolk, Va.
Carter served as a naval officer from 1946 to 1952 but resigned from the Navy to return to Plains and take over the family peanut farm after his father died of cancer.
Jimmy and Rosalynn Carter operated Carter's Warehouse, a general-purpose seed and farm supply company in Plains.
Carter was named to his first public office in 1954 when he accepted an appointment to the Sumter County Board of Education. In 1962, he was elected as a state senator, and in 1966, ran for governor but lost to Lester Maddox in an election so close it was thrown into the state House of Representatives to be decided.
In 1971, Carter ran again for governor and won.
From there, he went on to the White House.
From the Jimmy Carter Presidential Library and Museum, here's a detailed timeline of his presidency:
1977
Jan. 20 – Inaugurated president
Feb. 2 – Signs Emergency Natural Gas Act and holds "fireside chat" in which he wore a sweater and urged Americans to do so while cutting down their heaters to conserve natural gas.
March 30 – Soviet Union rejects SALT II proposals
April 4 – Anwar Sadat and Carter meet in Washington
April 6 – Carter signs Reorganization Act
April 18 – Second address to the nation on energy
May 7 – London Economic Summit
June 30 – Carter halts B-1 bomber production
July 19 – Menachem Begin and Carter meet in Washington
Aug. 4 – Department of Energy established
Sept. 7 – Panama Canal Treaty signing
Sept. 21 – Bert Lance resigns
Sept. 27 – Agreement with Soviet Union on SALT II
Oct. 5 – Signs International Covenant on Human Rights
Nov. 19 – Sadat visits Israel
1978
March 16 – Senate ratifies first Panama Treaty
Sept. 4 – Camp David Summit begins
Sept. 17 – Camp David Accords signed
Oct. 13 – Civil Service Reform Act Signed
Oct. 15 – Congress passes first energy package
Dec. 15 – Announces normalization of relations with People's Republic of China
1979
Jan. 16 – Shah leaves Iran
Jan. 19 – Deng Xiaoping visits Washington
Feb. 1 – Ayatollah Khomeini returns to Iran
March 8 – Trip to Egypt and Israel
March 26 – Egyptian-Israeli Peace Treaty signing
March 28 – Three Mile Island nuclear incident
April 5 – Address to the nation on energy
June 12 – Carter proposes National Health Plan to Congress
June 18 – Signing of SALT II Treaty in Vienna with Soviet leader Leonid Brezhnev
July 3 – Cancels energy speech; begins meetings at Camp David on state of the administration
July 15 – Address to the Nation—the "malaise" speech
July 17 – Announces Cabinet and senior staff changes
Aug. 15 – Andrew Young resigns as ambassador to the United Nations
Aug. 31 – Soviet troops reported in Cuba
Oct. 17 – Department of Education established
Oct. 20 – Decision to admit the Shah to the United States for medical treatment
Nov. 4 – American Embassy in Teheran overrun
Dec. 27 – Soviet invasion of Afghanistan begins
1980
Jan. 4 – Address to the Nation on Soviet invasion of Afghanistan; sanctions announced
Jan. 20 – First caucuses in Iowa
Jan. 21 – State of Union Message outlining "Carter Doctrine"
Feb. 20 – Decision to boycott 1980 Summer Olympic Games in Moscow
March 14 – Anti-inflation program announced; balanced budget sent to Congress
April 11 – Decision to attempt hostage rescue mission
April 21 – Vance resigns as secretary of state
April 24 – Iranian hostage rescue mission fails
May 18 – Mount St. Helens erupts
July 16 – Republicans nominate Ronald Reagan
July 22 – Carter statement on Billy Carter's relations with Libya
August 13 – Democratic Convention nominates Jimmy Carter
Sept. 22 – Iraq invades Iran
Oct. 28 – Carter-Reagan debate
Nov. 4 – Reagan defeats Carter in election
Dec. 2 – Carter signs Alaska Lands Bill
Dec. 7 – Carter warns Soviets against military intervention in Poland
Dec. 11 – Carter signs Superfund Bill to clean up toxic waste dumps
1981
Jan. 16 – Final terms for release of American hostages negotiated
Jan. 20 – At noon, Ronald Reagan inaugurated as president
Jan. 20 – At 12:20 p.m. EST, hostages released in Teheran
Jan. 21 – Reagan sends Carter to Germany to welcome hostages
Two years after leaving office, Carter established The Carter Center in Atlanta. Also after leaving the White House, Carter became a distinguished professor at Emory University.
In his hometown of Plains, the Jimmy Carter National Historic Site was established in 1987. The National Historic Site includes the Depot Museum, Plains High School Museum, and the Jimmy Carter Boyhood Farm.
---
Fond Remembrances of Jimmy Carter Life Events
WASHINGTON (AP) — Dozens of well-wishers made the pilgrimage Sunday to The Carter Center in Atlanta, as prayers and memories of former President Jimmy Carter's legacy were offered up at his small Baptist church in Plains, Georgia, a day after he entered hospice care.
Among those paying homage was his niece, who noted the 39th president's years of service in an emotional address at Maranatha Baptist Church, where Carter taught Sunday school for decades.
"I just want to read one of Uncle Jimmy's quotes," Kim Fuller said during the Sunday school morning service, adding: "Oh, this is going to be really hard."
She referenced this quote from Carter: "I have one life and one chance to make it count for something. I'm free to choose that something. … My faith demands that I do whatever I can, wherever I can, whenever I can, for as long as I can."
"Maybe if we think about it, maybe it's time to pass the baton," Fuller said before leading those gathered in prayer. "Who picks it up, I have no clue. I don't know. Because this baton's going to be a really big one."
Carter, at age 98 the longest-lived American president, had a recent series of short hospital stays. The Carter Center said in a statement Saturday that the 39th president has now "decided to spend his remaining time at home with his family and receive hospice care instead of additional medical intervention."
In Atlanta, people, some traveling many miles, made the trip to the Carter Center to reflect on the life of the former president on a spring-like Sunday under a sunny sky.
"I brought my sons down here today to pay respect for President Carter and teach them a little bit about how great a humanitarian he was, especially in the later stages of his life," said James Culbertson, who drove an hour to Atlanta from Calhoun, Georgia.
The presidential library itself was closed in honor of President's Day weekend, but people were still showing up to walk past the fountains and through the gardens.
David Brummett of Frederick County, Maryland, said he changed his Sunday morning plans when he heard news that Carter was in hospice care.
Brummett paused near a large statue of Carter, where someone had placed some violets at the base.
"Great man, great president, probably under-appreciated by those who didn't know much about him," Brummett said. "People should come here to appreciate the life, and the contributions he made both during his presidency and after."
Following Fuller's Sunday school service at Maranatha Baptist Church, Pastor Hugh Deloach offered prayers for the Carter family, particularly for Rosalynn Carter, the wife of the former president.
The Carters have been married for more than 75 years, making American history as the longest-married presidential couple.
"Lord, especially Mrs. Carter, and God look back on times and years that they've been together and Lord just strengthen her in the power of your might as well," the pastor said.
Others took to social media to remember Carter, who served one term after defeating President Gerald Ford in 1976.
"Across life's seasons, President Jimmy Carter, a man of great faith, has walked with God. In this tender time of transitioning, God is surely walking with him," U.S. Sen. Raphael Warnock, a Georgia Democrat, said in a tweet.
"May he, Rosalynn & the entire Carter family be comforted with that peace and surrounded by our love & prayers."
The Carters volunteered for decades with Habitat for Humanity, beginning in 1984 and continuing until 2020.
"All of us at Habitat for Humanity are lifting up President and Mrs. Carter in prayer as he enters hospice care," Habitat for Humanity International CEO Jonathan Reckford said in a statement.
"We pray for his comfort and for their peace, and that the Carter family experiences the joy of their relationships with each other and with God in this time," Reckford said.
Nicholas Kristof, a New York Times columnist, tweeted: "Prize winners and truly impressive people. Few are as truly good as Jimmy Carter, who at age 98 is now entering hospice. He leaves this planet so much better than he found it. A great, great, great man."
Carter was a little-known Georgia governor when he began his bid for the presidency ahead of the 1976 election. He went on to defeat Ford, capitalizing as a Washington outsider in the wake of the Vietnam War and the Watergate scandal that drove Richard Nixon from office in 1974.
Carter served a single, tumultuous term and was defeated by Republican Ronald Reagan in 1980, a landslide loss that ultimately paved the way for his decades of global advocacy for democracy, public health and human rights via The Carter Center.
The former president and his wife, Rosalynn, 95, opened the center in 1982. His work there garnered a Nobel Peace Prize in 2002. source
---
Jimmy Carter had one of the 'greatest second acts' in American history, conservative historian says
Former President Jimmy Carter, 98, is said to 'at peace' along with his wife Rosalyn
Tributes and heartfelt responses are pouring in following news that former President Jimmy Carter has been entered into hospice care.
"While bedeviled by myriad problems during his years in office, Carter has had one of the greatest second acts in American history," acclaimed historian and conservative political consultant Craig Shirley told Fox News Digital on Saturday afternoon.
"He also deserves the lion's share of the credit for producing the durable Camp David Accords. Carter, an Annapolis grad, has always loved his country," Shirley, who has written four books on President Reagan, added.Carter, 98, has been widely praised for his "second act" after leaving the White House and dedicating himself to helping others through charity and promoting diplomacy around the globe.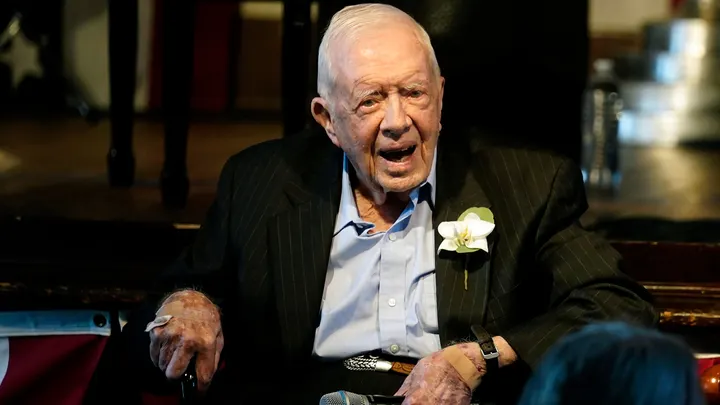 On Saturday, The Carter Center announced that the former president will spend time at home rather than receive "additional medical intervention."
"He has the full support of his family and his medical team," the center's statement said. "The Carter family asks for privacy during this time and is grateful for the concern shown by his many admirers."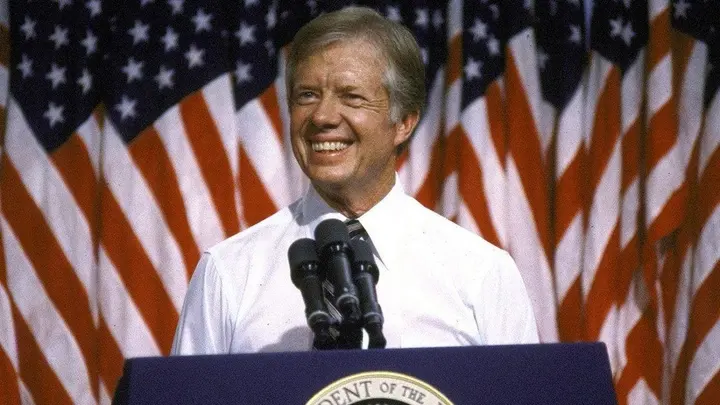 Well wishes immediately began pouring in on social media following The Carter Center's announcement.
"This man moves humanity forward every single day," Maria Shriver, a journalist, philanthropist, and niece of former President John F. Kennedy, posted on Twitter. "He is such an inspiration. Devoted his whole life to public service. Sending him and his family my love, my respect, my support."Jason Carter, the former president's grandson who now chairs The Carter Center governing board, said Saturday in a tweet that he "saw both of my grandparents yesterday. They are at peace and—as always—their home is full of love."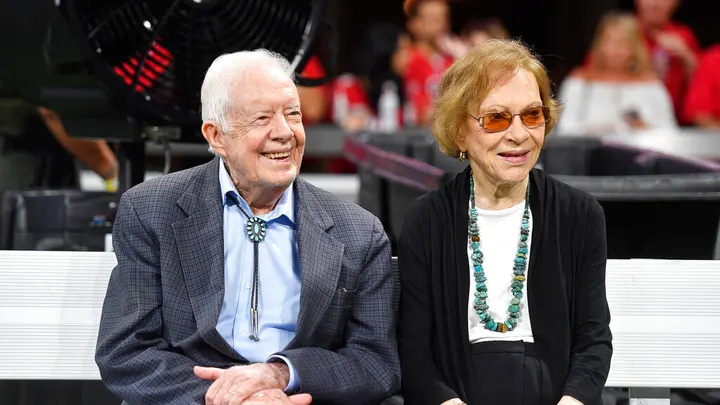 Carter was a prominent supporter of Habitat for Humanity dating back to 1984 and volunteered with the group every year since then until 2020.
"All of us at Habitat for Humanity are lifting up President and Mrs. Carter in prayer as he enters hospice care," Habitat for Humanity CEO Jonathan Reckford said in a statement on Saturday. "We pray for his comfort and for their peace, and that the Carter family experiences the joy of their relationships with each other and with God in this time."
Carter celebrated his most recent birthday in October with family and friends in Plains, Georgia, the tiny town where he and his wife, Rosalynn, were born in the years between World War I and the Great Depression.
The Carter Center last year marked 40 years of promoting its human rights agenda.
---
Did you know about Jimmy Carter's deep family roots in the CSRA?
AUGUSTA, Ga. (WRDW/WAGT) – The family tree of former President Jimmy Carter has little-known roots in the CSRA that date back more than two centuries.
Although Carter – the only native Georgian to occupy the Oval Office – grew up hundreds of miles from here, his family first settled in the CSRA after coming to Georgia.
The Carter family came to America from England in 1637, initially settling in Isle of Wight County, Va., and later finding its way to Bertie County, N.C., according to the Jimmy Carter Presidential Library and Museum.
Carter's fourth great-grandfather, Kindred Carter, moved to Georgia and settled in what's now McDuffie County between 1773 and 1800.
In 1798 in Columbia County, Kindred's son James, Carter's third great-grandfather, married Eleanor "Nellie" Duckworth, whose family was from Warren and Columbia counties. The couple settled in 1815 along White's Creek on a 500-acre plantation about 4 miles northwest of Thomson.