First police report in Tyre Nichols case does not match video of deadly beating
An initial police report filed in the hours after the Tyre Nichols traffic stop suggested he was violent and made claims that were contradicted by video later released by police.
Nichols was subdued on the ground yet continuously beaten after the stop by Memphis police on January 7. He died three days later.
The initial police report said Nichols "started to fight" with officers and at one point grabbed one of their guns. But neither claim was substantiated by police videos released last week.
And despite the fact that the videos don't appear to show Nichols fighting back, the report identified Nichols as a suspect in an aggravated assault.
The police report did not mention the officers punching and kicking Nichols.
One of the officers at the scene – who has since been charged with second-degree murder – was described in the report as a "victim."
The report also claimed Nichols, who was Black, was pulled over for reckless driving at a high speed – another claim that is not substantiated by video of the encounter.
While authorities have not released the police report, a photo of a police report was posted by a controversial Memphis radio talk show host. The police report account was first reported by The New York Times.
Shelby County District Attorney spokesperson Erica Williams told CNN "the DA does have a report that has that same account of events."
The report said Nichols was irate and sweating profusely when he got out of his vehicle and refused lawful detention by law enforcement. The use of pepper spray and a Taser stun gun had no effect on Nichols, the report stated.
The report also listed E. Martin as a "victim." One of the five officers charged with second-degree murder in Nichols' death is Emmitt Martin III.
It's not clear who wrote the police report, which references both the Memphis Police Department and the Shelby County Sheriff's Office.
CNN's calls to Memphis police have not been returned.
The Shelby County Sheriff's Office refused to comment on the statements in the police report or the sheriff department's role in it.
"The release of reports in connection with the investigation is unauthorized and the Sheriff's Office cannot comment," spokesperson John Morris told CNN.
While the report doesn't reflect what is shown on the police body cam footage and Skycop street camera footage of the encounter, it does seem to reflect what the officers were discussing after Nichols was subdued and handcuffed by police the night of the beating.
CNN has previously reported that the initial public statement from police was also contradicted by the videos. There are other videos and audio clips that will be released later.
"More recordings to come when the administrative investigation is complete," the city's top attorney said in a statement, referring to internal probes into the actions of police officers, fire department personnel and others.
"Mr. Nichols' family and attorneys have been afforded an opportunity to view the entirety of the audio and video footage privately until it can be released publicly," Chief Legal Officer Jennifer Sink said.
They beat on him like he was nothing,

' brother says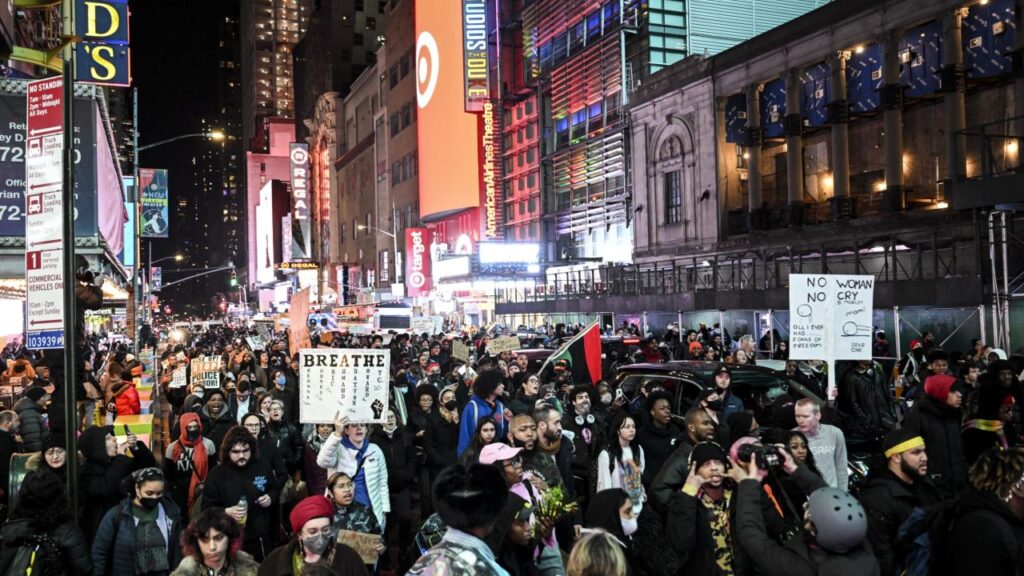 For the first time since Nichols was fatally beaten, his brother Jamal Dupree is speaking publicly about the horror and anguish his family lives with every day.
"It's like a never-ending nightmare," Dupree told "CNN This Morning" on Tuesday.
Dupree has not watched the video of his 29-year-old brother getting beaten with a baton and kicked in the head. He said he doesn't need to see it.
"As soon as I seen them photos from him in the hospital, I already knew that they treated my brother like an animal," Dupree said. "They beat on him like he was nothing. I don't have to watch the video to know that."
After public outrage over the gruesome video, officials have announced more firings or disciplinary action against public servants at the scene.
In addition to the firings of five Black Memphis police officers – all of whom face murder charges – officials have announced the firings of three Memphis Fire Department personnel.
Two sheriff's deputies have been put on leave. And the police department acknowledged Monday that two more police officers had been put on leave.
"We are looking at everybody who had any kind of involvement in this incident," from the officers and paramedics on scene to those who filed the paperwork, Shelby County District Attorney Steven Mulroy said Monday.
Prosecutors moved "extraordinarily quick" with charges against the five officers "primarily responsible for the death of Tyre Nichols," the prosecutor said. "As to everybody else, it's going to take some time as we do that investigation. But I assure you the investigation's ongoing."
The release of grisly footage of the attack on Nichols again horrified a nation that's faced a steady stream of videos of police violence, especially against people of color.
The deadly encounter started with police pulling Nichols over for what they initially said was suspected reckless driving and unfolds at two locations.
Video released Friday shows Nichols running away after officers yanked him out of a car and used pepper spray and a Taser to try to make him lie prone; and then officers catching up to him at a second location, where he is repeatedly kicked and beaten.
After his hands are restrained and he's left slumped to the ground, roughly 23 minutes pass before a gurney arrives at the scene. Nichols died at a hospital of his injuries three days later, authorities said.
Nichols' brother feels guilty he couldn't save him
Dupree said he felt it was his duty to protect his little brother. Now, he says he's racked with guilt because he couldn't save him.
"My brother was trying to cooperate with them," Dupree said.
"If I was there, they would have had to kill me, too. Because I would have fought all of them."
He said he wants everyone to remember how much joy Nichols brought to the world.
"My brother's legacy is everywhere right now. Everybody knows that my brother was an innocent person. … He cared about people. He put people before he put himself. He was very selfless. He was just, all-around, a great person to be around," Dupree said.
At a short news conference Tuesday night, Dupree spoke about the need for non-violent protests.
"My brother was the most peaceful person you ever met. He's never lifted a finger to nobody. Never raised his voice to nobody," Dupree said. "If my brother was here today and he had to say something, he would tell us to do this peacefully."
Dupree spoke at the Mason Temple Church of God In Christ Headquarters in Memphis, where Martin Luther King Jr. gave his famed "I've Been to the Mountaintop" speech the night before he was murdered while in the city to support a sanitation workers strike.
Nichols' family and clergy from around the country flanked speakers, including Rev. Al Sharpton, as they called for legislative action and vowed never to give up the fight for justice for Nichols and other Black men who died after encounters with police.
Some people held signs including several that showed Nichols in his hospital bed and displayed the phrase "I am a man," the same words the sanitation workers hailed as their motto in 1968.
Sharpton said Tuesday, "The night before Dr. King was killed, this is where he spoke and (the family is) standing on that ground. Because we will continue in Tyre's name to head up to Martin's mountaintop. That's why we wanted to start this right on the sacred ground."
Charges, firings and those placed on leave so far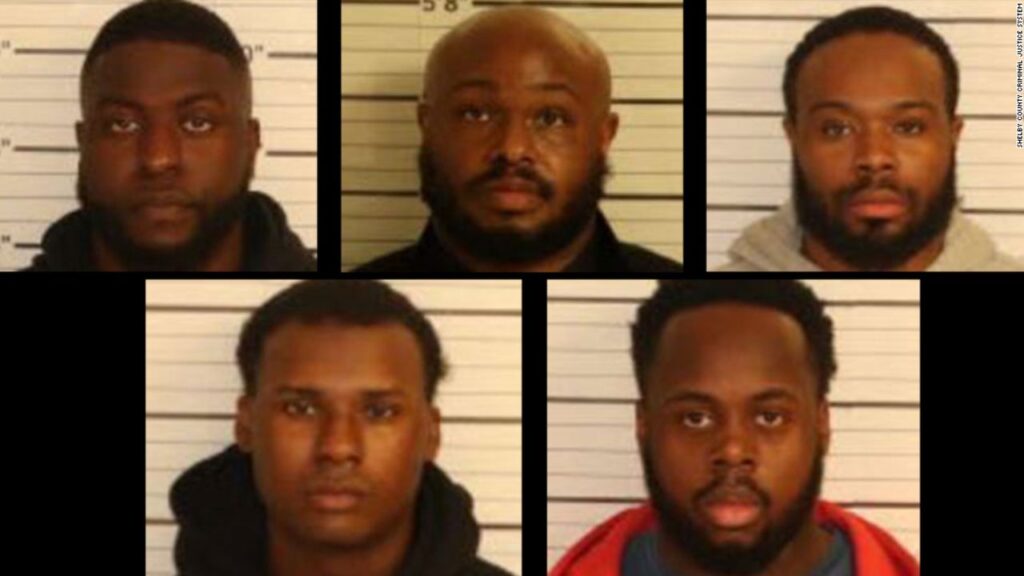 From top left: Emmitt Martin III, Desmond Mills, Demetrius Haley. From bottom left: Justin Smith and Tadarrius Bean.
Five Memphis police officers were fired January 20 and then indicted last week. They face seven counts, including: second-degree murder, aggravated assault, aggravated kidnapping with bodily injury, aggravated kidnapping in possession of a deadly weapon, official misconduct and official oppression.
The five officers – Tadarrius Bean, Demetrius Haley, Justin Smith, Emmitt Martin and Desmond Mills Jr. – are expected to be arraigned February 17.
Martin's attorney, William Massey, said "no one out there that night intended for Tyre Nichols to die."
Mills' attorney, Blake Ballin, said Mills arrived later than other officers and his vision was impaired by the pepper spray used during the traffic stop.
"Some of the questions that remain will require a focus on Desmond Mills' individual actions," and "on whether Desmond's actions crossed the lines that were crossed by other officers during this incident," Ballin said.
Attorneys for the other former officers did not immediately respond to requests for comment.
Personnel files for the fired officers show several had received written reprimands or short suspensions for violating policies during their time with the department.
None had previously been disciplined for excessive force, but Haley was involved in an November 2021 incident where another officer received a sustained complaint for "excessive/unnecessary force" after a female suspect suffered a dislocated shoulder. Haley didn't face a departmental charge for force but was reprimanded for failing to document his role in the detention.
In 2019, Mills received a reprimand for not filing a form after the use of physical force against a suspect. The summary of his hearing said Mills used force to take the woman "to the ground so that she could be handcuffed."
While four officers had policy violations, Bean had no written reprimands in the files reviewed by CNN.
On Monday, police said a sixth and a seventh officer had been placed on leave with the other five on January 8 – and those two officers still are the subjects of an internal investigation.
Police identified one of the two officers as Preston Hemphill, who is White. Police spokesperson Kimberly Elder declined to say whether Hemphill is being paid.
The city has released body-camera and pole-camera surveillance footage of the initial traffic stop, as well as the beating at the second site. One of the body-cam videos reveals Hemphill – at the site of the initial traffic stop – fired a Taser at Nichols and eventually said after Nichols ran: "One of them prongs hit the bastard."
Hemphill twice says to an officer who was with him: "I hope they stomp his ass."
That body-cam video does not show Hemphill at the second site, where the county's district attorney has said Nichols was beaten and suffered his serious injuries.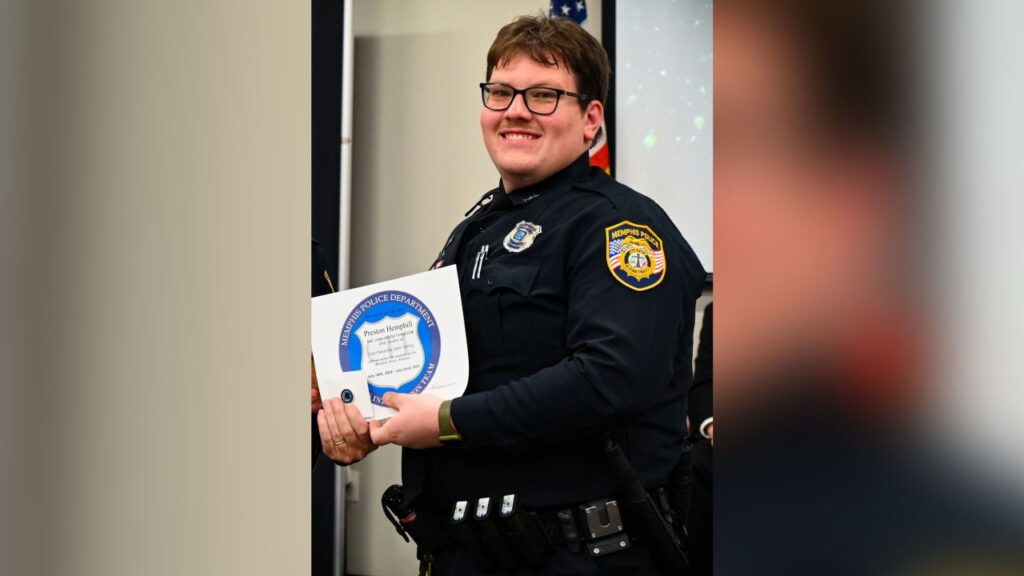 Hemphill's attorney, Lee Gerald, said his client – who hasn't been charged – "was never present at the second scene."
The seventh officer has not been publicly identified.
"Officer Preston Hemphill and other officer's actions and inactions have been and continue to be the subject of this investigation," Memphis police said Monday.
"There are numerous charges still developing that are impending."
The Memphis Fire Department announced three employees were fired over their response to the incident.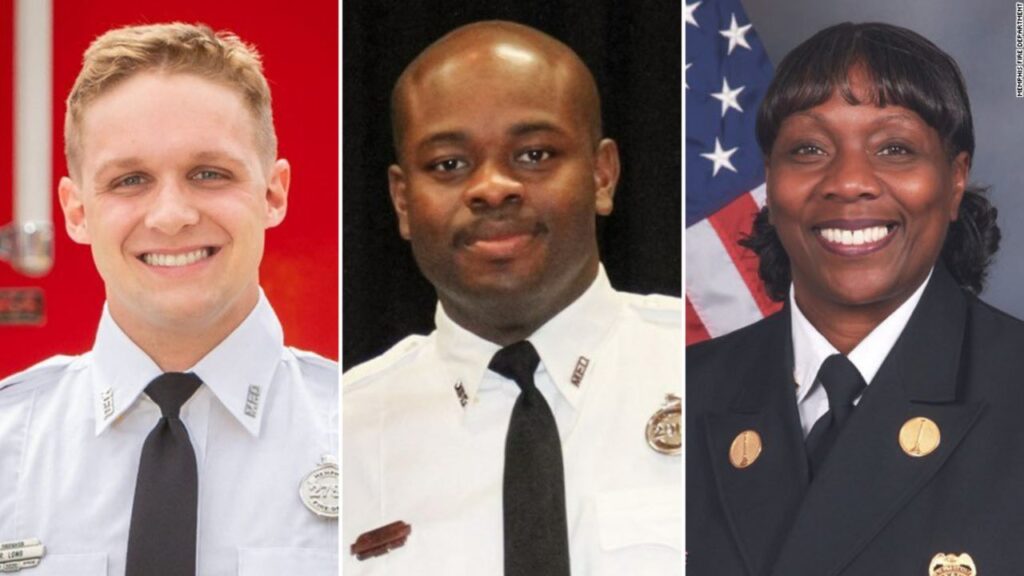 Emergency medical technicians Robert Long and JaMichael Sandridge and Lt. Michelle Whitaker have been terminated, the fire department said Monday.
The three were responding to a report of "a person pepper sprayed" when they arrived at the scene of the deadly beating and found Nichols on the ground, the fire department said.
The department's investigation found that "the two EMTs responded based on the initial nature of the call and information they were told on the scene and failed to conduct an adequate patient assessment of Mr. Nichols," the fire chief said.
Whitaker had remained in the fire truck, the department said.
Pole-camera video released Friday showed that after the EMTs arrived and before the ambulance arrived, first responders repeatedly walked away from Nichols, with Nichols intermittently falling onto his side.
Additionally, two deputies with the Shelby County Sheriff's Office were put on leave last week pending an investigation, after video of the incident was released.
"I have concerns about two deputies who appeared on scene following the physical confrontation between police and Tyre Nichols," Sheriff Floyd Bonner Jr. said Friday.
'A gross collapse of the system'
After the fire department firings were announced Monday, an attorney for Tyre Nichols' family, Antonio Romanucci said, "everybody on that scene was complicit in this man's death, in one way, shape, form, or another, somebody failed Tyre Nichols."
"They either failed by using excessive force; they failed him by severely beating him; they failed him by not intervening; they failed him by not rendering aid," the attorney said Monday.
He said Nichols' family still is trying to absorb the breadth of this multiagency investigation, while also dealing with the loss of their loved one.
"This is just such a gross collapse of the system that we are supposed to trust, that it really is unspeakable," Romanucci said.
A Memphis city council member said much more work needs to be done.
"We need to make sure that we go through our police department and see where we were weak, what happened with our procedures, what happened with our oversight," council member Jeff Warren said.
"I don't think we've seen the end of it. And I think we're going to find there's more to this as we go into the trial," he said. "I don't think we're on top of this yet."