SHOULD SHERIFF'S DEPUTIES ENJOY IMMUNITY FOR DEPRAVED CONDUCT?
In the 2008 crime thriller Lakeview Terrace, Samuel L. Jackson plays a Los Angeles cop who relentlessly harasses his next-door neighbors, an interracial couple. Expecting help, the couple alert another officer but learn a disturbing lesson about the emptiness of "protect and serve" slogans. "It's his word against yours, and he has, let's say, the color issue on his side," the warped officer advises. "And that color happens to be blue." 
Crystal Holmes probably won't watch that flick because of her real-life nightmare. For years, Holmes found herself targeted for obnoxious harassment by her next-door neighbor in Altadena: a cop. Holmes reported the conduct of LA sheriff's detective Rosalina Harris; her husband, Dean; and her adult daughter Arlani to other cops without winning an iota of sympathy. In fact, according to court records, Dean advised her, "Go ahead. Go to the police. They're not going to do anything to us." 
He was right. Police officers not only refused to come to Holmes' aid, but they also joined in the abuse. What the subsequent Holmes v. Harris litigation underscores is a troubling question: Who can a harassed citizen turn to if the perpetrator is a cop?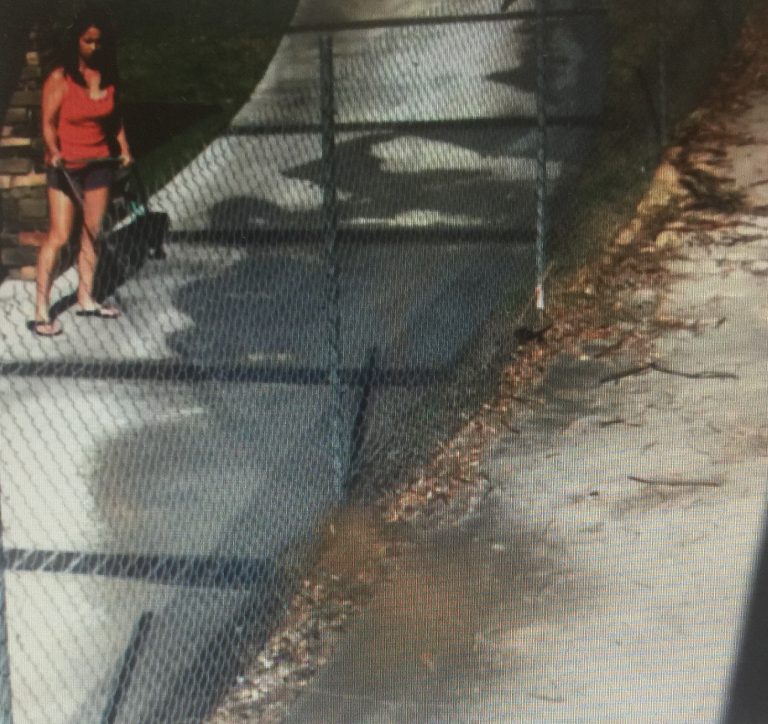 This story began innocently. Thinking she'd found her dream home, Holmes moved next to the Harrises in 1998. The corporate consultant eventually found herself in a living hell. Her neighbors behaved as if they owned her driveway.
"Ms. Holmes repeatedly returned home to find herself unable to park in her own driveway because it was already occupied by [the Harrises'] vehicles or their guests' [cars]," according to Holmes' lawyers, Caleb E. Mason and Scott L. Menger of Brown White & Osborn, LLP. "When Holmes politely asked if they would please stop parking their vehicles in her driveway, Mr. Harris refused, saying, 'If your car is not in your driveway, we are going to use it, and there is nothing you can do about it.'"
Holmes says her complaints only brought retaliation, including "rude and threatening statements" or worse.
For example, the Harrises' dog would urinate and crap on their driveway, and the detective would hose the mess onto Holmes' property. 
Rosalina Harris denied the assertion, but surveillance footage captured her in such an act on Nov. 19, 2017; a still image shows the detective holding a hose, pointing the flow at the dog's feces and creating a corresponding unsanitary puddle in Holmes' driveway. 
The detective wasn't alone in her mischief. Court records show Dean liked to use a leaf blower as a delivery device to transport trash and debris from his property onto Holmes' yard. On April 13, 2015, Holmes parked her red SUV on the street, and Dean moved two of his cars directly in front of and behind hers, bumper to bumper, trapping it in. Surveillance footage shows him walking away from his masterpiece.
On Sept. 30, 2016, Dean "backed his truck with significant force into the front of Holmes' car, causing damage," according to court records. Though the victim notified the California Highway Patrol, nothing happened. Dean claimed it had been an accident. 
Holmes finally found relief in October 2016, when she won a temporary restraining order against Dean. At a later hearing for a permanent injunction, the detective introduced an alleged psychological evaluation by Argiro Julie Kiotas, then a purported 26-year psychologist. Kiotas opined that Holmes suffered from a "serious personality disorder" and was the actual harasser in the feud. 

But, according to court records, Kiotas wasn't a licensed psychologist in California and never interviewed Holmes. According to Transparent California, she makes $274,000 annually as an instructor at Pasadena City College.
Holmes' attorneys blame Kiotas' input for the judge siding in early 2017 with Harris on the injunction issue. 
That court victory may have emboldened the detective and her family. On Feb. 25, 2017, Dean parked his truck across the street and walked onto his property. Meanwhile, Arlani waited 16 seconds to follow as Holmes was arriving. "Arlani then crossed the street, timing her crossing so that Holmes' vehicle was now pulling up slowly by the properties and passed behind her," states Holmes' version of the events. "Mr. Harris watched Arlani as she crossed the street. Immediately after Holmes passed Arlani, Arlani visibly laughed."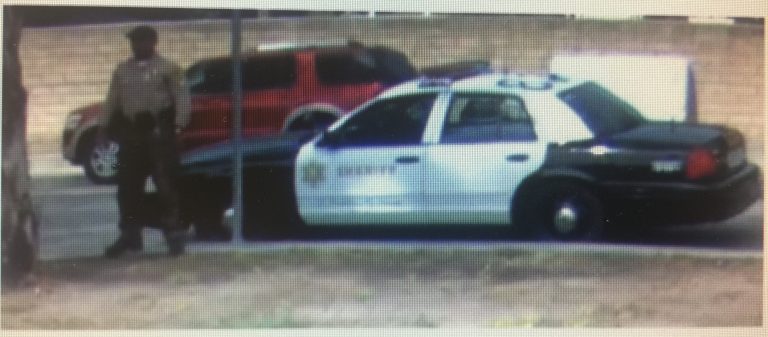 At first, the joke was on Holmes. Dean called deputies to report a felony. Summoned officers were told Holmes revved her engine and accelerated as she tried to run over Arlani, which—if true—would constitute assault with a deadly weapon. Arlani posed frightened.
From surveillance footage, it appears one of the officers at the scene, Sergeant Tom Crosswhite, may have been resisting a demand for Holmes' arrest. According to court records, Dean "became quite animated" and "appeared to argue with or berate [Sergeant] Crosswhite." Rosalina arrived at the scene 35 minutes into the dispute and huddled with her law-enforcement pals. At the conclusion of the pow-wows, Deputy Elizabeth Cano arrested Holmes, who that day was scheduled for a business trip to Hawaii.
"Arlani then turned to Mr. Harris and laughed and danced," according to Holmes' lawsuit.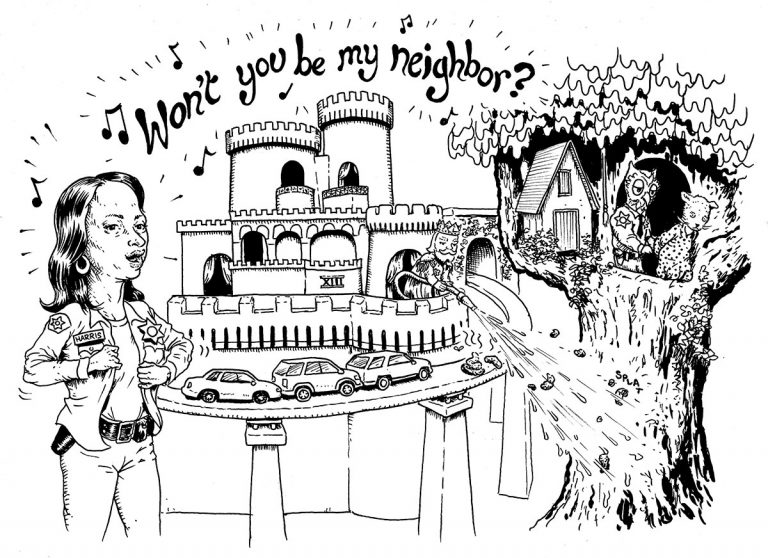 But there had been no crime other than, perhaps, filing a false police report, which—as you can now guess—was ignored. For that fact, we can once again thank surveillance video, which deputies unsuccessfully tried to confiscate from a suspicious Holmes. After watching the footage, a prosecutor declined to file charges, announcing, "[Arlani] claims the suspect tried to hit her. The video does not support her claim."
Over the objections of Rosalina's department in August 2017, Superior Court Judge Darrell Mavis declared Holmes' "factually innocent," a rare judicial pronouncement for a defendant.
Was Holmes now able to live without harassment? No. Horror-movie fans know monsters such as Jason Voorhees of the Friday the 13th series fame aren't easily extinguished. 
According to court records, when Holmes refused to obey the Harrises' demands about what she should do on her own property, armed and on-duty deputies arrived at her house on Dec. 10, 2017; Feb. 15, 2018; and April 3, 2018. They asked her hostile questions about her trash-bin use and the erection of a fence, snooped around, and left her intimidated. Sometimes the officers stood aggressively in front of her house and just stared. Surveillance footage also proves these facts.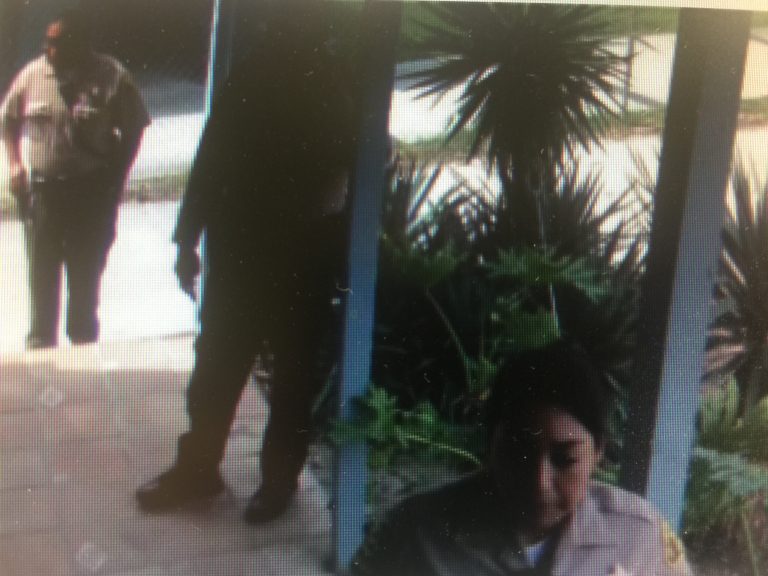 On April 4, 2018, Dean ripped down a tarp Holmes had installed on her fence. When Holmes walked over, Dean stated to his nearby wife, "Honey, she stabbed me! Call the police!"
Detective Harris phoned her colleagues via 911. When deputies arrived, they saw no evidence of a stabbing, according to court records. Nonetheless, the incident was scarring. Holmes, who is African American, moved into a hotel and, in May 2018, filed a federal lawsuit alleging malicious prosecution and deprivation of constitutional rights under the color of law. 
Before a jury trial, Rosalina tried to kill the litigation. She argued there wasn't proof she used her police power in the dispute, including causing Holmes' arrest. Her communications with deputies over the years about her neighbor had only been part of her efforts to "de-escalate" tensions, she insisted.
If that didn't work, she wanted evidence excluded so she could claim the feud had been an innocent misunderstanding. Besides, blame for the arrest rested solely on Holmes, according to the detective's lawyers at Seki, Nishimura & Watase, which specializes in representing accused dirty cops. 
"Plaintiff's seizure was caused by her own refusal to release the surveillance footage to the deputies," they opined. "A reasonable person would consider her conduct highly unusual or an extraordinary response to the situation. Mrs. Harris did not know and had no reason to expect that [Holmes] would act in a wrongful manner."
On the other hand, the detective had acted "reasonably" in her role as "a wife and mother," and deserved qualified immunity to "shield her from liability" based on her police officer status, they added.
This May, U.S. District Court Judge Philip S. Gutierrez dismissed Holmes' malicious prosecution claims on a loophole. Though Holmes had been arrested on a trumped-up accusation, she hadn't been technically prosecuted. But Gutierrez said a jury should decide if the detective trampled Holmes' rights against unreasonable arrests. 
In the weeks before jury selection, the Los Angeles County Sheriff's Department placed a one-minute, 34-second video on YouTube. The footage shows a mild-mannered Harris driving and speaking to a camera. The department attached the following words: "Watch as she discusses her love for the job, helping innocent victims and finding justice for them."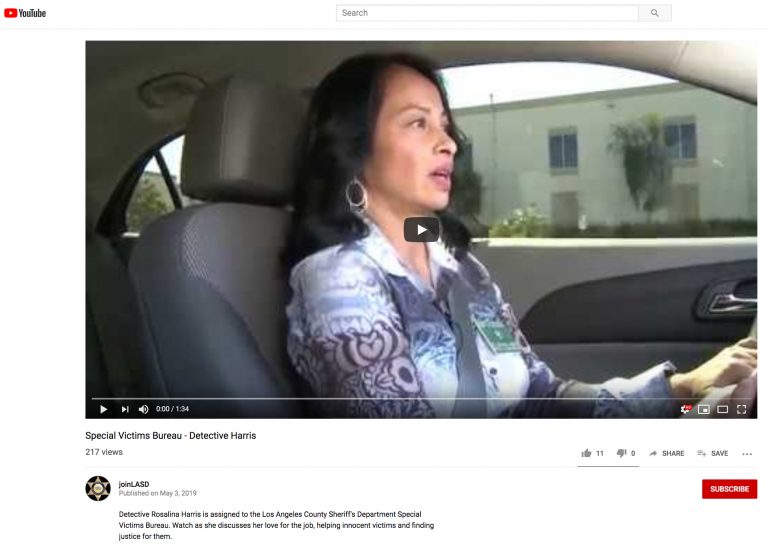 The sly publicity stunt didn't work. This month, a jury sided with Holmes. They awarded her more than $2.26 million. 
If Google is accurate, no Southern California media outlet covered this case.
CNN-featured investigative reporter R. Scott Moxley has won Journalist of the Year honors at the Los Angeles Press Club; been named Distinguished Journalist of the Year by the LA Society of Professional Journalists; obtained one of the last exclusive prison interviews with Charles Manson disciple Susan Atkins; won inclusion in Jeffrey Toobin's The Best American Crime Reporting for his coverage of a white supremacist's senseless murder of a beloved Vietnamese refugee; launched multi-year probes that resulted in the FBI arrests and convictions of the top three ranking members of the Orange County Sheriff's Department; and gained praise from New York Times Magazine writers for his "herculean job" exposing entrenched Southern California law enforcement corruption.