Mount Washington Experiences Record-Setting Wind Chill
The Arctic air that descended on the Northeast on Saturday brought dangerously cold sub-zero temperatures and wind chills to the region, including a record-setting wind chill of minus -108 degrees Fahrenheit (minus -78 C) on the summit of Mount Washington in New Hampshire.
Temperatures got so low that authorities in Massachusetts took the unusual step of keeping the South Station transit hub open overnight so the homeless had a safe place to sleep. Several cities in the Northeast set or tied record low temperatures for the date, while the high winds brought down a tree branch on a car in western Massachusetts killing an infant.
"I can't remember it being this cold, not since 2015," said Gin Koo, 36, wrapped up in three shirts and a down jacket, as well as a hat and a hood, as he walked his Boston terrier, Bee, in Boston on Saturday morning. Even Bee, wrapped in a doggie coat, shivered. "I wouldn't go out if I didn't have to."
Paul Butler, 45, who has been homeless since he was evicted in December 2021, took shelter in South Station.
"This is the coldest I ever, ever remember, and I worked the door at a bunch of clubs for 15 years," said the former Marine.
Mount Washington set a record for coldest wind chill ever recorded at 
-108 degrees

(minus)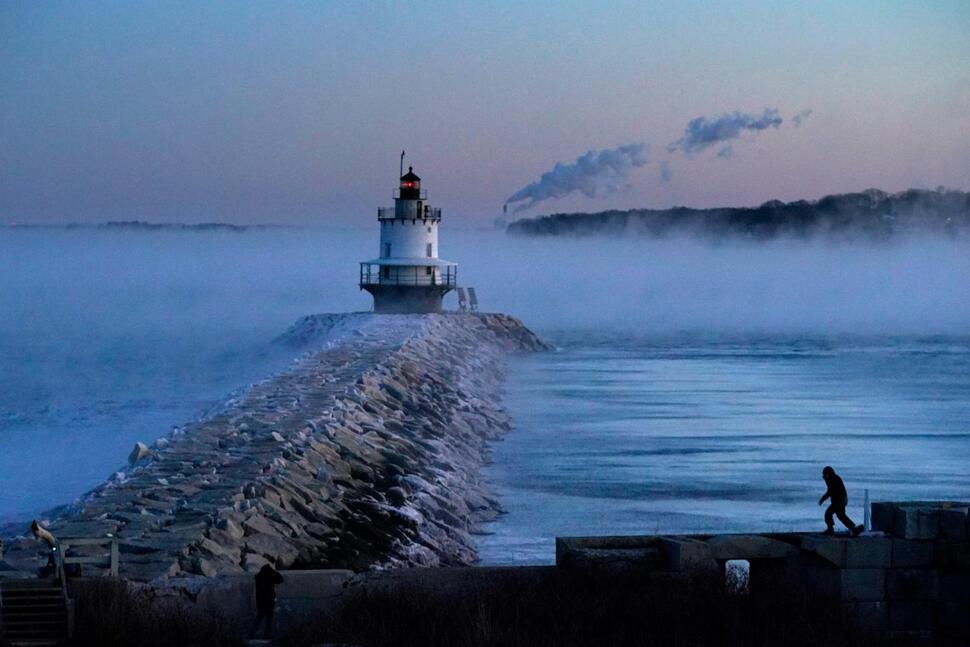 Temperatures dropped precipitously and wind speeds rose across the Northeast early on Saturday, but no area could compete with the frigid conditions atop Mount Washington in New Hampshire.
At 6,288 feet, it is the highest peak in the Northeast and known for having some of the world's worst weather.
A new record for the coldest wind chill ever recorded, minus 108 degrees Fahrenheit, was set at the summit of Mount Washington in New Hampshire, the region's highest peak, on Friday. The previous record was minus 103 degrees. The temperature atop the mountain reached as low as minus 47 degrees in the early hours of Saturday.
In comparison, the coldest it got there on Thursday was minus 5 degrees. The average wind speed was 55 m.p.h., and the peak wind gust was 95 m.p.h.
Temperatures at the peak are expected to rise on Saturday morning, and will be around minus 15 degrees by sunset on Saturday. But winds will rise to above hurricane force and fog will return on Sunday, with isolated snow showers expected.