Chinese spy balloon spotted over Western US, Pentagon says
Suspected Chinese spy balloon moving over U.S., Pentagon says
The United States government is monitoring a suspected Chinese surveillance balloon that has been moving over the northern United States.
WASHINGTON – The U.S. is tracking a suspected Chinese surveillance balloon that has been spotted over U.S. airspace for a couple days, but the Pentagon decided not to shoot it down due to the risk of harming people on the ground, officials said Thursday. The discovery of the balloon puts a further strain on U.S.-China relations at a time of heightened tensions.
A senior defense official told Pentagon reporters that the U.S. has "very high confidence" it is a Chinese high-altitude balloon and it was flying over sensitive sites to collect information. One of the places the balloon was spotted was Montana, which is home to one of the nation's three nuclear missile silo fields at Malmstrom Air Force Base. The official spoke on condition of anonymity to discuss sensitive information.
He said similar balloon activity has been seen in the past several years. He added that the U.S. took steps to ensure it did not collect sensitive information.
A senior administration official, who was also not authorized to publicly discuss sensitive information, said President Joe Biden was briefed and asked the military to present options. Defense Secretary Lloyd Austin and Army Gen. Mark Milley, chairman of the Joint Chiefs of Staff, advised against taking "kinetic action" because of risks to the safety of people on the ground. Biden accepted that recommendation.
File: A UH-1N Huey flies to a missile alert facility near Malmstrom Air Force Base, Montana, Feb. 9, 2021. (U.S. Air Force photo by Senior Airman Tristan Truesdell)
The defense official said the U.S. has "engaged" Chinese officials through multiple channels and communicated the seriousness of the matter.
The incident comes as Secretary of State Antony Blinken was supposed to make his first trip to Beijing, expected this weekend, to try to find some common ground. Although the trip has not been formally announced, both Beijing and Washington have been talking about his imminent arrival.
It was not immediately clear if the discovery of the balloon would impact Blinken's travel plans.
The senior defense official said the U.S. did get fighter jets, including F-22s, ready to shoot down the balloon if ordered to by the White House. The Pentagon ultimately recommended against it, noting that even as the balloon was over a sparsely populated area of Montana, its size would create a debris field large enough that it could have put people at risk.
It was not clear what the military was doing to prevent it from collecting sensitive information or what will happen with the balloon if it isn't shot down.
In a letter sent Thursday to Austin, Sen. Steve Daines, R-Mont., wrote: "The fact that this balloon was occupying Montana airspace creates significant concern that Malmstrom Air Force Base and the United States' intercontinental ballistic missile fields are the target of this intelligence gathering mission. … It is vital to establish the flight path of this balloon, any compromised U.S. national security assets, and all telecom or IT infrastructure on the ground within the U.S. that this spy balloon was utilizing."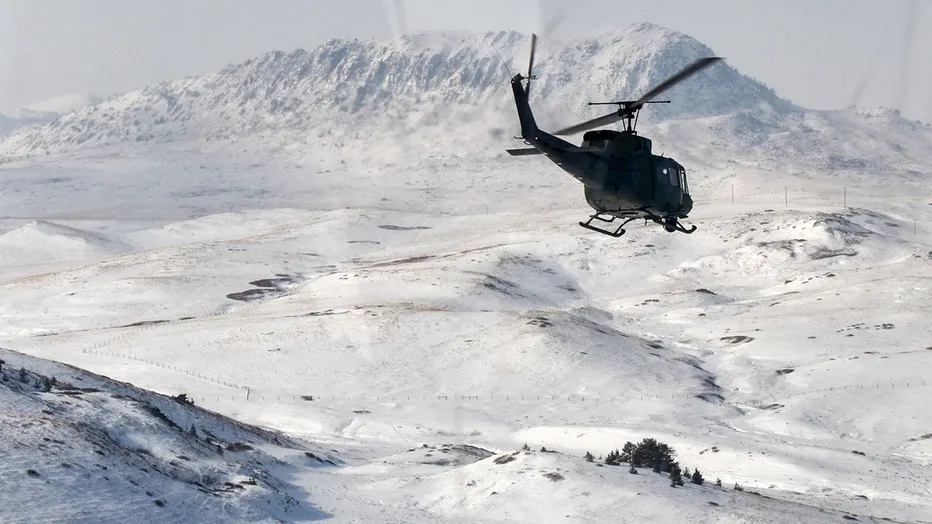 The defense official said the spy balloon was trying to fly over the Montana missile fields, but the U.S. has assessed that it has "limited" value in terms of providing China intelligence it couldn't already collect by other means, such through spy satellites.
The official would not specify the size of the balloon, but said it was large enough that despite its high altitude, commercial pilots could see it. All air traffic was halted at Montana's Billings Logan International Airport from 1:30 p.m. to 3:30 p.m. Wednesday, as the military provided options to the White House.
A photograph of a large white balloon lingering over the area was captured by The Billings Gazette, but the Pentagon would not confirm if that was the surveillance balloon. The balloon could be seen drifting in and out of clouds and had what appeared to be a solar array hanging from the bottom, said Gazette photographer Larry Mayer.
The defense official said what concerned them about this launch was the altitude the balloon was flying at and the length of time it lingered over a location, without providing specifics.
Montana Gov. Greg Gianforte said he was briefed Wednesday about the situation after the Montana National Guard was notified of an ongoing military operation taking place in Montana airspace, according to a statement from the Republican governor and spokesperson Brooke Stroyke.
"From the spy balloon to the Chinese Communist Party spying on Americans through TikTok to CCP-linked companies buying American farmland, I'm deeply troubled by the constant stream of alarming developments for our national security," Gianforte said in a statement.
Tensions with China are particularly high on numerous issues, ranging from Taiwan and the South China Sea to human rights in China's western Xinjiang region and the clampdown on democracy activists in Hong Kong. Not least on that list of irritants are China's tacit support for Russia's invasion of Ukraine, its refusal to rein in North Korea's expanding ballistic missile program and ongoing disputes over trade and technology.
On Tuesday, Taiwan scrambled fighter jets, put its navy on alert and activated missile systems in response to nearby operations by 34 Chinese military aircraft and nine warships that are part Beijing's strategy to unsettle and intimidate the self-governing island democracy.
Twenty of those aircraft crossed the central line in the Taiwan Strait that has long been an unofficial buffer zone between the two sides, which separated during a civil war in 1949.
Beijing has also increased preparations for a potential blockade or military action against Taiwan, which has stirred increasing concern among military leaders, diplomats and elected officials in the U.S., Taiwan's key ally.
The surveillance balloon was first reported by NBC News.
Some Montana residents reported seeing an unusual object in the sky around the time of the airport shutdown Wednesday, but it's not clear that what they were seeing was the balloon.
From an office window in Billings, Chase Doak said he saw a "big white circle in the sky" that he said was too small to be the moon.
He took some photos, then ran home to get a camera with a stronger lens and took more photos and video. He could see it for about 45 minutes and it appeared stationary, but Doak said the video suggested it was slowly moving.
"I thought maybe it was a legitimate UFO," he said. "So I wanted to make sure I documented it and took as many photos as I could."
By Tara Copp and Lolita C. Baldor source
---
Chinese spy balloon flying over US nuclear strategic silos is a 'message from Beijing': Lt. Col. Danny Davis
The Pentagon reports having circled the Chinese spy balloon with F-22 Raptors
Pentagon: A high altitude Chinese surveillance balloon has penetrated US airspace
Retired Lt. Col. Daniel Davis breaks down why the Pentagon would recommend to President Biden against shooting down a Chinese spy balloon hovering over northern U.S. states on 'Jesse Watters Primetime.'
Defense Priorities' and former lieutenant colonel Danny Davis joined "Jesse Watters Primetime" to weigh in on President Biden's decision against shooting down a Chinese surveillance balloon flying over the United States.
DANNY DAVIS: I really think that this is supposed to be some sort of message from Beijing, because it comes just days before Secretary Blinken is supposed to meet with his Chinese counterpart and it happened to fly over our nuclear strategic silos, so I don't think that was by any mistake and any accident either. But I'm not sure what they think we're going to do if that's going to scare us or whatever, but it's certainly not going to work because the power that the United States has is enough to take care of us and keep us safe. Obviously, these [nuclear strategic silos] have been there for four decades and I just wonder if it's to just graphically say, "hey, we know where your nuclear silos are." You know, if anything happens with the Taiwan issue, that could come back into play there, because the reality is, Jesse, that China has plenty of low-Earth orbit satellites that have much greater visibility and much higher clarity and can do a lot better spying than what this thing does. So that's why I think this is probably some sort of message. source
---
Pentagon tracking suspected Chinese spy balloon over the US
The US is tracking a suspected Chinese high-altitude surveillance balloon over the continental United States, defense officials said on Thursday, a discovery that risks adding further strain to tense US-China relations.
Pentagon spokesman Brig. Gen. Patrick Ryder said the US government has been tracking the balloon for several days as it made its way over the northern United States, adding it was "traveling at an altitude well above commercial air traffic and does not present a military or physical threat to people on the ground."
Speaking on background, a senior US defense official said senior military officials had advised President Joe Biden not to shoot it down due to fear the debris could pose a safety threat to people on the ground.
"We are confident that this high-altitude surveillance balloon belongs to the [People's Republic of China]," the senior defense official said. "Instances of this activity have been observed over the past several years, including prior to this administration."
While the balloon's current flight path carries it over "a number of sensitive sites," the official said it does not present a significant intelligence gathering risk. The balloon is assessed to have "limited additive value" from an intelligence collection perspective, the official added.
The US, the official said, is "taking steps nevertheless to protect against foreign intelligence collection of sensitive information. We are also tracking what abilities it could have in gaining insights, and continue to monitor the balloon as it was over the continental United States."
The US believes Chinese spy satellites in low Earth orbit are capable of offering similar or better intelligence, limiting the value of whatever Beijing can glean from the high-altitude balloon, which is the size of three buses, according to another defense official.
"It does not create significant value added over and above what the PRC is likely able to collect through things like satellites in low Earth orbit," the senior defense official said.
The US government has engaged with the Chinese government both through the Chinese embassy in Washington and the US diplomatic mission in China, according to the official.
US national security officials have constantly warned about Chinese espionage efforts and the balloon's presence in the US comes at a sensitive moment with Secretary of State Antony Blinken expected to travel to Beijing in the coming days, a significant trip meant to follow up on President Joe Biden's meeting with Chinese President Xi Jinping last year.
Biden has declared China "America's most consequential geopolitical challenge" and competition between the two global superpowers is intense. Tensions have flared in recent years over the self-governing island of Taiwan, China's human rights record and its military activities in the South China Sea, among a host of other issues.
Biden was briefed and took advice not to shoot balloon down
The president has been briefed on the balloon's movements and requested military options on how to deal with it, according to a senior administration official.
Biden took Milley's advice not to order the balloon shot down and the official stressed that it does not pose a military threat emphasizing that the administration acted "immediately" to protect against the collection of sensitive information.
The senior defense official mentioned reports from Wednesday about a "ground stop" at Billings Airport in Montana, and the "mobilization of assets, including F-22s."
"The context for that was, it would put some things on station in the event that a decision was made to bring this down while it was over Montana," the official said. "So we wanted to make sure we were coordinating with civil authorities to empty out the airspace around that potential area."
However, it was ultimately the "strong recommendation" of senior military leaders, including the Chairman of the Joint Chiefs of Staff Gen. Mark Milley, not to shoot it down due to the risk to safety of people on the ground.
"Why not shoot it down? We have to do the risk-reward here," the official said. "So the first question is, does it pose a threat, a physical kinetic threat, to individuals in the United States in the US homeland? Our assessment is it does not. Does it pose a threat to civilian aviation? Our assessment is it does not. Does it pose a significantly enhanced threat on the intelligence side? Our best assessment right now is that it does not. So given that profile, we assess the risk of downing it, even if the probability is low in a sparsely populated area of the debris falling and hurting someone or damaging property, that it wasn't worth it."
Montana is home to fields of underground Minuteman III intercontinental ballistic missile silos, one potential target for Chinese espionage.
The senior defense official said on Thursday that if the risk level changes, the US "will have options to deal with this balloon."
We have communicated to [Chinese officials] the seriousness with which we take this issue. … But we have made clear we will do whatever is necessary to protect our people and our homeland."
This story is been updated with additional developments.
By Oren Liebermann, Haley Britzky and Michael Conte, source