'
Atmospheric river

'

pounds

California

,

Washington

,

Oregon


with

heavy rain,

wind

;

thousands

lose

power!
Power on the West Coast was knocked out for more than 114K customers across three states
More than 114,000 customers are without power on the West Coast Tuesday after an atmospheric river spread across the region.
According to tracker PowerOutage.US, 114,066 customers remained affected in the early morning.
The storm brought strong winds, heavy rainfall and snow, sending temperatures plummeting in some areas.
There were numerous reports of roadway flooding and downed trees as the system traveled southward.
In the Bay Area, the wet weather pattern will continue through Jan. 4.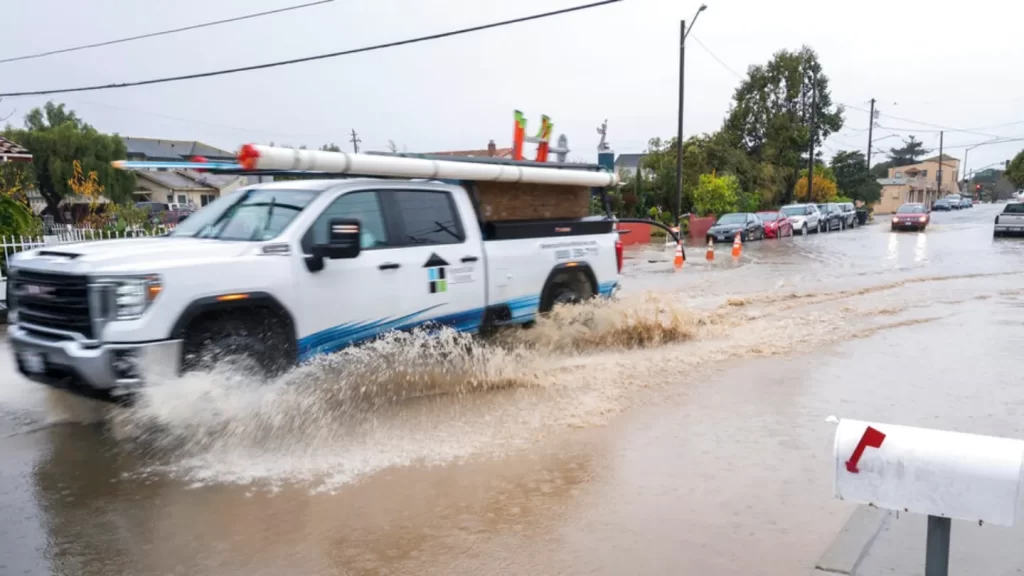 "We got a good soaking! Here are rain totals across the region on Dec 26-27 ranging from 0.5″ in Central [California] up to 4″ in North Bay with locally higher amounts of 5-6″ at Mt. Tamalpais & Santa Cruz [Mountains]," the National Weather Service's office there tweeted.
The 2.12 inches of rain measured since midnight near the Oakland Museum broke a previous record of 1.86 inches on the same day in 2004.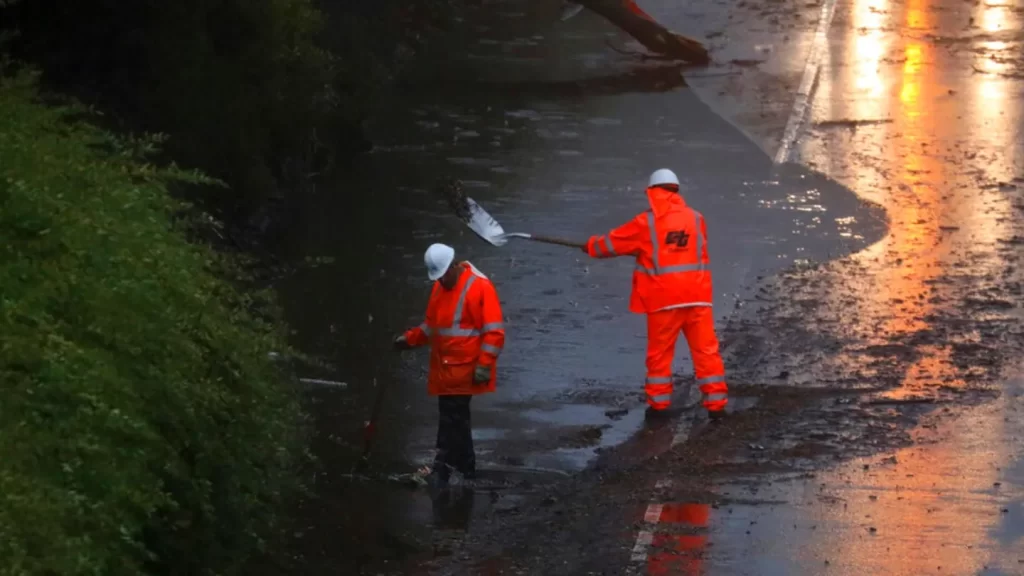 It is the eighth-wettest December for the East Bay city on record, according to the agency.
The National Weather Service also issued winter storm warnings for the Sierra Nevada.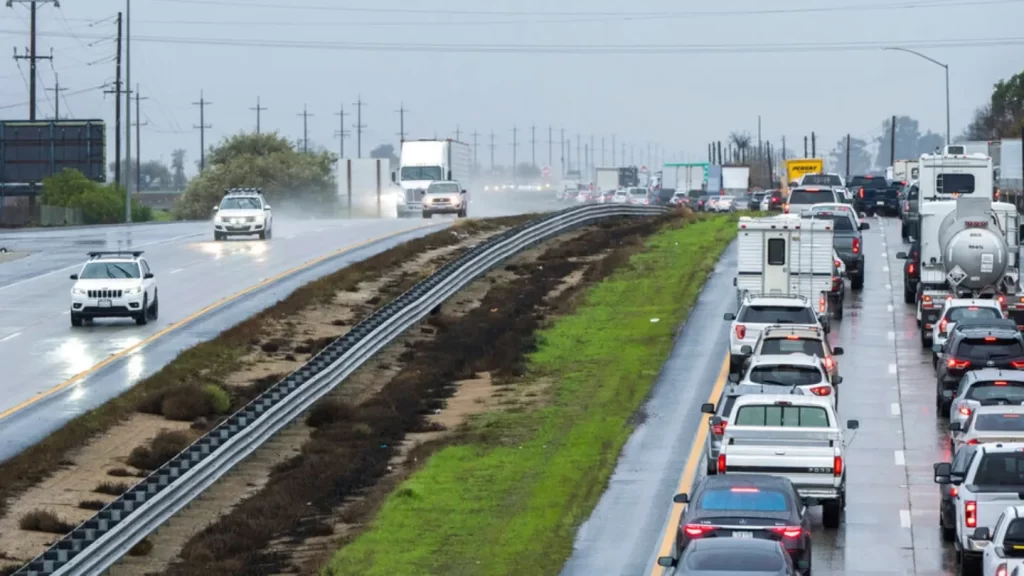 Motorists there were warned that travel conditions could be hazardous, and chains or snow tires were required on some highways.
There, gusts of up to 120 miles per hour were recorded on some ridgetops, and backcountry avalanche warnings were sent out for parts of the mountain range.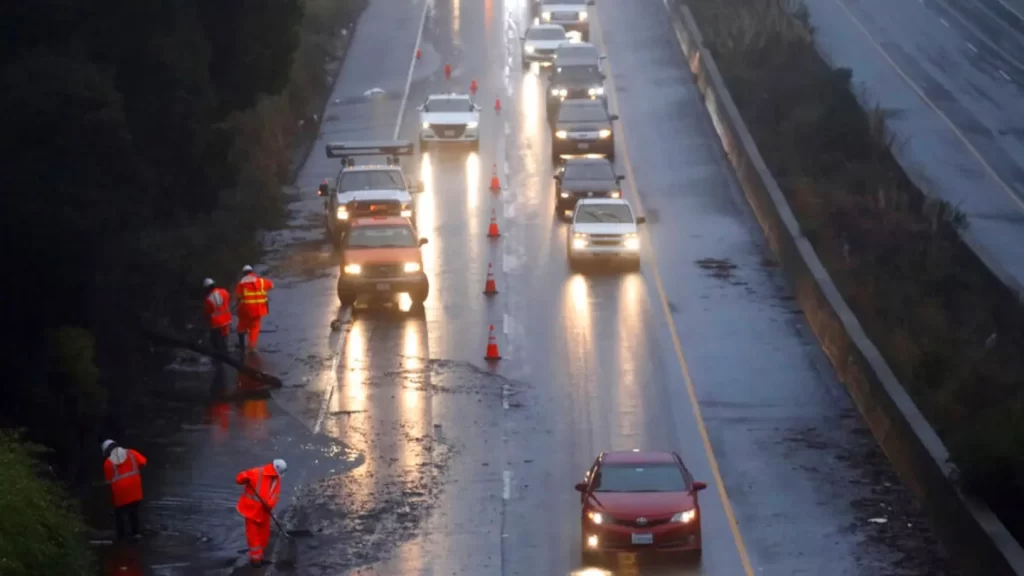 In Southern California, the Los Angeles County Department of Public Health released an ocean water quality rain advisory lasting to at least 4:30 p.m. PT on Friday.
"A rain advisory is issued when there is significant rainfall that may cause bacteria levels in the ocean waters to increase," the Los Angeles County Fire Department's Lifeguard Division wrote on Monday.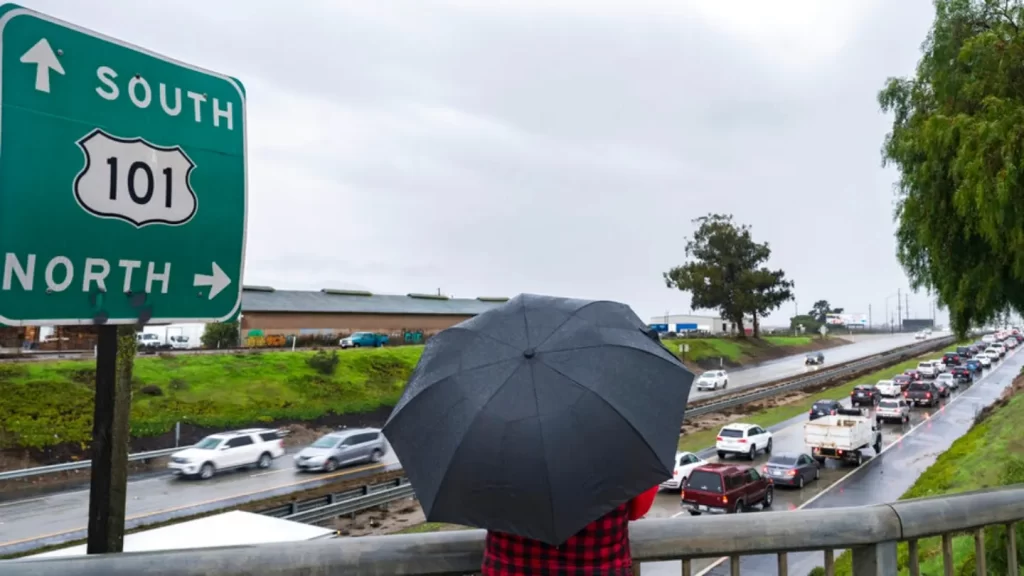 The atmospheric river was spawned by a low pressure system off the Pacific Northwest.
In Seattle, wind gusts reached upwards of 55 miles per hour on Monday night, and rain brought flooding to congested roadways.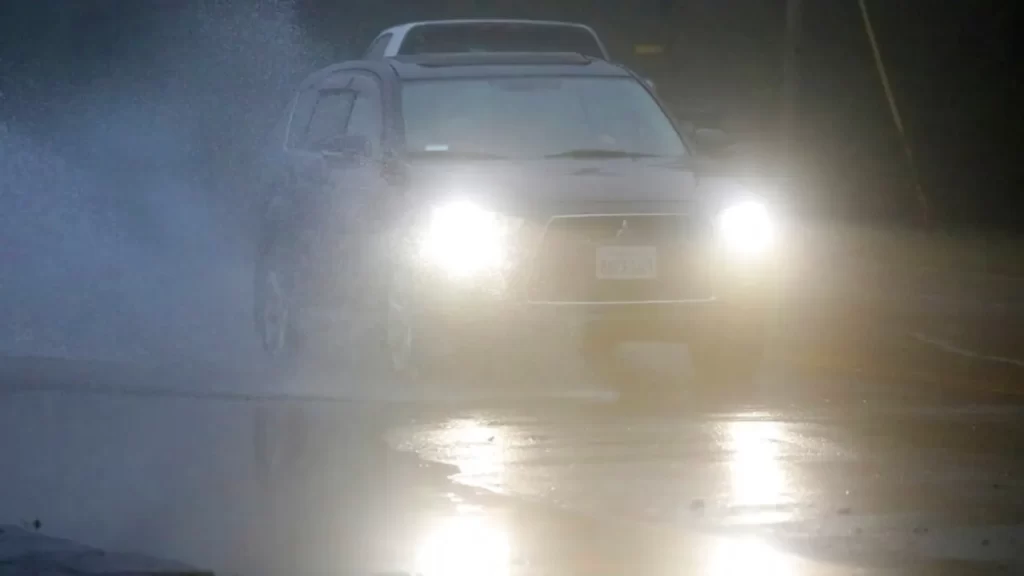 The National Weather Service's Portland, Oregon, office shared images of fallen trees and advised to avoid icy spots.
Flooding, thunderstorms and dangerous winds were all reported to have impacted the state.
The Associated Press contributed to this report.
---
Atmospheric river turns deadly as it slams California with flooding, mudslides
By Scott Sistek , Hillary Andrews , Steven Yablonski Source FOX Weather
One person was found dead near Sacramento after their car was apparently swept away by floodwaters.
Several inches of rain fell across much of California this weekend due to a strong atmospheric river, leading to widespread flooding.
SAN FRANCISCO –  Another significant atmospheric river event drenched California this weekend, flooding homes and roads, forcing evacuations, and claiming at least one life so far.
A person was found dead near Elk Grove when their car was apparently swept away by floodwaters along Dillard Road, Cosumnes Fire Department officials told FOX 40 Sacramento.  The victim was reported missing and later found dead inside a submerged vehicle around 10:30 a.m. Sunday.
Levee breaks on the Consumnes River caused water to rush into communities.
Over along the coast in Santa Cruz, a 72-year-old man was found dead after a large tree toppled at Lighthouse Field State Beach, according to Santa Cruz Police.
In a statement to FOX Weather, public safety superintendent with California State Parks Gabe McKenna said the tree was uprooted at the base due to "saturated soil and wind sheer during the storm."
Winds were gusting to around 38 mph amid heavy rain around the time the tree was toppled.
In Sacramento County, a person was rescued after they were found trapped in floodwaters and pressed against a tree. He was airlifted to safety and taken to a nearby hospital, but their condition was not given.
Heavy rain was reported across the San Francisco and Sacramento areas on Saturday. The rain gauge in Downtown San Francisco recorded its second-wettest day on record after picking up 5.46 inches.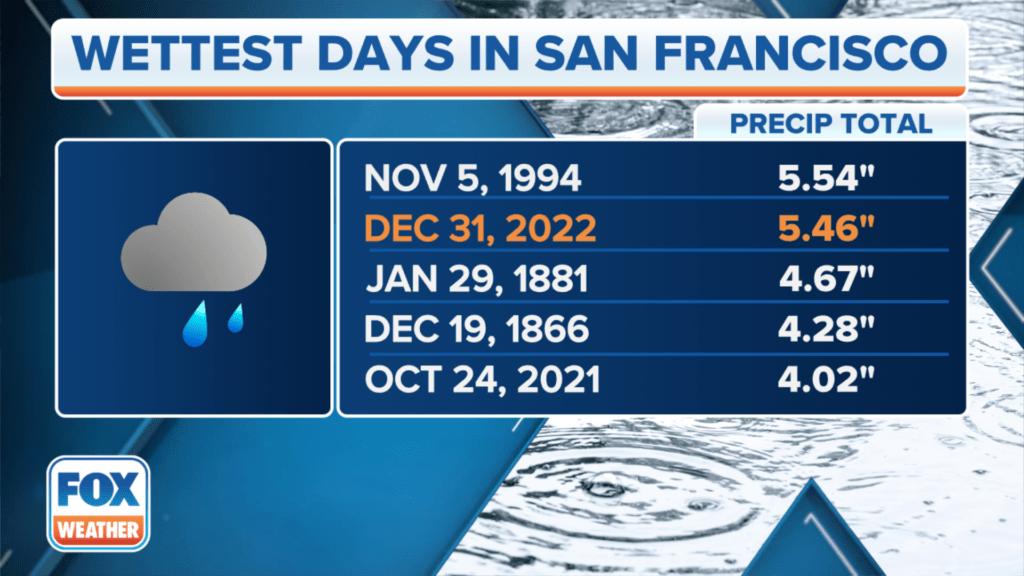 At least 250,000 Californians lost power during the peak of the storm, according to PowerOutage.us. The outages had dropped to about 130,000 by mid-Sunday afternoon.
The San Francisco Fire Department reported four homes were damaged by a mudslide, though no one was injured. Water rescues were needed on several flooded streets. Several communities opened sandbag locations for residents to take action against rising creeks and streams.
Another mudslide damaged a home in El Granada, according to CalFire.
Elsewhere in San Francisco, floodwaters rose to knee-deep levels with people even using surfboards to get around the water-logged neighborhoods.
A bit to the south of San Francisco, floodwaters covered US Highway 101 for several hours Saturday, forcing the closure of the major Bay Area artery and sending traffic in search of detours, according to FOX 2 Bay Area.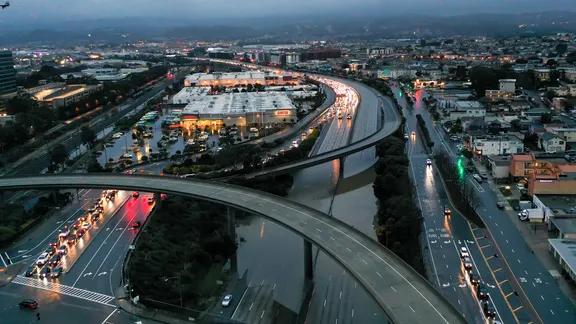 In the coastal town of Half Moon Bay, crews had to rescue residents whose homes became flooded along two streets, according to CalFire.
Flash flooding hits Sacramento Valley
Conditions were no better away from the coast as heavy rains and damaging winds blasted the inland California valleys.
Several roads were closed in the area as floodwaters rose, including multiple sections of Highway 99 in Stockton and Modesto.
Emergency officials ordered the evacuation of the town of Wilton after a levee showed signs of imminent failure and urged residents to get out before water would cover the escape roads.
Evacuations were also ordered in Sacramento County neighborhoods of Point Pleasant, Glanville Tract and Franklin Pond due to rising flash flooding worries and officials urged residents to get out of the area quickly to beat both the rising waters and impending darkness that would make floodwaters more difficult to spot.
 A shelter was established in Elk Grove for fleeing residents.
Over 100,000 people lost power in the Sacramento area alone as winds gusted as high as 61-64 mph in the city.
Rainfall totals through Sunday reached 2-5 inches across the Bay Area with isolated totals even higher, while about 2-4 inches fell across the Sacramento Valley.
Even heavier rains fell in the Sierra foothills – some rain gauges reporting 5-8 inches of rain – leading to several rock slides and mudslides along mountainous highways.
Southern California soaked by atmospheric river too…
The steady rain spread southward into Southern California on Sunday morning as areas further north see a break, yielding a rainy start to 2023 in the Los Angeles and San Diego metro areas.
The Orange County Fire Authority used a boat to rescue one person sitting on top of their car and 4 other adults still sitting in their partially submerged car on New Year's Eve. Floodwaters quickly overcame the 2 vehicles on an off-ramp in Tustin, California.
Even the arid areas of Arizona, such as Phoenix and Tucson, will net around a half-inch to an inch of rain from the storm, but areas in higher elevations could see frozen precipitation.
Storm dumps feet of snow along Sierra Nevada passes
While those in the lowlands had to deal with water-covered roadways, it was the frozen precipitation causing headaches in the mountains.
Snow totals ranged from 20-45 inches above 5,000 feet through Sunday morning, according to the National Weather Service office in Sacramento.
California Department of Transportation and the California Highway Patrol had to pull dozens of cars out of the snow on New Year's Eve.
This is just one of the cars that lost control and slid off the road into the feet of powder.
Heavy snow led ot the closure of Interstate 80 across Donner Pass for much of Saturday before reopening early Sunday morning.
The Central Sierra Snow Lab in Soda Springs, California reported an incredible snowfall rate of 7.5 inches in just one hour early Saturday evening.
Another Atmospheric River, or two, coming this week for California
As we mentioned earlier this week, there is no rest for the dreary in California this week. While northern and central California got a bit of sunshine Sunday as the storm passed, two more potent storms are taking aim at California later this week, according to the FOX Forecast Center.
A stronger, more significant storm system is expected to crash onshore Wednesday and last into Friday.
This storm system, in tandem with a strong atmospheric river, is likely to again lead to potentially significant impacts to parts of California.
With an even more saturated ground thanks to this past weekend's rain, the flood potential will only be higher across the Golden State.
Another 3-5 inches of rain is expected, with another 1-2 feet of snow in the mountains.
Landslides, mudslides, and rock slides will be increasingly likely as more rain falls. There will continue to be an increased risk for avalanches.
Long range forecasts indicate yet another storm system is set to slam into the West this upcoming weekend.
Will the atmospheric river make a dent in California's drought?
Several inches of rain in the forecast on top of what's already fallen this winter is surely appreciated in a region mired in a years-long drought. But while every drop helps, the region has a long way to go.
"At this point in time, we still have another four or five months in our snow season and in our typical rainy season," said Andrew Schwartz, lead scientist at the Central Sierra Snow Lab. "That means that while we're kind of scoring the touchdown in the first quarter of the game. Right now, we still have three-quarters left, and there's a lot that can happen."
Schwartz said last year's winter season also started off well with a record-breaking December mountain snowfall. "But January through March kind of shut off, and we didn't see as much precipitation come through in that period as we would have wanted."
But even an average snowfall season wouldn't be enough to get the region out of the drought.
"At this point in time, we realistically need about an extra winter's worth of precipitation," Schwartz said. "So it's not going to happen in one year. At minimum, we're probably looking at three to four of above-average before we can really talk about getting out of the drought."
In an average season, the lab sees 30 feet of snow. An extra season's worth of snow would mean 60 feet in one year. That, he said, is a very "high task to try to take on."
---
Learn More about Atmospheric Rivers and the Tech behind the forecast