Mark Russell, Piano-Playing Political Satirist, Dies at 90
Mark Russell, the sly satirist who skewered America's political elite for more than a half-century by blending stand-up comedy with biting song parodies, died Thursday. He was 90.
Russell died at his home in Washington of complications from prostate cancer, his wife, Alison, told The Washington Post.
Perhaps best known for his series of one-man PBS comedy specials that aired from 1975-2004, Russell also served as one of the hosts of the popular 1979-83 NBC reality program Real People, and he wrote a syndicated column for the Los Angeles Times for several years.
However, he was most at home in front of a live audience, and he spent two decades on the speaking circuit, hitting his peak in 2000 when he racked up 100 appearances in 100 different cities.
"Mark Russell was a D.C. institution who did the hardest thing a comic can do … relentlessly and righteously mock his neighbors," Jon Stewart said in a statement.
Typically dressed in a suit and bowtie, the bespectacled Russell looked like a college professor, and his razor-sharp knowledge of current events accentuated that. But truth be told, the Buffalo, New York native never earned a college degree; instead, he honed the skills that earned him success in the U.S. Marine Corps.
Russell swayed very little from the format he developed early in his career and rode to national prominence. After a monologue featuring swipes at political figures, he'd take to a star-spangled piano to joyfully pound out a musical standard — with his own spin on it — all while standing up.
Each new administration and scandal presented him with a potential gold mine. "I look at the paper. I like to have a newspaper," Russell said in 2006. "Then I start reading and reading and reading. And when I see something that makes me gag, I know we're off to the races."
An equal opportunity humorist, Russell poked fun at Republicans and Democrats alike. He did, however, have some favorite targets, most notably Ronald Reagan and Bill and Hillary Clinton.
"For six years, a lot of us kept saying, 'Mr. President, you're out of touch,'" Russell joked in 1988 about Reagan and the Iran-Contra scandal. "He said, 'No, I'm in charge.' Now we say, 'Ah ha, you were in charge.' He says, 'No, I was out of touch.'"
During a 1993 comedy special, Russell wasted no time ribbing the recently inaugurated commander-in-chief. "We are now six weeks into the Clinton administration. If I had to describe the opening hours of this new administration with two words, I guess the two words would be, 'Mayday! Mayday!'" Russell quipped. "Please remain calm. President Clinton is in full charge, and Bill is right there beside her."
It was his songs that set Russell apart from other political satirists.
He thought of the nursery rhyme "Lullaby and Goodnight" when stories surfaced that Reagan was dozing off during cabinet meetings. "Lullaby and goodnight, see the cabinet in session. Must be boring. I hear snoring. Someone's getting his rest."
To parody Walter "Fritz" Mondale's dismal 1984 presidential run, Russell channeled a tune from Disney's Song of the South. "Zip-a-dee-doo-dah, zip-a-dee-ay, Fritz can win it come election day. He needs a few breaks for the job that he seeks, like another Depression in less than two weeks."
In 1996, he paid tribute to Bill Clinton's re-election by transforming "The Great Pretender" into "The Great Campaigner" and gave a nod to Hillary with "Everything's Coming up Rodham," sung to the tune of "Everything's Coming up Roses."
And during the height of the Iraq war, Russell sang, "We're going to rock around Iraq tonight" as he played "Rock Around the Clock."
"When I met Mark Russell, I surprised myself with how excited I was to meet him," W. Kamau Bell said in a statement. "As a kid who grew up with a mom who made sure that PBS was on our TV as much as any other channel, Mark's comedy clearly got in my brain and rewired it.
"He taught me that comedy could be more than just funny and disposable. He showed that comedy could maybe even be more effective at speaking truth to power, if you made sure people walked out humming along to truth speaking."
One of Russell's most repeated quotes was his response when asked if he had any writers. "Oh, yes, I have 535 writers," he would say. "One hundred in the Senate and 435 in the House of Representatives."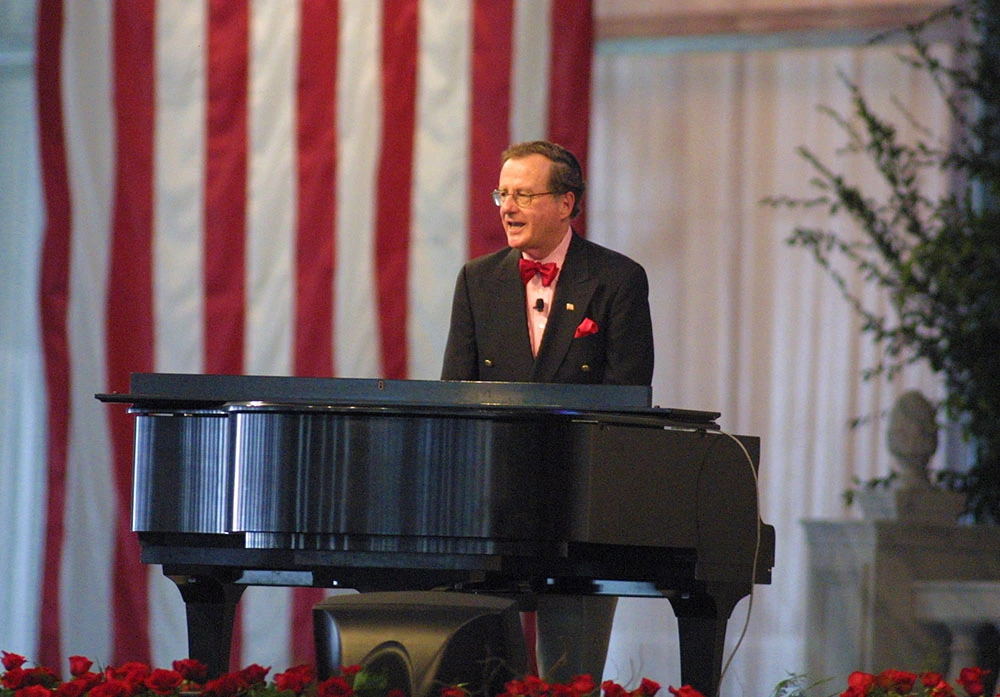 Marcus Joseph Ruslander Jr. was born in Buffalo on Aug. 23, 1932. His father started out as a salesman for Mobil Oil but eventually bought and operated his own gas station. His mother, Martha, worked in department stores and behind a candy counter in an office building.
During his formative years, he developed a taste for comic anarchy, reveling in the way Fred Allen and Jack Benny on the radio, and Groucho Marx and Charlie Chaplin in the movies, would satirize authority. By high school, he discovered he also had a talent for generating laughs.
After graduation, he and the family relocated to Florida, where his parents opened a mom-and-pop store. When that didn't pan out, they headed to Arlington, Virginia, to try their luck there. He attended college in both locales but found academia lacking, answering another calling instead. "Like a lot of guys in those days, Mark Russell readily admits that he dodged the draft," it said on his website. "He did it by joining the Marine Corps."
His three-year stint in the service took him from Virginia to Hawaii and Japan, and whenever the opportunity arose, he'd take the stage to entertain.
Back home in 1956, he changed his surname to Russell and began telling jokes at various clubs around Washington. Two years later, he landed a regular gig at the Carroll Arms, a downtown bar.
It was here that Russell developed the mixture of jokes and song parodies that would become his stock-in-trade. John F. Kennedy, then vying for the presidency, was a target. "Swing low, Jack Kennedy, your daddy is gonna carry you home," Russell sang while playing "Swing Low, Sweet Chariot."
The jokes didn't stop after Kennedy was elected. "JFK stands for Jobs for Kinship," he cracked, referencing the president's propensity to appoint his relatives to government positions.
Russell rolled the dice in 1961 and signed on for a risky two-week gig at the city's historic Shoreham Hotel, which hosted Franklin D. Roosevelt's first inaugural ball in 1933 and attracted the crème de la crème of Washington. It proved to be the perfect venue for his brand of humor, and Russell would headline at the hotel for 20 years.
He can thank Richard Nixon and Watergate for launching his TV career. Reporters in D.C. to cover the scandal caught his Shoreham act, which was filled with comic barbs at Nixon's expense. Word spread, and Russell parlayed the attention into his long-running association with PBS.
Beginning in 1962 with Up the Potomac Without a Canoe, Russell released six comedy albums, including 1976's Assault With a Deadly Peanut and 1997's Live at Ford's Theatre.
He was a founding advisory board member of the National Comedy Center in Jamestown, New York.
Survivors include his second wife, whom he wed at 1975 — Alison Kaplan served as an executive producer on his Mark Russell Comedy Specials at PBS — his three children, Monica, John and Matthew, from his first marriage; and six grandchildren.
In 2010, Russell announced his retirement, sounding one final note with a concert that July in Chautauqua, New York. But the move proved premature; two years later, he hit the road again at age 80, plying his offbeat brand of comedy and song in live performances throughout the country.
"Retirement was boring. I'd read the news and be itching to satirize it," Russell said in 2017. "One day, I read about a bunch of congressmen who went to the Middle East, got drunk and went skinny-dipping in the Sea of Galilee. I thought that was pretty funny. Of course, it would have been funnier if they'd all drowned. I was eager to get back to work. So I unretired. I'm in extra innings." source