Snow makes spectacular sight across Southern California
A rare weather phenomenon swept through California this past week, bringing snowcapped mountains behind the iconic Hollywood sign and more than 12 feet of snow to California's Sierra Nevada.
"It's like once-in-a-generation," said Ryan Maue, a meteorologist and former NOAA chief scientist.
The winter storm that blew through California on Feb. 4, 1989, was the fifth major snowstorm to hit the Los Angeles area since 1932 during the Great Depression. More than 30 years had passed since the mountains of Los Angeles and Ventura counties were under a Blizzard Warning.
"Not only were you getting significant snowfall in areas that already see snow, you were also seeing snowfall on lower elevations in Southern California, which is super rare," said Bianca Feldkircher, a meteorologist for the National Weather Service.
Here are some of the remarkable images captured of the snowstorm that shocked residents across Southern California.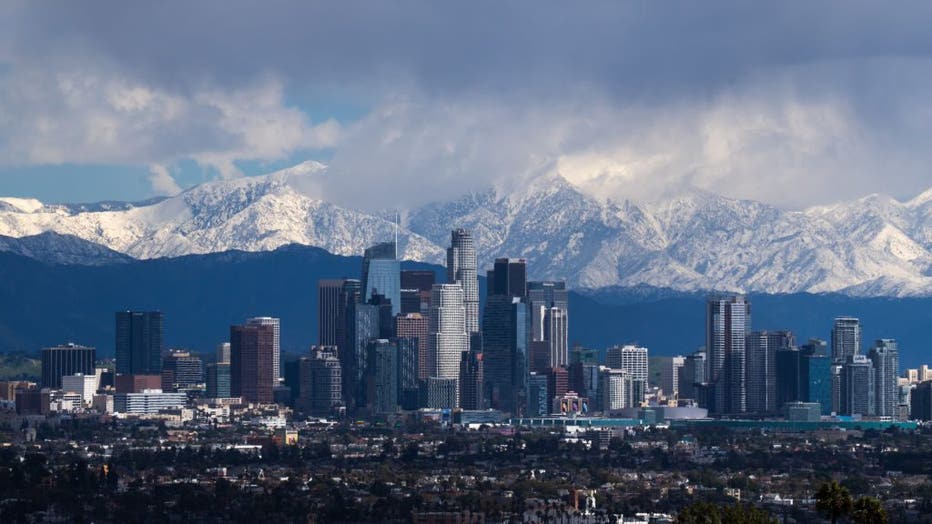 Clouds hover in the background of downtown Los Angeles skyline on March 1, 2023 in Los Angeles, CA. (Photo by Qian Weizhong/VCG via Getty Images)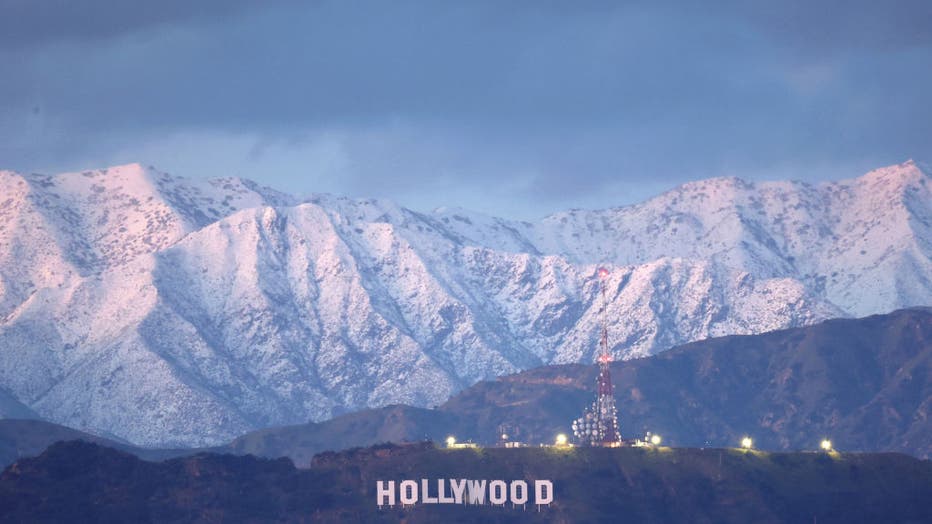 The Hollywood sign stands in front of snow-covered mountains after another winter storm hit Southern California on March 01, 2023 in Los Angeles, California. (Photo by Mario Tama/Getty Images)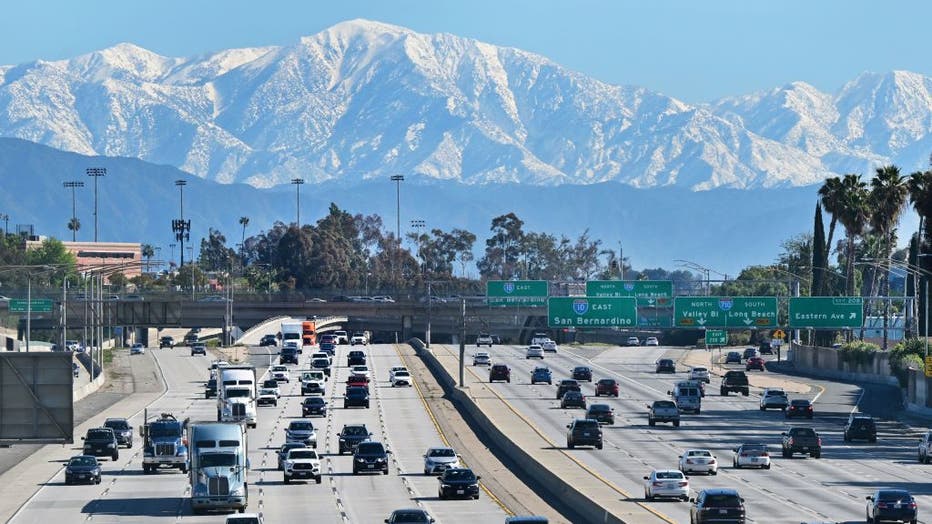 Motorists drive along a Los Angeles freeway with the snow-capped San Bernardino Mountains seen in the distance in Los Angeles, California, on March 2, 2023. (Photo by FREDERIC J. BROWN/AFP via Getty Images)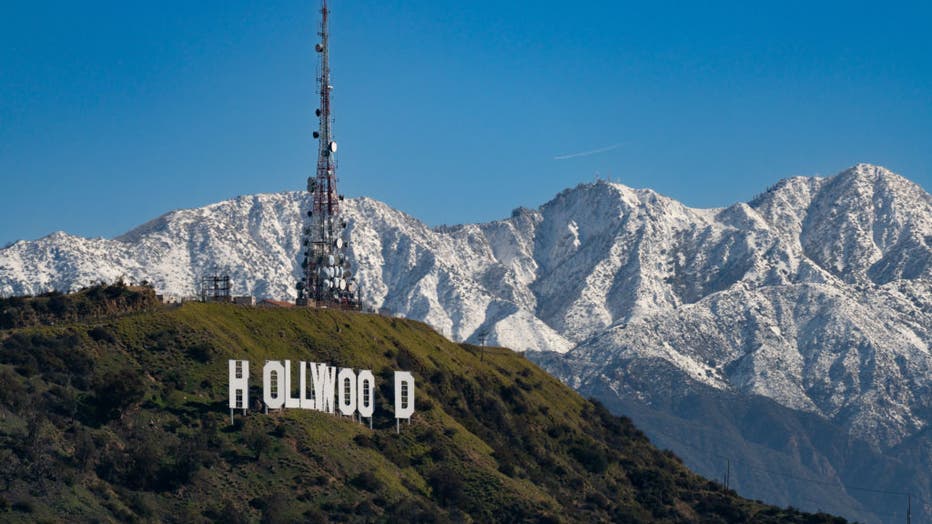 A view of the Hollywood Sign atop Mount Lee against the snow-covered San Gabriel Mountains on March 02, 2023 in Hollywood, California. (Photo by AaronP/Bauer-Griffin/GC Images)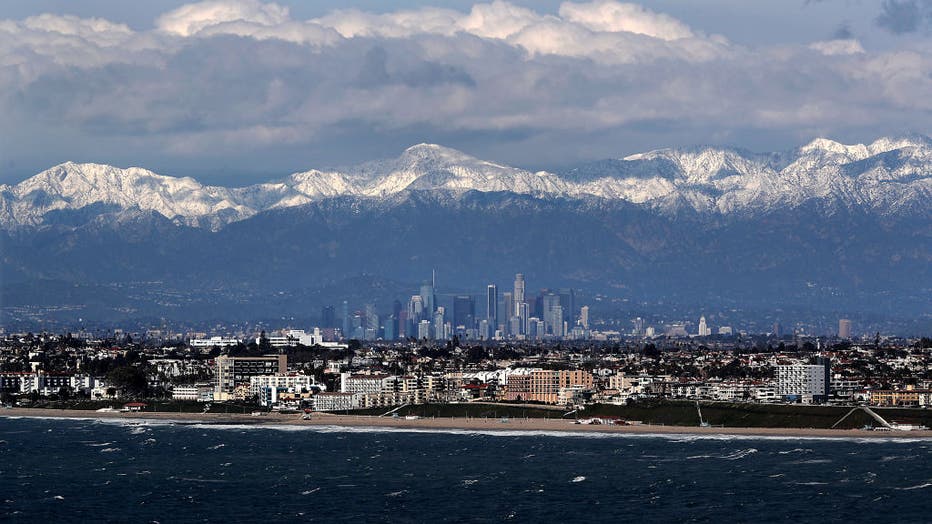 Snow-covered mountains provide a backdrop for the Los Angeles Basin, from the mountains to downtown to the sea on Wednesday, Mar. 1, 2023. (Luis Sinco / Los Angeles Times via Getty Images)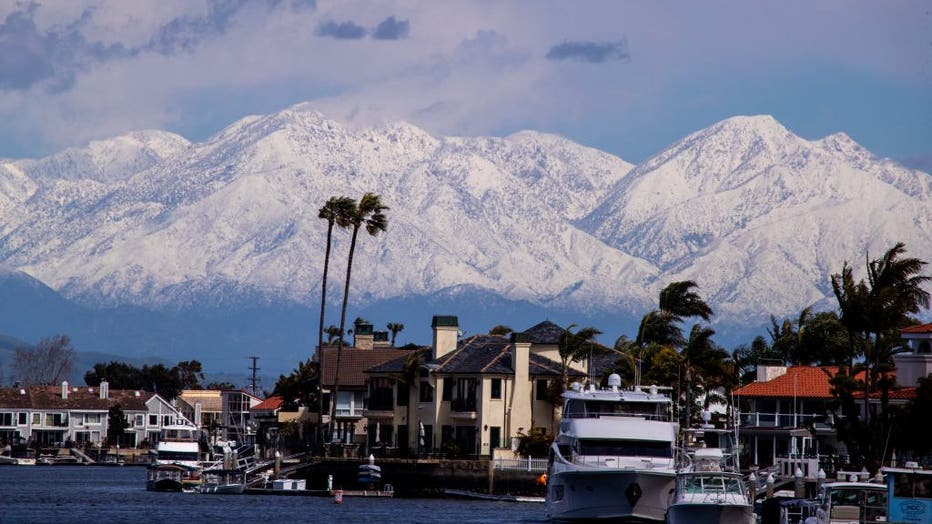 Snow blankets the San Gabriel Mountains as seen from Huntington Harbour in Huntington Beach, amidst gusty wind, intermittent rain and sleet and cloudy skies after historic rain and snow dumped on Southern California Wednesday, March 1, 2023.  (Allen J. Schaben / Los Angeles Times via Getty Images)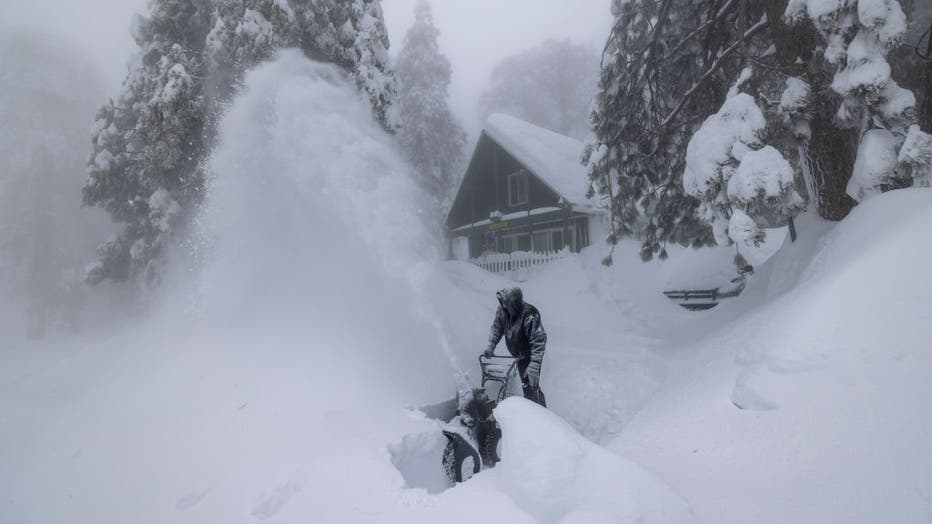 Robert Hallmark, who says that this is the worst snowstorm of his 31 years living here, clears snow at his home as residents throughout the San Bernardino Mountains continue to be trapped in their homes by snow on March 1, 2023 in Running Springs, California. (Photo by David McNew/Getty Images)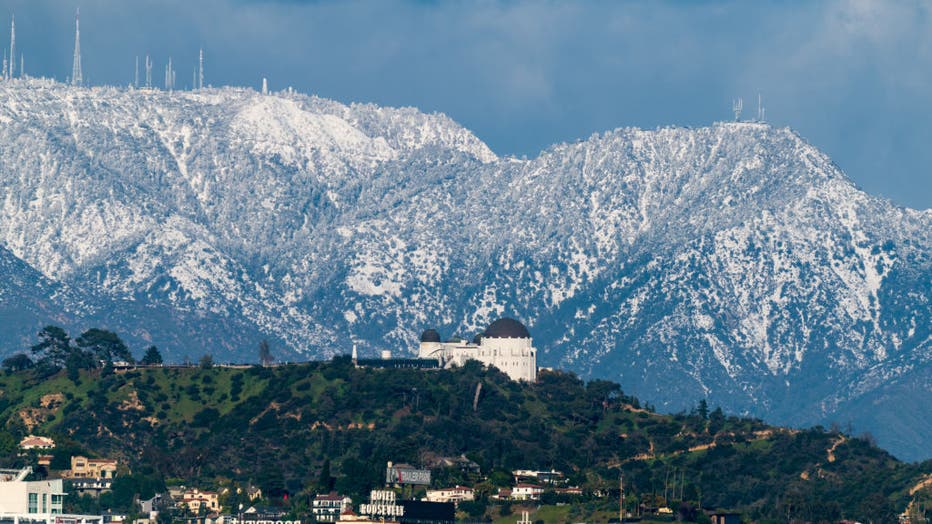 General views of Griffith Observatory and the Hollywood foothills against a snow-draped Mount Wilson after a winter storm system passes on March 01, 2023 in Los Angeles, California.  (Photo by AaronP/Bauer-Griffin/GC Images)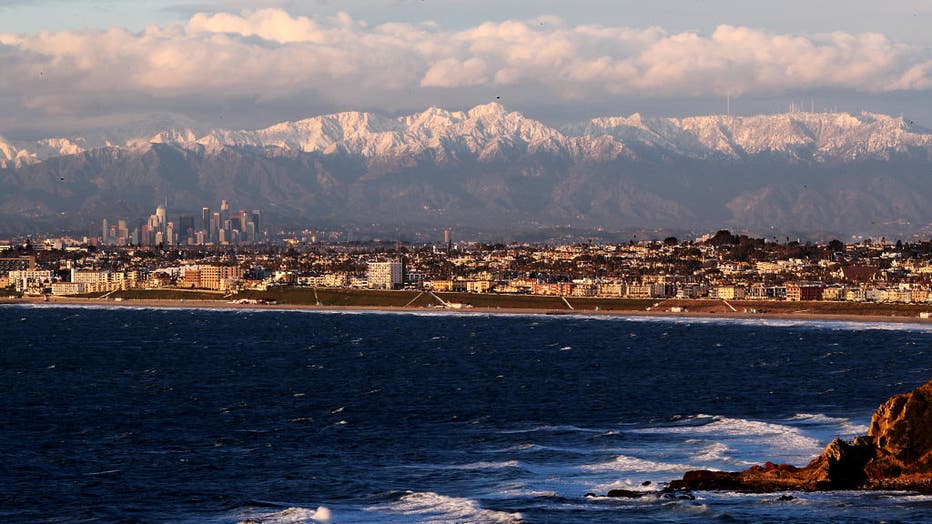 Snow-covered mountains provide a backdrop for the Los Angeles Basin, from the mountains to downtown to the sea on Wednesday, Mar. 1, 2023. (Luis Sinco / Los Angeles Times via Getty Images)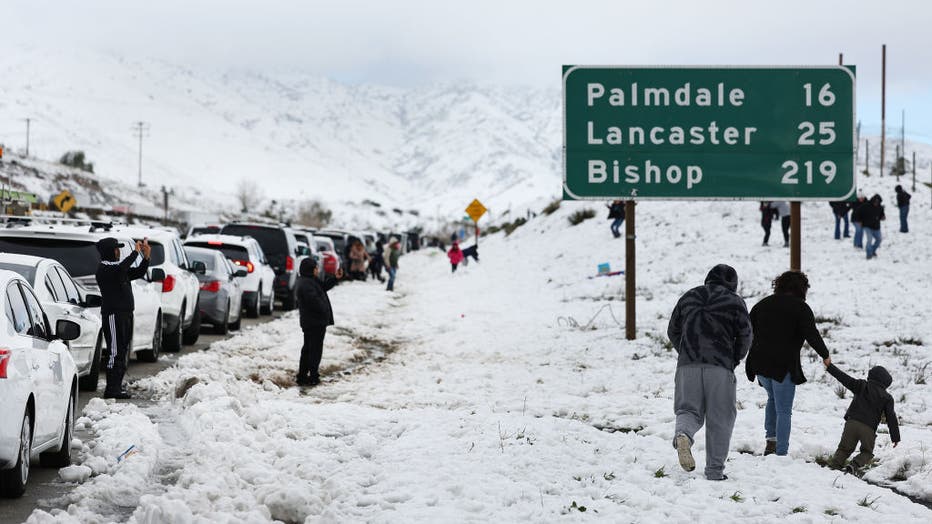 Cars are lined up after people parked on the side of the freeway to walk and play in the snow along Highway 14 in Los Angeles County on February 26, 2023 near Acton, California. (Photo by Mario Tama/Getty Images)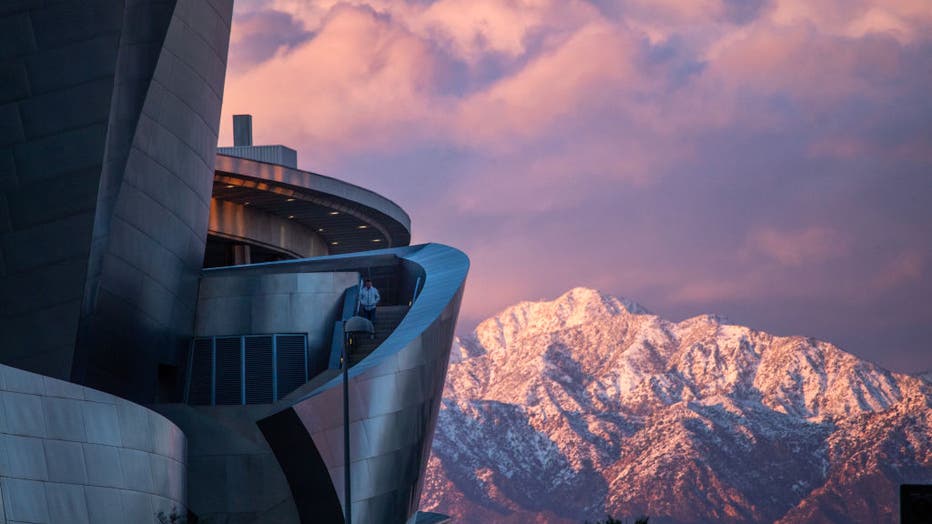 A person gets a high-angle view from the Walt Disney Concert Hall as they look out over the snow-capped San Gabriel mountains at sunset after historic rain and snow dumped on Southern California Wednesday, March 1, 2023 in Los Angeles.  (Allen J. Schaben / Los Angeles Times via Getty Images)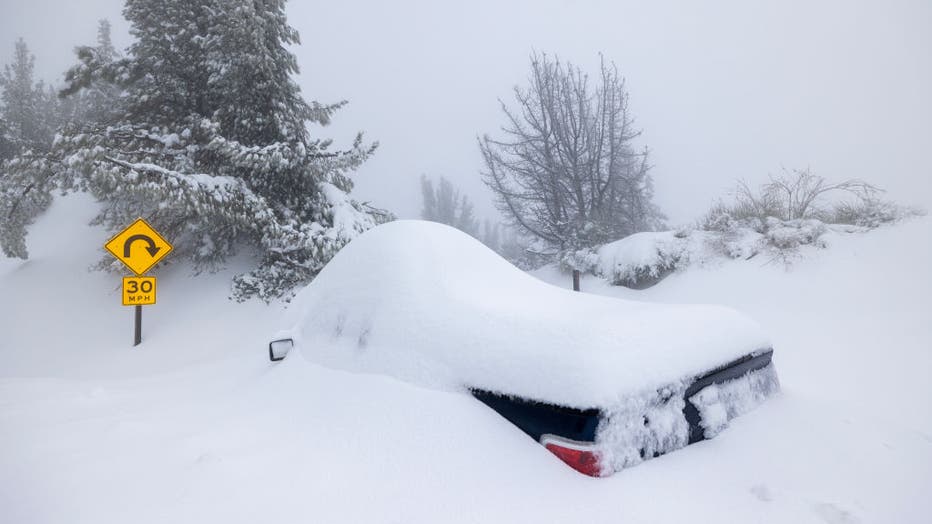 A vehicle is abandoned along a highway as residents throughout the San Bernardino Mountains remain trapped in their homes on March 1, 2023 near Running Springs, California.  (Photo by David McNew/Getty Images)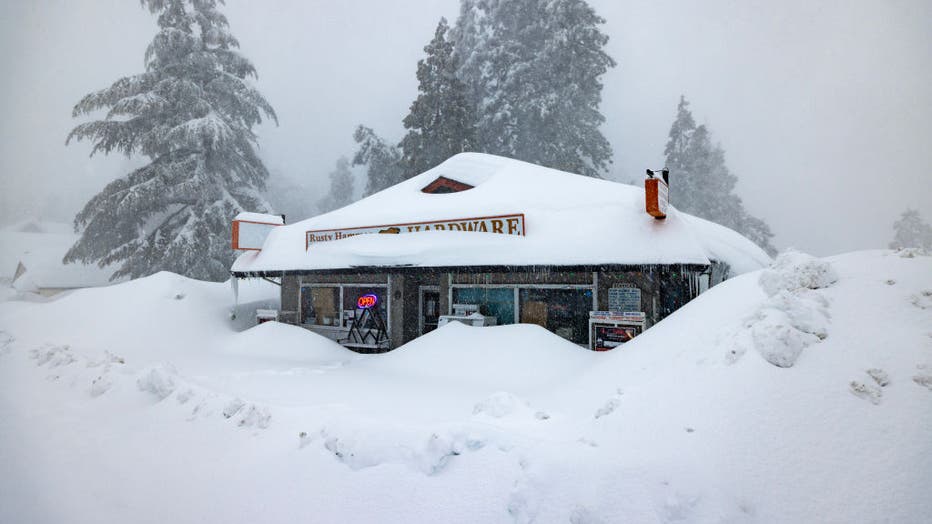 The open sign is still on at a business nevertheless shut down by the weather as residents throughout the San Bernardino Mountains remain trapped in their homes on March 1, 2023 in Running Springs, California. (Photo by David McNew/Getty Images)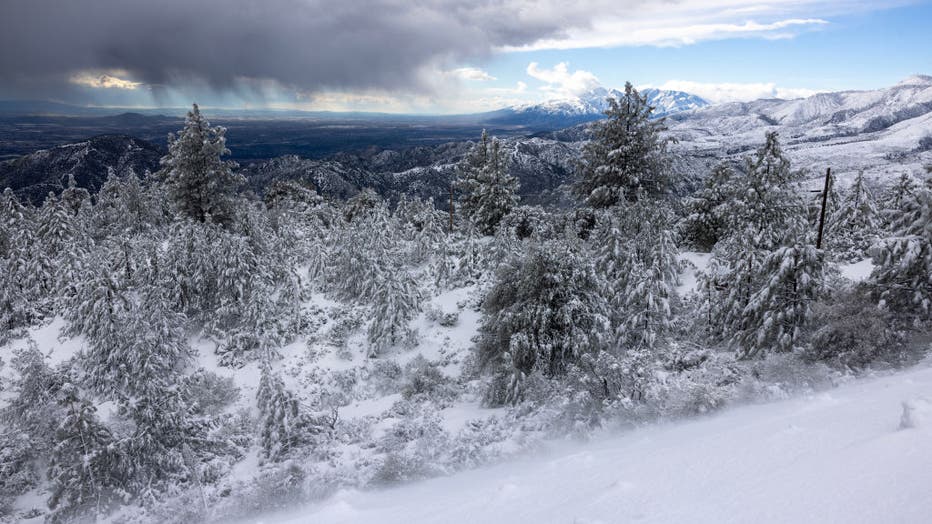 The San Gabriel Mountains are seen in the distance and rain falls over the cities of the San Bernardino Valley as residents throughout the San Bernardino Mountains remain trapped in their homes on March 1, 2023 in Running Springs, California. (Photo by David McNew/Getty Images)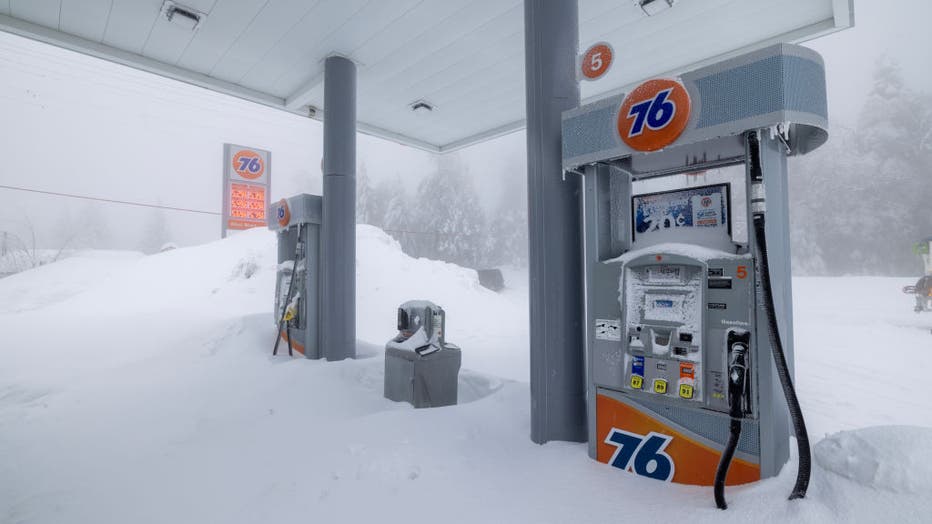 With no customers in sight, a gas station is one of the few businesses that remains open in the mountains though gas supplies are becoming limited as residents throughout the San Bernardino Mountains continue to be trapped in their homes by snow on March 1, 2023 in Running Springs, California. (Photo by David McNew/Getty Images)
A Jeep is covered in snow from successive storms which dumped more snow than the area has seen in years on Tuesday, Feb. 28, 2023 in Big Bear Lake, CA. (Brian van der Brug / Los Angeles Times via Getty Images)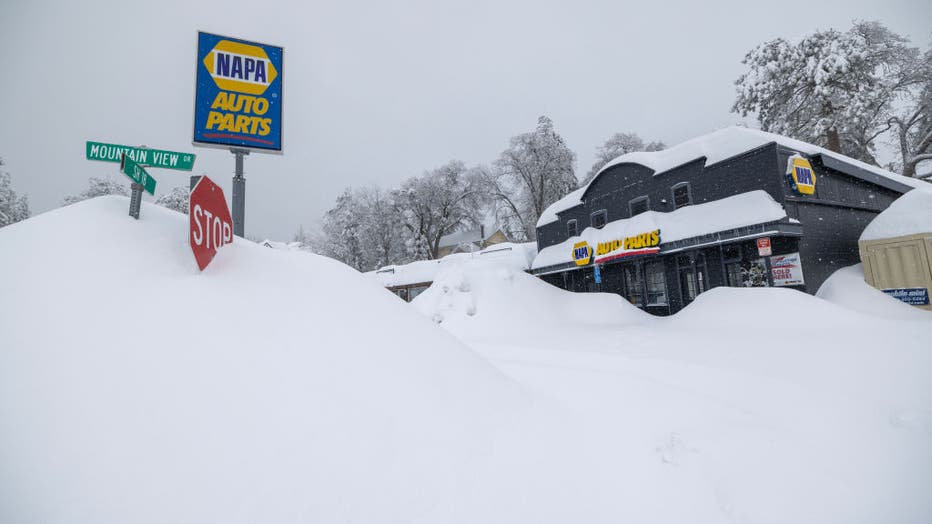 Snow grows deeper as residents throughout the San Bernardino Mountains continue to be trapped in their homes by snow on March 1, 2023 in Running Springs, California. (Photo by David McNew/Getty Images)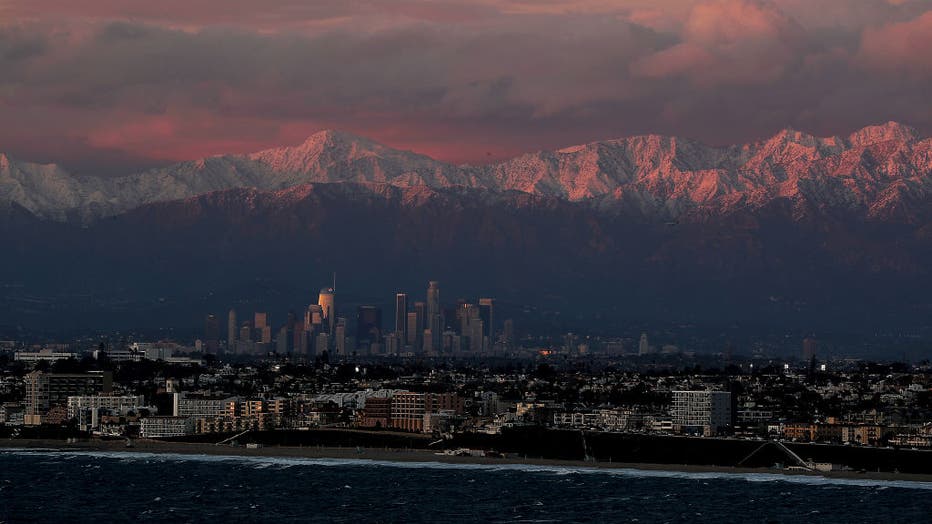 Snow-covered mountains provide a backdrop for the Los Angeles Basin, from the mountains to downtown to the sea on Wednesday, Mar. 1, 2023. (Luis Sinco / Los Angeles Times via Getty Images)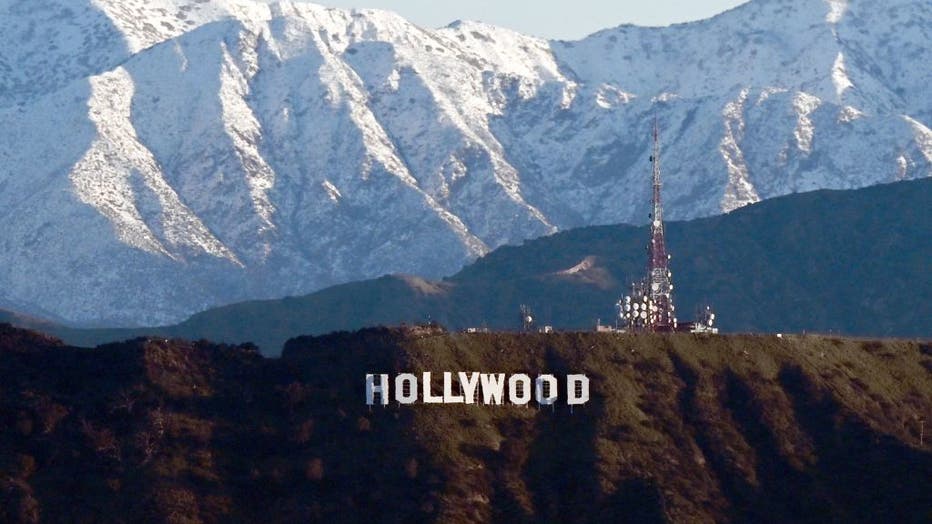 Snow capped mountains stand on the skyline behind a view of the Hollywood sign following heavy rain from winter storms, as seen from the Kenneth Hahn State Recreation Area, on March 2, 2023, in Los Angeles, California. (Photo by PATRICK T. FALLON/AFP via Getty Images)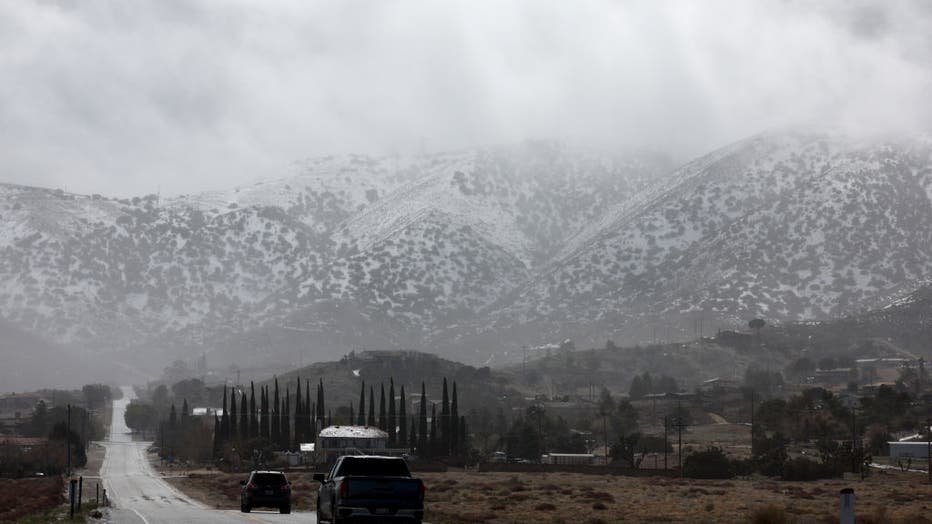 Storm clouds drop precipitation in Los Angeles County during another winter storm in Southern California on March 01, 2023 in Palmdale, California. (Photo by Mario Tama/Getty Images)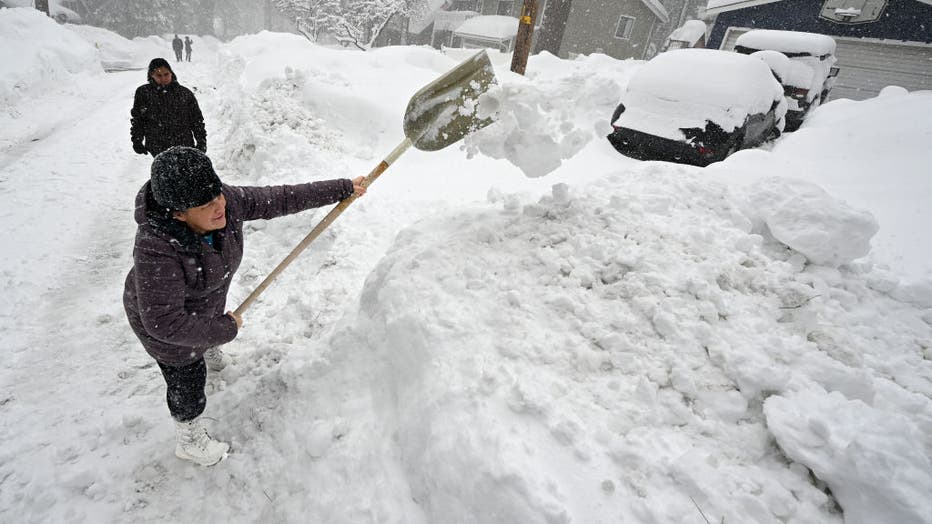 Norma Miro, from La Puente, shovels snow out of the driveway of the rental property she shared with her family for the last week in Wrightwood so they can move their vehicles on Wednesday, Mar. 1, 2023. (Photo by Will Lester/MediaNews Group/Inland Valley Daily Bulletin via Getty Images)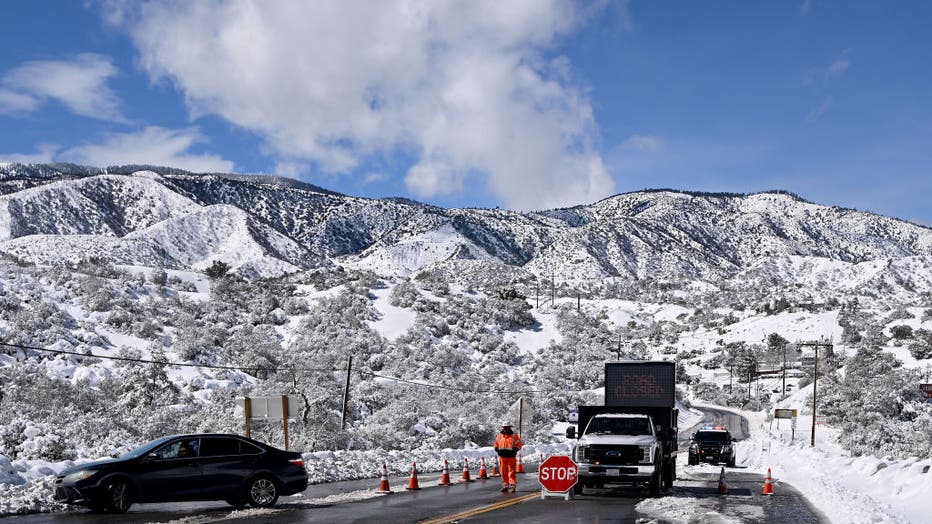 A Cal Trans employee turns away a driver as they attempted to gain access to Wrightwood on Highway 2 near Highway 138 Wednesday, Mar. 1, 2023. (Photo by Will Lester/MediaNews Group/Inland Valley Daily Bulletin via Getty Images)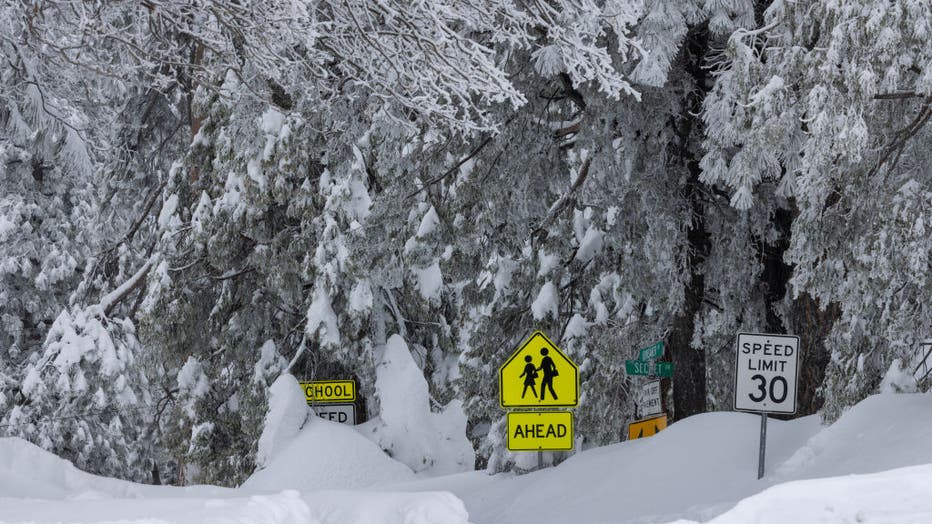 A residential street near a school is seen as residents throughout the San Bernardino Mountains remain trapped in their homes on March 1, 2023 in Running Springs, California.  (Photo by David McNew/Getty Images)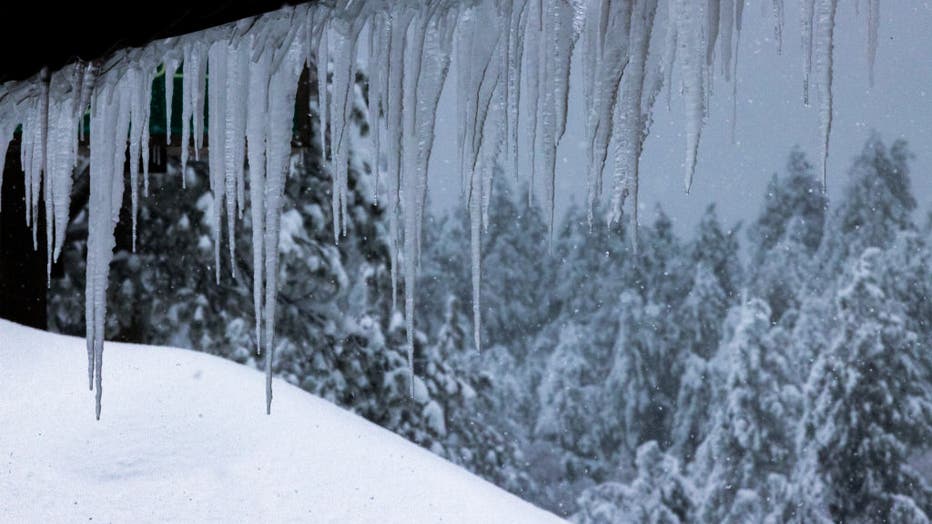 Ice sickles hang over the porch of a business shut down by the weather as residents throughout the San Bernardino Mountains remain trapped in their homes on March 1, 2023 in Running Springs, California. (Photo by David McNew/Getty Images)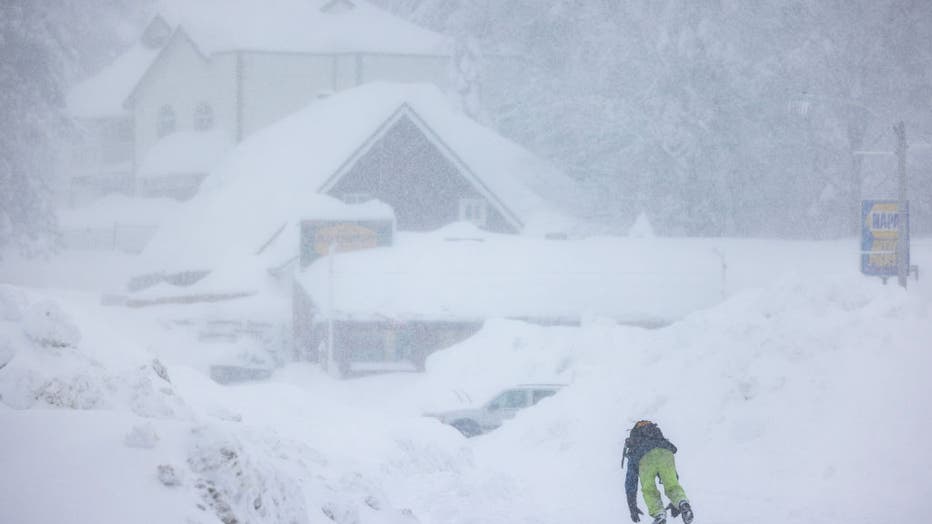 A man slips while walking on an icy road as residents throughout the San Bernardino Mountains remain trapped in their homes by snow on March 1, 2023 in Running Springs, California. (Photo by David McNew/Getty Images)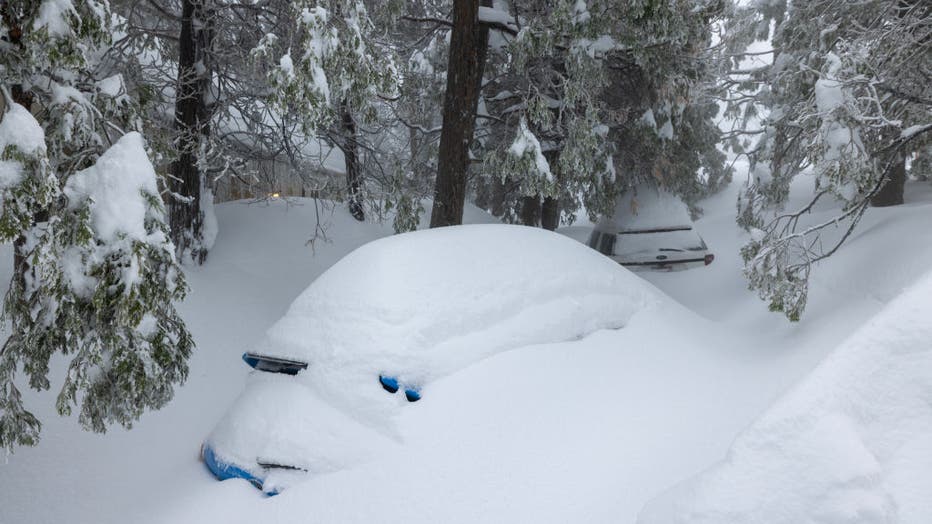 Cars in a driveway are covered with snow as residents throughout the San Bernardino Mountains remain trapped in their homes on March 1, 2023 in Running Springs, California. (Photo by David McNew/Getty Images)