'Teen Takeover' terrorizes Chicago as hundreds of teenagers destroy property, attack tourists
Massive police presence needed to restore order
Hundreds of teenagers stormed the streets of downtown Chicago, smashing car windows, attacking bystanders and sending panicked tourists running from the sound of gunfire.
"Where are their parents at? That's my question," a woman who identified as a Chicago native told Fox 32 as the unruly scene played out in downtown Chicago on Saturday night.
Fox 32 cameras captured video of teenagers crowding the streets and police seeking to restore order to the area.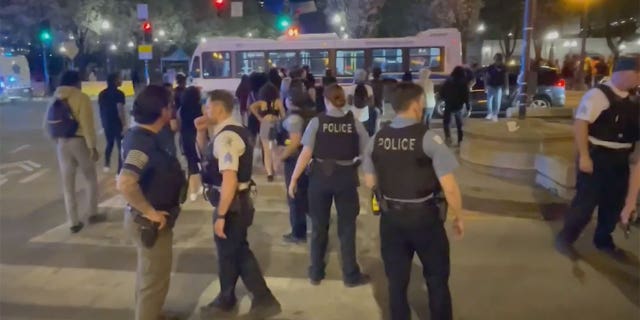 Large groups of teens were seen blasting music from Bluetooth speakers and roaming in front of traffic, with some attempting to gain access to the city's Millennium Park, which is off-limits to those under 21 after certain hours, and the downtown Art Institute.
Some teens in the group began jumping up and down on cars, smashing windows and attacking people inside. One woman told Fox 32 her husband was attacked from the driver side of his vehicle and beaten after a group of teens jumped up and down on the couple's windshield. The man was taken to a local hospital for treatment.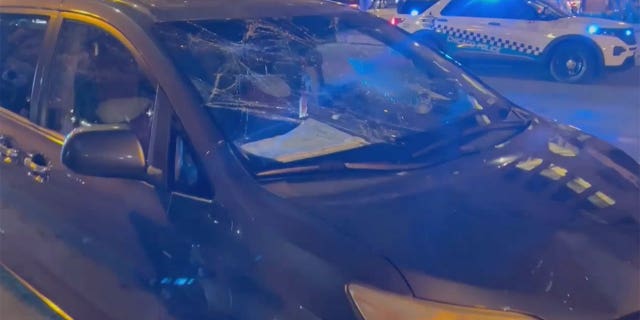 Hundreds of police officers assisted by SWAT teams descended on downtown in an attempt to restore order as gunfire was reported multiple times amid the unfolding scene.
Police were seen escorting frightened tourists back to their cars or hotels to escape the chaos, and traffic on Chicago's Michigan Avenue ground to a halt as police attempted to restore order.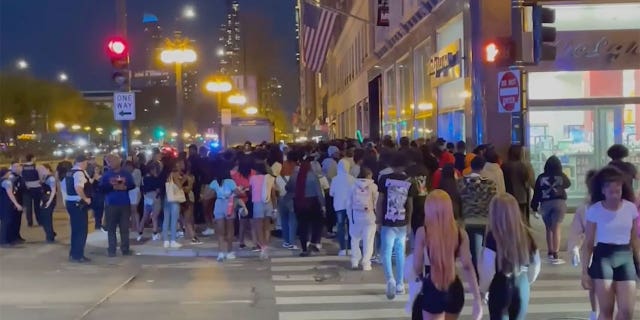 Police say a 6-year-old boy was shot in the arm near the Chicago Loop and a 17-year-old boy was shot in the leg. Both were taken to Northwestern Hospital and listed in fair condition, according to a report from WLS.
Fox 32 reported that the chaos appeared to be another "Teen Takeover" of the city that was planned on social media, noting that a similar scene played out in Chicago last year.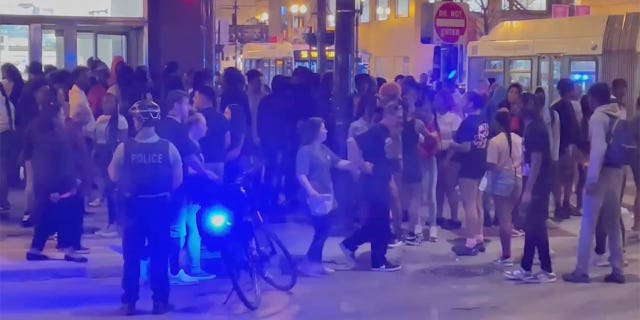 "I understand kids having a good time, but this is simply bad parenting," the Chicago native witness told Fox 32. "We have to do better as parents. Our kids should not be out here."
Chicago police did not immediately respond to a Fox News request for comment.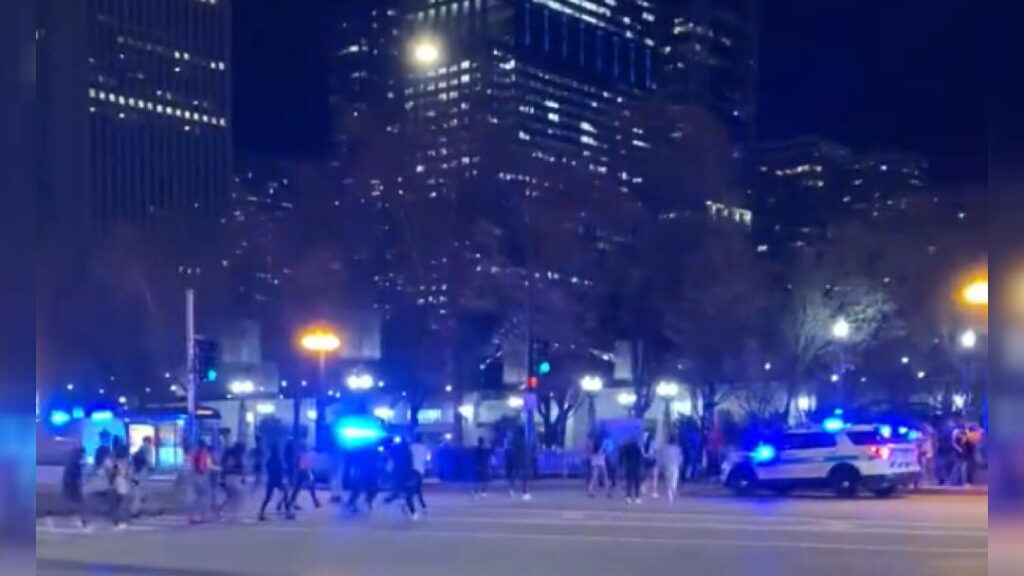 Fights, but no arrests, were reported as the first "large group" of the year descended on Millennium Park last night.
Police reported fights but no arrests as about 150 people descended on downtown Chicago for the first "large group" incident of the year Wednesday evening.
---
2 boys shot after hundreds of teens gathered in Chicago's Loop
Fights, but no arrests as first 'large group' of the season descends on Millennium Park
CHICAGO (CBS) — There was a heavy police presence as hundreds of teens gathered in Chicago's Loop, causing chaos Saturday evening.
At some point during the night, two teenagers standing in a crowd were shot.
CBS 2's Shardaa Gray reported hundreds of rowdy teens flooded the downtown area – specifically in the area near Primark, located at 35 N. State St.
Fifteen people were arrested, including nine adults and six juveniles. According to the Chicago Police Department, most of the charges were for reckless conduct, but a 16-year-old boy was also charged with unlawful use of a weapon, and a firearm was recovered. One adult and one juvenile were also charged with possession of a stolen vehicle.
"Everyone is welcome and encouraged to enjoy all that Chicago has to offer including the popular downtown area, but criminal activity will never be tolerated. Those engaged in criminal activity will be arrested and held accountable," CPD said in a statement.
Police say two teenage boys were standing in a crowd when shots were fired by an unknown person.
A 16-year-old boy was shot in the right arm and was taken by firefighters to Northwestern Hospital in fair condition. A 17-year-old boy was shot in the leg and taken to Northwestern by Chicago firefighters in fair condition.
The shooting comes one day after a 14-year-old boy was shot at another gathering at 31st Street Beach Friday night.
Back in the Loop, police were seen blocking off Washington at State Streets as multiple reports of gunfire, fights, and bottles were thrown at CTA buses. The crowds were in the hundreds of people.
Mayor Lori Lightfoot released the following statement Sunday afternoon, following the incident:
Twice in the last few days, several large groups of young people have gathered across the city. Many of them were there to have a good time and enjoy the unseasonably warm weather. However, some of those young people were involved in reckless, disrespectful and unlawful behavior. As I have said before, we as a city cannot and will not allow any of our public spaces to become a platform for criminal conduct. Most importantly, parents and guardians must know where their children are and be responsible for their actions. Instilling the important values of respect for people and property must begin at home.

I appreciate the individuals and business people who have reached out to me to express concerns. I have shared those concerns with the acting Superintendent and senior leadership within the Police Department in very candid and productive conversations.

CPD leadership has assured me that they will make the necessary adjustments to address these teen trends issues as we move into the summer months.

We have invested millions of dollars to support community-based organizations to partner with youth to co-activate fun, safe spaces all over the City throughout the year. We ask parents to partner with us by making sure that your children's plans are safe and that they know when to exit a situation before it becomes unsafe.
We've seen social media posts promoting teens to fight in the Loop, but police say they have no clue how this started.
Pink, Orange, Brown, and Green line trains were disrupted as police responded to the chaos, but service was restored around midnight.