7th grader grabs wheel of school bus after driver fell unconscious
Warrren Consolidated Schools released video showing the tense moments where 7th-grade hero Dillon Reeves took the wheel of his school bus after the driver fell unconscious on Wednesday.
Video shows the driver nod off about 50 seconds in, Dillon enters the frame shortly after and gabs the steering wheel, while applying the brake – guiding the bus to a safe stop on Masonic Boulevard near Bunert Road. Superintendent Robert Livernois said at that point the bus was beginning to veer into what would have been oncoming traffic.
"Someone call 911. Now," he shouted calmly to others aboard the bus as students begin to yell and panic in the background. The bus, which holds about 66 passengers, was full at the time.
Livernois said the driver had already alerted the transportation base that she was not feeling well and was going to pull over, which he believes helped in the district's preparedness. He said Dillon was five rows behind the driver and seconds later, noticed the driver had passed out.
"In my 35-plus years of education, this was an extraordinary act of courage and maturity on his part," Livernois said. "He ran to the front of the bus, grabbed the steering wheel and brought the bus to a stop in the middle of the road.
"And he had the wherewithal to push the brake down slowly – likely in anticipation that the bus was full of passengers."
Livernois said that two Good Samaritans assisted during the emergency. Once the bus stopped, one passerby who was walking came aboard and assisted Dillon with the driver. A second person, a woman driving behind the bus, stopped and helped the students off the bus using the rear door.
Livernois said the driver is still hospitalized and that they are waiting to receive drug test results.
At a press conference Thursday, Dillon did not speak but his parents addressed the media and expressed how proud they were of their son.
"I asked him how did you know what to do," his mom said. "He said that he watches her drive everyday." source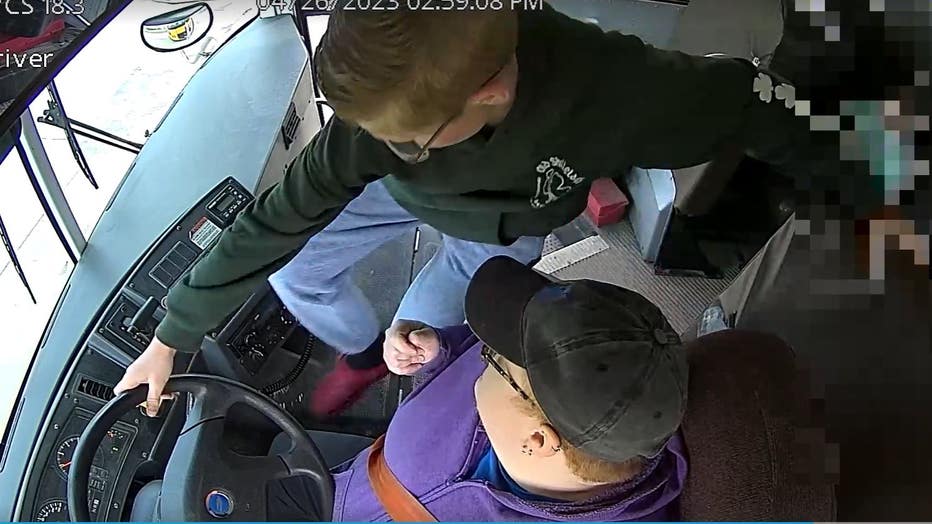 ---
'He's a hero': Young Michigan boy tells 'GMA' how he stepped in after school bus driver passed out
WARREN, Mich. — A young hero who sprang into action sat down exclusively with "Good Morning America" Sunday.
He noticed his school bus driver was having an issue behind the wheel, with up to 60 students on board.
They were dramatic moments: A school bus driver had a medical emergency just outside of Detroit. She radioed for help, but before she could pull the bus over, she passed out. The bus veered into oncoming traffic.
That's when a brave 13-year-old, seventh-grader Dillon Reeves, sprang into action. He grabbed the steering wheel, and slowly pushed on the brakes, urging his schoolmates to call for help.
He and his parents sat down exclusively with "GMA" Sunday.
Reeves had carefully watched his dad drive for years.
"Yeah, he definitely has always been attentive to his surroundings, you know, thrown him on a lap, little country roads here and there. You know, I had the wheel, and I had the gearshift there. But he was doing it all on his own. He could probably drive any of our cars out of here, and I wouldn't doubt it one bit. It's scary, but I'm glad I did," father Steve Reeves said.
The calls and letters haven't stopped since that day.
But, on that day, Dillon didn't think anything of his heroic actions.
"I know when he first came home, he was like, 'all I did was stop the bus,'" mother Ireta Reeves said.
"Wasn't expecting anything out of it," Dillon said.
"No, he just didn't even think it would be on the news. It was not a big deal," his mother said.
"He came home, took a shower, went out, played basketball with his buddy around the block, as they carried on," his father said.
But the local school board gave Dillon an award.
He someday hopes to be a first responder, like a police officer or firefighter.
"He saved everyone. He's a hero, and we're so proud of him," his mother said. "He deserves all the recognition in the world for this."
Dillon has been able to speak with the bus driver. She said she's proud of him and that she's doing well.
She told Dillon's family that every morning, she puts her hand on the bus and prays for those children. source