COUNTDOWN TO Z-DAY Russia 'Massing 1,800 tanks, 700 aircraft & 500,000 Men for
New Ukraine assault in 10 DAYS' after Zelensky begs UK for jets
RUSSIA has hundreds of thousands of soldiers, thousands of tanks, and hundreds of warplanes preparing for a new assault, Ukraine has warned.
Vladimir Putin is believed to be preparing for a massive new offensive in the coming weeks to coincide with the first anniversary of the war in February 24.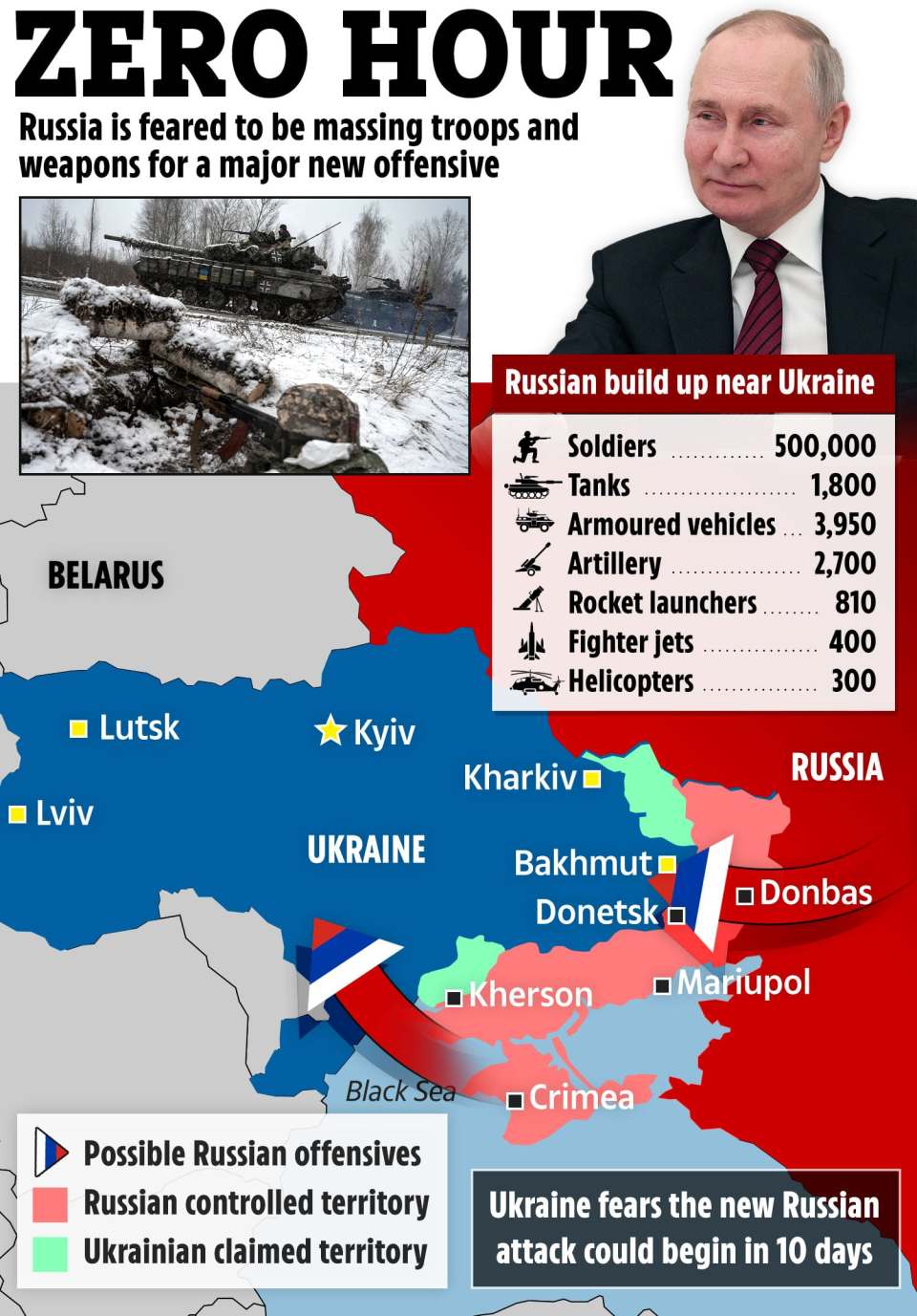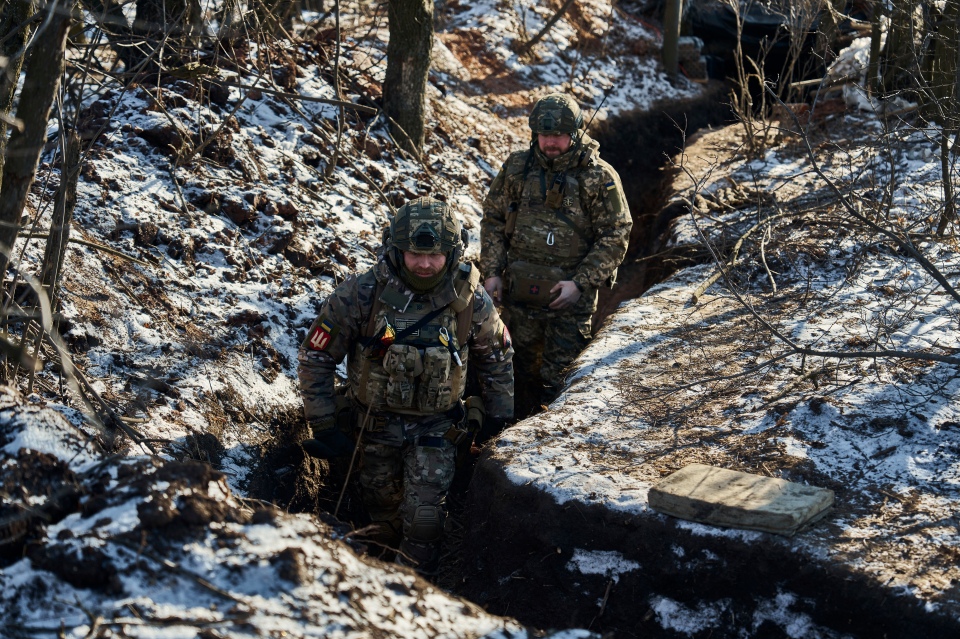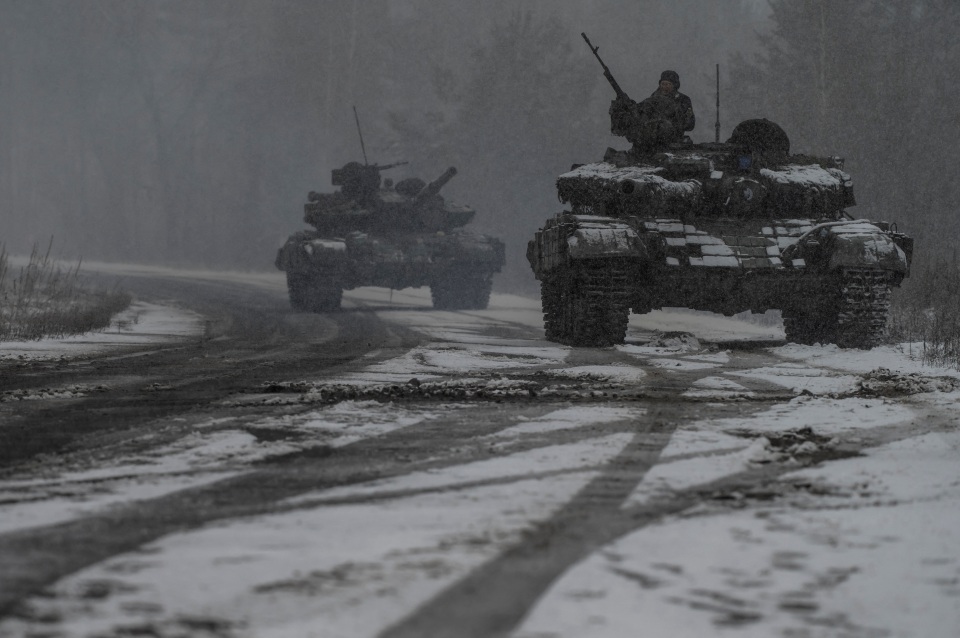 Ukraine has been monitoring the military build up as they continue to plea for Western support – including during Volodymyr Zelensky's visit yesterday to London.
Zelensky hailed the UK for its support – but warned it may not be enough, and called for modern fighter planes.
The new assault is feared to be "much bigger" than the first wave which stormed across the country towards Kyiv almost exactly one year ago.
Russia is believed to be massing 1,800 tanks, 3,950 armoured vehicles, 400 fighter jets and 300 helicopters for the attack, according to a Ukrainian official.
They added Putin is also gathering 2,700 artillery guns and 810 rocket launchers for a "new wave of attacks", reports Foreign Policy.
"It's much bigger than what took place in the first wave," the official said.
"They are not paying attention to any casualties or losses. In the next 10 days, we expect a new, huge invasion."
Ukrainian intelligence has put the figure for the spring offensive at between 300,000 and 500,000 soldiers.
Russia is believed to have approximately 300,000 troops already operating in Ukraine.
And it's believed another 200,000 men from the recent mobilisations will be called up to fight in the offensive.
Pentagon officials however have said new Russian troops are "ill-equipped, ill-trained" and they have been "rushed" towards the frontline.
Kyiv fears Putin could also stage a new round of mobilisation to further bolster his forces for the assault.
Western analysts and Ukrainian officials have been warning for weeks about a brewing offensive in the country's East.
Andriy Chernyak, an official in Ukraine's military intelligence, told the Kyiv Post: "We've observed that the Russian occupation forces are redeploying additional assault groups, units, weapons and military equipment.
"According to the military intelligence of Ukraine, Putin gave the order to seize all of the territories of Donetsk and Luhansk regions by March."
Fighting in recent weeks has been centred around Bakhmut – which has been described as the "bloodiest" battle of the war so far, with frontline soldiers have a life expectancy of just 4 hours.
Vlad's initial assault last February saw his forces storm towards Kyiv before they were sent back by the Ukrainians.
Ukraine then went on the counteroffensive, liberating huge swathes of the country from the disorganised Russians.
The conflict then slowed down over the winter.
And in recent weeks it has been reported the Russians were beginning to make gains.
The UK Ministry of Defence has said conditions are likely to be extremely muddy in March as temperatures warm – so both sides may seek to avoid major offensives.
But the MoD warned that perceived "political or operational opportunities" may override this – such as in Russia's invasion last February.
President Zelensky gave a rousing, historic speech yesterday as he visited the UK for the first time since the war – invoking the spirit of Winston Churchill.
"Do you have a feeling that the evil will crumble once again. I can see in your eyes now, we think the same way as you do. We know freedom will win. We know Russia will lose," said Zelensky.
And we really know that the victory will change the world and this will be a change that the world has long needed.
"The United Kingdom is marching with us towards the most, I think, the most important victory of our lifetime. It will be a victory over the very idea of the war.
"After we win together, any aggressor, it doesn't matter big or small, will know what awaits him if he attacks international order.
"Any aggressor who will try to push the boundaries by force who will inflict destruction and death on other peoples, who will try to endure his dictatorship at the expense of other people's blood in criminal and unprovoked wars as the Kremlin does.
"Any aggressor is going to lose."
Putin will likely be seeking some sort of major triumph or new operation to mark the anniversary – with his future now tied to the success or failure of the war.
According to Ukraine, more than 135,000 Russians are lying dead in the war's muddy battlefields.
The war has seen Vlad's forces thrown back and any hopes of a quick victory have sunk to the bottom of the Black Sea.
But despite staggering losses – the Russian army is understood to be more than one million men strong, with another two million reservists who could called up.
And Putin's defence boss Sergei Shoigu has announced plans to swell the number of active personnel to one and a half million from 2023.
Prime Minister Rishi Sunak welcomes Ukraine President Volodymyr ZelenskyCredit