Man Convicted of Killing Transgender Teen After Sex Date
a Trans man playing a woman tricks the wrong man and ends in tragedy.  Being honest and upfront about your evil tranny ways!


This will help save your from being a victim of your own misleading lies and mental illness!
The killer of a transgender teen whose 2019 murder inspired her mother to successfully push for a change in Washington state law has been found guilty of the crime.
Nikki Kuhnhausen, who aspired to be a makeup artist for Nicki Minaj and compete on America's Next Top Model, "knew exactly who she wanted to be and who she was," Taylor Watts, a longtime friend of Nikki's, told PEOPLE last year. "She inspired a lot of people to actually feel free to come out as who they want to be."
But on June 6, 2019, after prosecutors say Nikki, 17, arranged a date with a man on Snapchat, she disappeared. Her remains were found six months later in a remote wooded area outside Vancouver, Wash.
A probable cause statement alleged that suspect David Bogdanov "became enraged" after discovering he had engaged in sexual contact with a biological male whom he believed to be female and strangled Nikki to death
On Friday, Bogdanov, 27, was found guilty of second-degree murder, as well as a second charge of malicious harassment under the state's hate-crime statute, and now faces 11 to 19 1/2 years in prison when he is sentenced next month, reports The Columbian.
"We were all holding hands while we were awaiting the verdict to be read and that was really powerful," Linden Walls, a member of the Justice for Nikki task force, said after the verdict, according to the newspaper. "It felt like we were all together … and the sense of relief that came that we got justice for Nikki, that we were able to push this and the jury could see it and did the right thing. That felt really good."
"I just want to say thank you to everybody for loving my baby and for bringing her murderer to justice," Nikki's mother, Lisa Woods, said in a video posted to the Justice for Nikki group's Facebook page. "I am eternally grateful for all of you.
Bogdanov didn't deny the murder, reports KATU TV, but claimed self-defense.
According to his testimony, Bogdanov learned Nikki was transgender after having sexual contact with her in the back of his car. When he pushed her away and told her to get out, he claimed she reached for a loaded gun near the vehicle's driver's seat, reports the outlet.
Bogdanov testified that he pulled her back by wrapping a phone charger around Nikki's shoulder, but said the cord slipped up to her neck.
He testified that it would be "humiliating" if his family learned he'd had sex with someone who was transgender, according to KATU.
Nikki Kuhnhausen's 2019 murder helped prompt Washington state to ban the "gay panic defense," in which accused assailants blamed the victims for crimes committed against them, which is wrong. Men playing females tricking men to kiss and fuck them can really play tricks on some people. The trannys are mentally deranged believing being upfront and truthful is not a good thing. IF YOU HAVE NO SHAME BE HONEST DONT SUPRISE A STRAIGHT GUY, AND IF YOU HAVE SHAME BE HONEST ANYWAY, who wants to deal with your issues ? 
The killing — one of at least 26 murders of transgender people in 2019, based on numbers compiled by the National Center for Transgender Equality — presaged a continuing rise in transgender homicides. That same year the American Medical Association called it an "epidemic of violence" with a full accounting that may never be known, as law enforcement and families do not always accurately report the victims' identities.
The anguished wait by Nikki's mother — first to find her missing daughter, and then for justice in Nikki's death — turned her into an activist.
During the search for Nikki, Woods joined with LGBTQ communities to attend vigils and hand out flyers drawing attention to violence affecting transgender people, aligning herself with other activists and parents of transgender children.
A Washington state lawmaker, Rep. Sharon Wylie, took note and revived legislation to ban the so-called "gay panic defense," in which accused assailants blame the victims for crimes committed against them.
Using Nikki's example and Woods' pain to put a face on the issue, Wylie won her colleagues' support, and last year, Gov. Jay Inslee signed the Nikki Kuhnhausen Act, making Washington the 10th state to enact such a ban.
"I don't want anyone to think that it's okay to murder someone because of their gender," Woods, who stood at the governor's side when the bill was signed, told PEOPLE last year.
On its Facebook page, the group Justice for Nikki posted: "The long buildup to this trial, and the defense's attempts to somehow paint Nikki, who was a 17-year-old girl, as being 'responsible' for the defendant's violent actions, were excruciating for us, and particularly for Nikki's mother Lisa. There's no excuse for what happened to Nikki. This hate crime wounded our community."
Bogdanov will be sentenced Sept. 9.
David Bogdanov: Where is Nikki Kuhnhausen's Killer Now?
CBS' '48 Hours: The Life and Death of Nikki Kuhnhausen' and Hulu's 'How I Caught My Killer: Social Media? Yeah, it was her thing' focuses on the sudden disappearance and death of 17-year-old Nikki Kuhnhausen in Vancouver, Washington. When she didn't come home after going out one night in June 2019, her loved ones called the police straight away. But what came to light was a tragic tale of murder, with David Bogdanov at the center of it all. So, if you're curious to learn whether he was brought to justice or not, we've got you covered.
Who is David Bogdanov?
David Bogdanov became an immediate person of interest when authorities learned that he was the last to meet Nikki before she went missing. According to her friends, she left home in the late hours of June 5, 2019, to meet an older Russian guy after arranging the date through social media. The police thus executed search warrants for their Snapchat accounts and confirmed they did indeed have plans with the possibility of engaging in sexual activity. However, they had difficulty talking to David because they didn't know where he was.
Towards the end of June, the authorities managed to talk to David's brothers in Vancouver, Arthur as well as Stanislav, but both stated they didn't know Nikki. Therefore, in September, they reached out to David again via Snapchat, and he finally replied before sitting down for an interview sometime in October. He then proceeded to provide his version of the story by claiming he'd first met Nikki in downtown Vancouver and asked if she wanted to join him and his brothers for drinks. According to him, they parted ways before meeting again during the early hours of June 6.
David and Stanislav were in the latter's van and took Nikki to a house, from where she picked up her cell phone. The trio then drove to Artur's apartment. Over there, David said that while they were outside alone, she revealed the fact she's a transgender person. At this point, he claimed that he was uncomfortable and asked her to leave. He also added he did not have any contact with her from this moment on because it is unacceptable in Russian culture.
Yet when the authorities looked at David's phone records, it showed a lot of incriminating activity. His cell actually placed him outside his brothers' houses at different points on June 6, but then it also pinged in the Larch Mountain area a few hours later; this is the place where Nikki's remains were found. The police also believed that David was looking to have sex that night because he made calls to an adult video store and several escort services.
Where is David Bogdanov Now?
27-year-old David Bogdanov hence stood trial for murder in August 2021, where he took to the stand to provide a much different version of events. He admitted to having brief sexual contact with Nikki in the back seat of his car and said that at that point, he found out Nikki was a transgender person. David then claimed he yelled at her to leave the vehicle, but Nikki allegedly went for the gun close to the driver's seat. So, in the act of self-defense, David admits that he strangled her with a charging cord.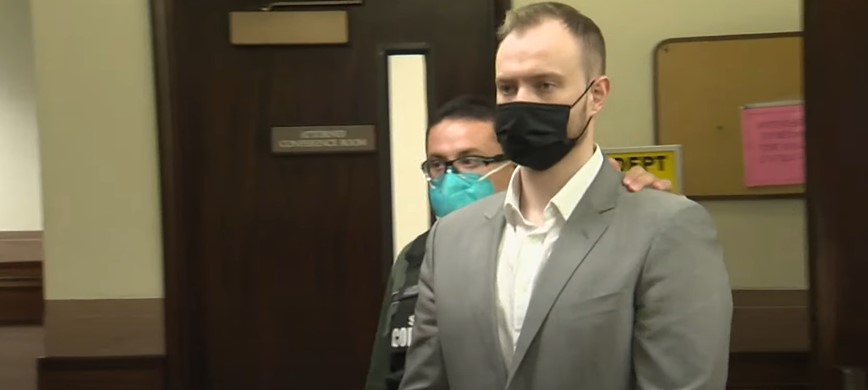 Image Credit: KGW News/YouTube
The prosecution, though, pointed to David's inconsistent statements. He never told detectives that Nikki had attacked him. He had also booked a one-way flight ticket to Ukraine on the day of the incident prior to asking a friend to "get rid" of his car. They claimed that David killed Nikki when he found out she was a transgender person. Ultimately, he was found guilty of second-degree murder and malicious harassment. In September 2021, he was sentenced to 19 and a half years behind bars — the maximum as a first-time offender. Therefore, according to prison records, David is currently incarcerated at the medium-security Coyote Ridge Corrections Center in Connell, Franklin County, Washington.
updated Jan 2022 after HULU special