Santa Clarita Streets flood, river flows during major storm
The National Weather Service has issued a flood advisory for much of Ventura and Los Angeles Counties, which includes the Santa Clarita Valley.
Meteorologists with the NWS's Oxnard station said the advisory is in effect until 6 p.m. Thursday but will most likely be extended, even as showers subside, due to reports of road floods.
In Santa Clarita, there have been several reports of road floods including Sand Canyon Road near its intersection with Roadrunner Road — where reports of a vehicle being trapped prompted a rescue response from the L.A. County Fire Department. There were no reported injuries from the incident.
The city of Santa Clarita is asking residents to avoid the intersection, as well as any low bridge crossings over water until further notice.
Lake Hughes Road, which was closed on New Year's Eve due to mudslides, is still closed as of Thursday from Dry Gulch Road to Pine Canyon Road. The county's website for road closures, pw.lacounty.gov/roadclosures, did not have an estimated reopen date as of Thursday morning.
The rains have also caused the Santa Clara River and its forks within the valley to flow significantly, a welcome sight to some following a drought that parched the valley and drained reservoirs.
But to the homeless population that has called the local riverbeds and washes home during dry times, the river's return means displacement.
Imari Peterson, director of program for Bridge to Home — a local nonprofit dedicated to addressing homelessness — said several agencies, including the city of Santa Clarita and the SCV Sheriff's Station, have gone down into the riverbeds and washes prior to the storm to inform the population about the resources available to them.
"They don't have to be enrolled into your program when rain is happening during the day, so that they can have a place to stay dry during the day. Also, there are winter shelter resources that run throughout October through to March, because we know that the winter weather can be severe — as we're experiencing now," said Peterson. "They have access to calling the winter shelter hotline and then they're able to get a bed [so] they have a place to stay at night and can stay dry."
Peterson said a lot of the outreach done before the storm was conducted by L.A. Family Housing — which works with the city of Santa Clarita to provide resources to the homeless.
It's unknown, at the time of this publication, how many people have been displaced as a result of the river's return or due to flooding. Peterson said a hotline (661-254-4663) has been set up to direct those experiencing or vulnerable to homelessness to find shelter, especially during the rainy season.
"We're always an open resource for those who are experiencing homelessness in the area, especially when it comes to severe weather like this," said Peterson. "We also have our client service center that clients can stop by, receive hygiene resources. [The center] also has a place to charge your phone and stay dry for a little bit. We would love to be able to connect people to other resources, should they need a shelter bed."
As of Thursday afternoon, the NWS said the risk of flooding will decrease as showers subside throughout the day. However, a stronger system expected to hit next week could change things.
"We do expect a break Friday into Saturday, but we're looking at another potentially significant storm Monday and Tuesday," said Ryan Kittell, a meteorologist at NWS's Oxnard station. "I only see the potential growing that it can be even wetter than this one. So just kind of keep an eye on that, especially with the idea that everything's still going to be really wet with this storm."
In the event of a flood, FEMA advises the following:
– Find safe shelter right away.
– Do not walk, swim or drive through flood waters. Turn Around, Don't Drown!
– Remember, just six inches of moving water can knock you down, and one foot of moving water can sweep your vehicle away.
– Stay off bridges over fast-moving water.
– Depending on the type of flooding, choose the most appropriate option for the circumstances: evacuate if told to do so, move to higher ground or a higher floor, or stay where you are.
---
Rain Causes Flooding in Santa Clarita
Heavy precipitation early Wednesday caused flooding on many roadways throughout the Southland, including several in the Santa Clarita region.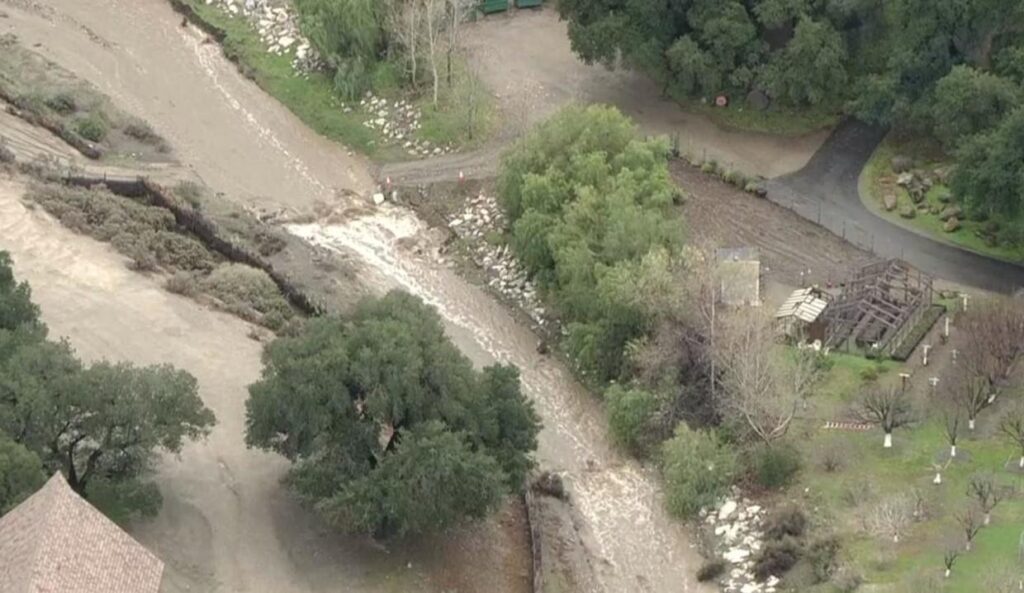 Rushing water caused some rocks and debris to flow over busy roadways both in Sand Canyon and Canyon Country, creating a traffic dilemma for many drivers.
"I hit like a pretty big rock in the middle and I felt like something damaged my car," said Anthony Del Villar, one commuter who attempted to drive through the pooled water.
In Sand Canyon, Road Runner Road was covered in water strong enough to lift a pickup truck parked on the road, carrying it into the current.
SKYCAL flew over Sand Canyon Road and Placerita Canyon Road where heavy water was seen flowing over both streets.
"It's always so dry here in Santa Clarita," said another resident. "Usually I think that's great, but then when it goes on for a long time, sure I get worried about if anybody is experiencing mudslides or things like that."
Mudslides and debris flow were a pressing concern for residents ahead of the bomb cyclone and atmospheric river that hit California overnight, with many residents prepping with sandbags and K-Rails to prevent damage to their homes and businesses.
Drivers were advised to avoid low water bridges and crossings in the area until roads were dry and public works crews could assess their safety.
Even urban areas were hit by the flooding, with the heaviest rains hitting the Southland at around 3 a.m. Wednesday. Shin-high water pooled up at the intersection of Moorpark Street and Tujunga Avenue in Studio City.
source