Sharon Acker, Actress in 'Point Blank' and 'Perry Mason,' Dies at 87
Sharon Acker, the Canadian actress who portrayed Lee Marvin's unfaithful wife in the 1967 neo-noir classic Point Blank and the right-hand woman Della Street opposite Monte Markham on a rebooted Perry Mason in the 1970s, has died. She was 87.
Acker died March 16 in a retirement home in her native Toronto, her daughter Kim Everest, a casting director, told The Hollywood Reporter.
Star Trek fans know Acker for her January 1969 turn as Odona, a desperate woman from an overpopulated planet, on the third-season episode "The Mark of Gideon."
She also starred on a 1976-77 CBS adaptation of Executive Suite, playing the wife of Mitchell Ryan's Dan Walling. (Acker and Ryan assumed the parts performed by William Holden and June Allyson in the 1954 MGM film directed by Robert Wise.)
In John Boorman's Point Blank, Acker's character takes up with John Vernon's Mal Reese after he shoots Walker (Marvin) and leaves him for dead after they rob a courier on Alcatraz. When Walker returns seeking revenge and his share of the loot, he manhandles her and riddles her bed with bullets.
Seven years after Erle Stanley Gardner's Perry Mason, starring Raymond Burr as the iconic defense lawyer and Barbara Hale as his loyal secretary, concluded its nine-season run, CBS rebooted the series with Markham and Acker in 1973. However, it lasted just 15 episodes before being canceled.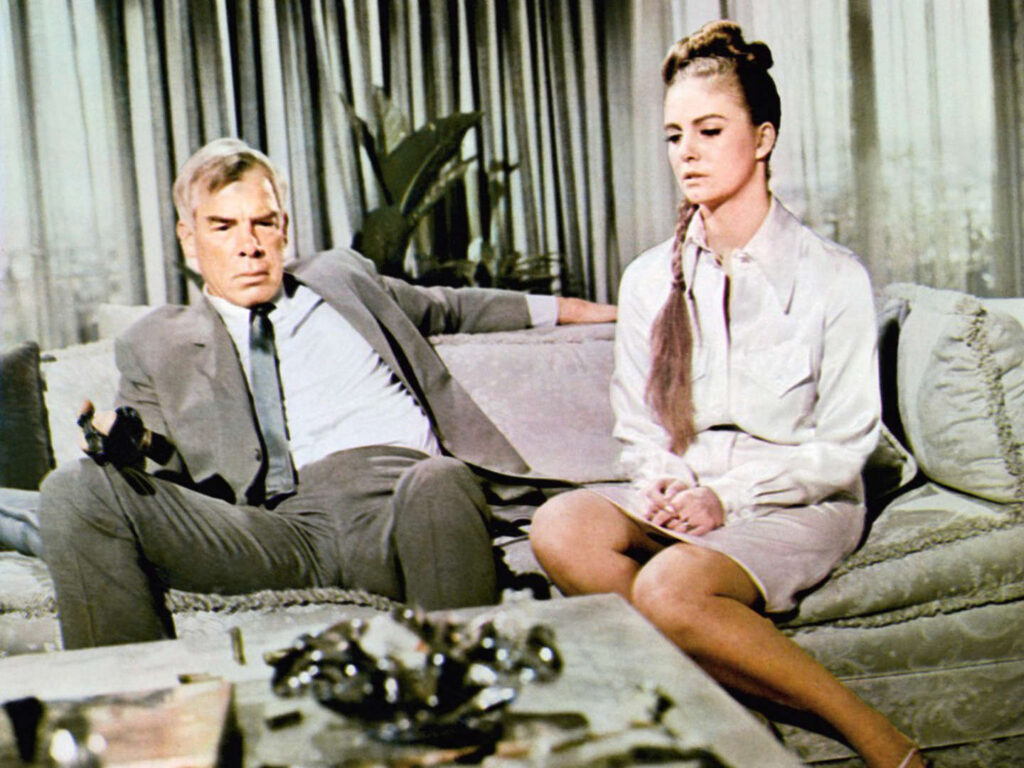 Sharon Eileen Acker was born in Toronto on April 2, 1935, and adopted when she was 9. She attended Davisville Public School, John Fisher Public School and Northern Vocational School, where she studied art and graduated in 1953.
In 1956, she played the teacher Mrs. Stacey on a 1956 CBC adaptation of Anne of Green Gables and joined the Stratford Shakespeare Festival company, starring as Anne Page opposite future Star Trek co-star William Shatner in a production of The Merry Wives of Windsor.
She traveled to Europe to perform with the Stratford company in Henry V and remained there to make her big-screen debut in Lucky Jim (1957), starring Ian Carmichael and Terry-Thomas. British producers John and Ray Boulting called her "freshly appealing" and signed her to a seven-year contact, but she broke things off after getting married and having a child.
Back home, she appeared often on the acclaimed CBC series Festival and in 1961 portrayed Lady MacDuff alongside Sean Connery and Zoe Caldwell on a five-part adaptation of Macbeth, directed by Paul Almond.
Boorman hired her after seeing her on the CBC, and Point Blank marked her first role in the U.S. To promote the film, she and Angie Dickinson (who played her sister in the movie) appeared on the pages of Life magazine in August 1967 modeling "Well-Dressed Moll Styles in Alcatraz."
After that, she was a welcome sight in guest stints on episodes of The Wild Wild West, Get Smart, It Takes a Thief, Lancer and Star Trek.
Acker was a divorcée who has a brief affair with a businessman (Arthur Hill) in the Canadian drama Don't Let the Angels Fall (1969), which played in competition at Cannes. She was selected by the Motion Picture Exhibitors of Canada as their Film Star of Tomorrow that year.
And in 1970, she portrayed the wife of Hal Holbrook's idealistic Sen. Hays Stowe on the NBC drama The Bold Ones: The Senator.
Acker's TV résumé also included such series as Alias Smith and Jones, Gunsmoke, Mission: Impossible, Mod Squad, Marcus Welby, M.D., Cannon, Barnaby Jones, The Streets of San Francisco, The Rockford Files, Police Story and Quincy, M.E.
Her last movie was the horror film Happy Birthday to Me (1981), and her final TV appearance came on The Young and the Restless in 1992. She retired from acting in '94, returned to Canada with her late second husband, Peter Elkington, to live in a cottage in Muskoka, Ontario, and continue her passion for painting and sculpting.
Elkington died in 2001. Survivors include her children, Kim and Gillian; granddaughter Alexis; great-granddaughter Berkeley; and stepchildren Kim and Caitlin. source